Gil
Proudly Sponsored for over 70 years by:
The Rotary Club of Oshawa
Special Edition
10 March 2013
Annual Squadron Mess Dinner
Lviv Ukrainian Hall
3 March, 2013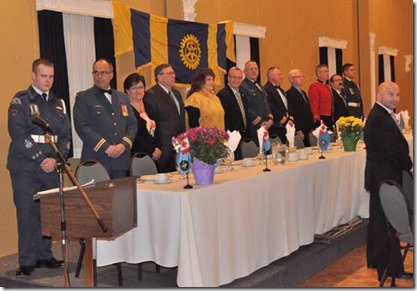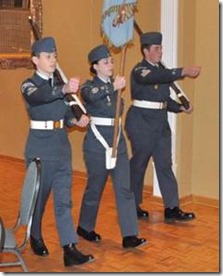 One of our cadet speakers and the Squadron Staff with our guest speaker
Presentations and Award Winners
Maj Burns Trophy – Top Cadet on the Squadron's Senior NCO Course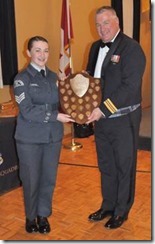 Capt. Weigel Trophy – Most  Improved Bandsman, LCol Gilbank Trophy -Top Leading Air Cadet,
Michael Vandenbos "The Snowbirds Trophy", Top Power Pilot and 420 Wing Trophy – Top Glider Pilot
Lt. Jim Vanderende – Sports Award,  Maj. Robert Forbes – Drill Trophy
Top Senior Model Builder, New Flight Sergeants, Top Junior Model Builder
Squadron Honour Team – Top cadet from each cadet team in the Squadron
A couple big thoughts this week, it is March Break, so there will be no cadet activities this week. I hope you all have a fun and safe break. Come back to us in one piece ready for a fast paced finish to the cadet year.
I had the pleasure of coaching our marksmanship team at the zone shoot yesterday. I am pleased to announce that the team as a whole finished second overall 14 point behind the lead team and 56 points ahead of the third placed team. Just a reminder that those totals are out of a possible 1600, so 14 points is pretty darn close. We had some individual awards for the Top Junior shooter, the Third Junior shooter and the Third overall Shooter. (There is a funny method to breaking ties in shooting called a count back, we actually had two of our shooters tied for Second overall, but due to the count back, one was credited with Third and the other with Fourth place). Now it is just a matter of waiting to see if the team will advance to the provincial competition. Photos will be in next week's copy of the Dispatch.
Have you ever wondered just what kind of impact the Squadron has had on different people's lives? As the CO, I get to see firsthand some of the better things that happen. Last week, we received a cheque in the mail from a large insurance company, the note attached said it was in memory of Robert "Rab" Reid, after asking around the Squadron for any idea who this gentleman was, we came up blank. A search of the obituaries from recent weeks turned up this fellow's obit. I had the pleasure of speaking to Rab's son and finding out the story.
Mr. Reid was a tail gunner on Lancasters during the War, he was originally from Oshawa and returned to Oshawa after the war. He worked at GM and became a member of the Royal Canadian Legion. Like many veterans he attended the Remembrance Day parade at the Oshawa Cenotaph on a regular basis. His favourite thing to see was always the Air Cadets. In his later years, Mr. Reid was a resident of Extendicare Retirement Home in Oshawa. For those that don't know, the Chadburn Band performs a mini concert at Extendicare every year on Remembrance Day. By further coincidence, November 11 was also Rab's birthday. So long story short, every year, Mr. Reid was able to see the band perform at the parade, go out for his birthday lunch with his family and then see the band perform again the evening of his Birthday. When I spoke with his son, he said "It just seemed natural that the money should go to the thing that he looked forward to the most".
So, the next time you think that an activity is no fun or not meaningful to anyone, you have no idea how important that activity may be to your audience.
Just another note of condolence and appreciation to Mr. Reid's family.
Stay Safe and Have a Great Week.
Major Bliss
If you have comments or suggestions on ways to improve our newsletter, our website or if you wish to unsubscribe from this email please notify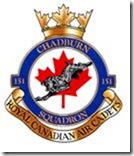 151 Chadburn Squadron
Royal Canadian Air Cadets
*** Excelsior per Debere ***Excellence through Endeavour
Proudly Sponsored by the Rotary Club of Oshawa
—