The Chadburn Kit Shop has a wide variety of items for sale from Hoodies to customized garment bags. Click on the tabs on the left to see the categories of items available.
COMING SOON
NEW SQUADRON T-SHIRT: This t-shirt was originally designed by Roland Weigel and Capt Bert Weigel. The price is $15 per t-shirt. Look for a notification when we have them in Stock.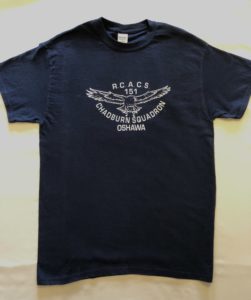 ​
Once they are in stock, Orders can be sent to the Squadrons email address : 151rcacs@gmail.com. Please include your Name, Rank, T-Shirt Size. Payment can be made via E-Transfer to the same email address.
​
​