Proudly Sponsored for over 70 years by:
The Rotary Club of Oshawa
Issue 24
Week of Mar 17, 2013
Cadets of the Week
Graduation Day
One's last day as a cadet is always an emotional experience as it marks the end of a cadet career. At the last parade before the March break the Squadron honoured one of its own as F/Sgt Peter Lysyk graduated from the cadet program. He has been our DJ for all of our cadet dances and last summer he earned his wings as a power pilot. Certainly a popular cadet whose enthusiasm and friendly smile will be missed.
Public Speaking Contest
The Air Cadet League has a very active Public speaking program for cadets. Before the holiday one of our cadets participated in a local public speaking contest for all of the air cadets in this area. Cadets who are selected from these local competitions move on to additional competitions and eventually the top cadets end up at a provincial competition and then the very top cadets can enter a national air cadet competition.
Friday Evening Sports Parades
A week ago we dropped in on one of our Friday evening sports parades. For those who may not be aware this is a rather informal evening where cadets can just play ball and have a good time with their friends.
Glassy Boot Award
Honourable Members
F/Cpl Barton, Sgt. Hembruff, Cpl Milne, WO2 Bauer, Sgt. Boyden, Sgt. Katzer, Cpl. Hancock, Sgt. Chandler WO2 Smith
F/Sgt Bliss, Sgt Mogosh, Cpl Hewett, F/Cpl Shaw, Sgt. Keller, Cpl Zdebiak, F/Cpl J. Ehrt, WO2 Neill, Sgt Sheppard, Sgt Sam, F/Cpl Abraham, Cpl C. Swatridge, AC J. Hancock, F/Cpl D. Lloyd, F/Cpl C.Brandow, Cpl M.Achan, F/Cpl V. Singh, Sgt Nemeth
Cadet Air Rifle Shoot
R.S.McLaughlin Armouries
9 March 2013
Last Saturday the squadron's marksmanship team participated in the annual zone shooting competition held at the McLaughlin Armouries in Oshawa. We are pleased to announce that the team came in a very respectable 2nd place overall. The final results from across the province have not been announced and we are waiting to see if the team scored high enough to advance to the provincial competition in April. It is important to note that only one of these shooters has ever participated in a competition before. No matter what the future holds, a great result.
Thoughts From The Treadmill
We have had a relatively quiet week in regards to cadet activities with only the band practicing this week. This allowed me to meet with the squadron officers and some CIs on Monday night to plan the rest of the year. All I can say is if you thought we were busy since September, hold onto your hat, because it is about to get crazy.
Between Ganaraska next weekend, gliding Duke of Edinburgh activities, practicing for annual inspection, all the competitions and all the summer camp preparation that is coming up, it is going to be extremely important that you all pay attention to the weekly messages, the Dispatch and the web page for updates. It is unfortunate when someone misses out on an activity because they weren't listening, but as you have all heard in past we are not here to spoon feed you, you have to take responsibility for yourself.
Last week I spoke about the shooting team and the competition, I knew there wasn't going to be photos, so I kind of put things off to this week. One of the things that I should have mentioned and missed was the vital role that Officer Cadet Amanda Stacey has played in the success of the team. With a full slate of school to become a chiropractor, working on the side and commuting back and forth to Toronto, Amanda has been the one constant in the team. When my work schedule did not permit me to attend she always had my back. Although I coach the team in comp, without her we would not have had the success we saw last Saturday. Thank you.
Hopefully this will be the last update required regarding F/Cpl Barton. After a terrible fall on the squadron ski trip, Roman has made a tremendous recovery. I was very impressed to see him up and about at two activities on Thursday and although it will be a while yet before he is marching in the band and carrying his own instrument, (that's what dads are for sometimes), he is certainly on the fast track to recovery.
Well back to the treadmill, there were rumblings about a squadron softball tournament the other night and I want to be in shape for that. (More to follow on that).
Stay safe and have a great week.
Major Bliss
Aviation Photo Of the Week
The Ruppert Archaeopteryx Glider
(The aircraft is named for the feathered Archaeopteryx Dinosaur)
This new glider is a high-wing, pod-and-boom, single-seat, micro lift glider that was designed by Roger Ruppert in Switzerland.
The Archaeopteryx was conceived as a foot-launchable micro lift sailplane, with the design goals of a light empty weight, low stall speed with gentle stall characteristics, good maneuverability and good high speed performance. A further goal was a sailplane that could be foot-launched in zero wind conditions. The Archaeopteryx design started in 1998 at the Zurich University of Applied Sciences as a research project. The first flight of the initial prototype was in September 2001 and first series production started in the summer of 2009 with production deliveries to customers starting in May 2010. By the summer of 2012 ten aircraft had been delivered to customers in Australia, Argentina, Germany, France, Austria and Switzerland.
To view a video of this rather remarkable aircraft and watch it fly in the mountains go to: http://player.vimeo.com/video/39325401
If you have comments or suggestions on ways to improve our newsletter, our website or if you wish to unsubscribe from this email please notify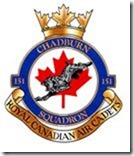 151 Chadburn Squadron
Royal Canadian Air Cadets
*** Excelsior per Debere ***Excellence through Endeavour
Sponsored by the Rotary Club of Oshawa
—