Proudly Sponsored for over 70 years by:
The Rotary Club of Oshawa
Issue # 9
Week of Nov 15, 2015
Cadets of the Week
Remembrance Day Parade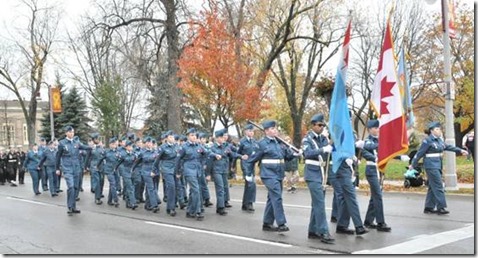 This year's memorial service at the Cenotaph was one of the largest and most memorable Remembrance Day services that we have seen in recent years.
It was encouraging to see not only our cadets on parade but the also the large number of our Squadron's training staff who came out for the service.
Not only did numerous staff attend but there were also several of our alumni present along with our staff. Our cadets should know that two of our former cadets
in the photo below are now Majors in the RCAF.
Both of these ex cadets are pilots, Major DeCarlo is an F18 pilot and Major Forbes is a helicopter pilot. Both of these officers are currently enrolled in courses
at the Canadian Forces Staff College in Toronto so we hope that when they are free they will be able to drop in to the squadron to meet with our cadets.
There are several staff and alumni in the photo below. One of the alumni in the photo is Andrew Miller.
Andrew is currently a pilot with West Jet Airlines.
Royal Order of the Glassy Boot
| | | | | |
| --- | --- | --- | --- | --- |
| LAC E. Boyden | FSgt R. Barton | WO2 B. Medina | WO2 A. Lloyd | F/Sgt M. Singh |
| F/Sgt A. Carson | WO2 E. Dellipizzi | F/Cpl F.Chandler | Sgt J.Hancock | F/Cpl J.Hancock |
| F/Cpl H. Kennedy | F/Cpl M. Anthony | F/Cpl R. Sealy | F/Cpl T. Talhouk | F/Cpl B. Wardell |
| WO1 A.Hembruff | | | | |
Promotions From F/Cpl to Sgt.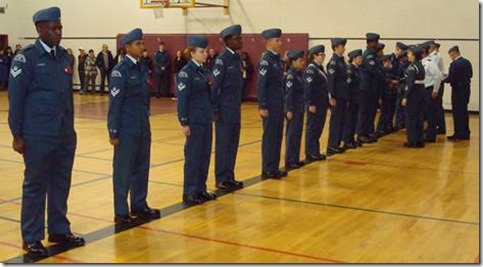 Poinsettia Christmas Flowers from Rekker Gardens
For those families who wish to purchase Christmas flowers:
Remember order forms are due back this Monday evening!!
Appointment of A New Drum Major for The Squadron's Band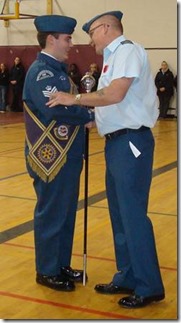 The Presentation of the Order of Military Merit
To a Squadron Alumni
LCol Mark Larsen
David Johnston, Governor General and Commander-in-Chief of Canada,
presided over an Order of Military Merit investiture ceremony at Rideau Hall,
on Tuesday, November 10. The Governor General of Canada bestowed this honour on
2 Commanders, 8 Officers and 29 Members of the Canadian Forces.
Created in 1972, the Order of Military Merit recognizes meritorious service and devotion to duty by members of the Canadian Armed Forces.
The Order honours them for their commitment to Canada, according to the following three levels of membership:
Commander (C.M.M.), Officer (O.M.M.) and Member (M.M.M.).
One of the Officers receiving this honour was
Lieutenant-Colonel Mark Bradley Larsen, O.M.M., C.D.
1 Canadian Air Division Headquarters
Winnipeg, Manitoba
Future Cadet Activities
| | | | | | |
| --- | --- | --- | --- | --- | --- |
| Date | Day | Month | Activity | Location | Time |
| 4 | Fri | Dec | Tri Service Dance | Lviv Hall | 1800 hrs |
| 12 | Sat | Dec | Outdoor Training | Ganaraska Forest | TBA |
| 13 | Sun | Dec | Outdoor Training | Ganaraska Forest | TBA |
Thoughts From the Treadmill
I would like to thank all of the cadets and their parents whoo were able to make it out to the Remembrance Day Parade on Wednesday, it was great to see such a good turnout from Chadburn Squadron. It was also nice to see so many former cadets in attendance, from recently graduated to some that have gone on to long careers in the military. The Squadron's presence was felt in Oshawa that day.
I hope everyone who wants to get their Tri-Service Dance tickets is planning on picking them up tomorrow night, we are getting more interest from the other units every day. This is a first come first served ticket system, we can't hold tickets without the money handed in.
Please remember your poinsettia forms and payment tomorrow night, we can't guarantee that your order will be filled if we don't get the form in on time.
As always, lottery tickets need to be sold and handed in as soon as possible.
I'm sure you were all just as shocked as I was by the events that happened in Paris on Friday night. Please keep the victims and their families in your prayers.
Tomorrow night is time to finally officially welcome our newest recruits. There will be a CO's parade and recruit graduation on Monday night.
That's all for now.
Stay Safe and Have a Great Week
Maj Bliss
Aviation Photo of the Week
The Interior of a Fed Ex Cargo Aircraft
Our Website Chadburn.Org
Previous issues of the Dispatch may be found on our web site, Chadburn.org. To view past issues access the home page and then click on News.
The most recent news letters will be listed there while previous news letters may be accessed by clicking on the "view all news" heading located at the bottom of the section.
If you have comments or suggestions on ways to improve our newsletter or if you wish to unsubscribe from this email please notify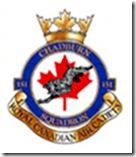 151 Chadburn Squadron
Royal Canadian Air Cadets
*** Excelsior per Debere ***Excellence through Endeavour
Proudly Sponsored by the Rotary Club of Oshawa