Proudly Sponsored for over 70 years by:
The Rotary Club of Oshawa
Issue # 10
Week of Nov 22, 2015
Cadets of the Week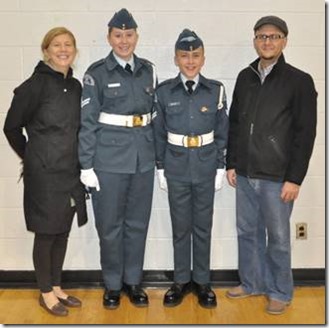 New Recruit Graduation Ceremony
The Squadron Colour Party Marches On

New Cadets Being Sworn In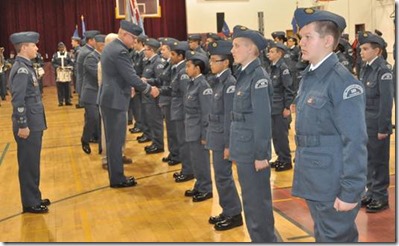 Our Congratulations to the
Top Cadet on the New Recruit Course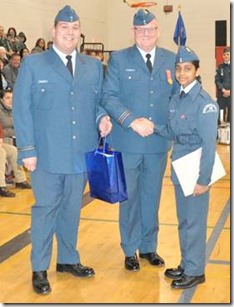 Royal Order of the Glassy Boot
| | | | | |
| --- | --- | --- | --- | --- |
| LAC E. Boyden | FSgt R. Barton | WO2 B. Medina | WO2 A. Lloyd | F/Sgt M. Singh |
| F/Sgt A. Carson | WO2 E. Dellipizzi | F/Cpl F.Chandler | Sgt J.Hancock | F/Cpl J.Hancock |
| F/Cpl H. Kennedy | F/Cpl M. Anthony | F/Cpl R. Sealy | F/Cpl T. Talhouk | F/Cpl B. Wardell |
| WO1 A.Hembruff | | | | |
Presentation of a Bronze Duke of Edinburgh Award.
Future Cadet Activities
| | | | | | |
| --- | --- | --- | --- | --- | --- |
| Date | Day | Month | Activity | Location | Time |
| 4 | Fri | Dec | Tri Service Dance | Lviv Hall | 1800 hrs |
| 12 | Sat | Dec | Outdoor Training | Ganaraska Forest | TBA |
| 13 | Sun | Dec | Outdoor Training | Ganaraska Forest | TBA |
Tri Service Cadet Dance
Lviv Ukrainian Hall
Our Annual Tri Service Cadet Dance for the cadets in Durham Region is coming on Friday December 4th.
This is a high class event open to all the cadets in Durham Region and it is one of those activities that cadets should not miss out on.
To make sure that all of the Squadron's cadets know about this event and how important it is in the social life of our Squadron
we have included some of the photos that were taken over the years at previous Tri Service Cadet Dances.
Each year we have approximately 380 cadets and staff in attendance.
So if you have not yet got your ticket, now is the time to make sure you get one before they are all sold out.
Remember it is first come, first served.
Thoughts From the Treadmill
I would like to welcome all of the new recruits and their families to Chadburn Squadron. It was great to see so many people out supporting their new cadets last Monday. Although we are a large squadron and it may seem rather daunting dealing with everything over the next little while until you get used to how everything runs, please make sure to ask either a staff member or senior cadet if you need assistance with anything. We don't expect you to know everything and want to make sure you get the best experience possible.
Having said that, I would also like to remind the cadets and their parents that we do have a chain of command here and that you should follow it when possible. Part of what we do here is train leaders, we want to give the junior NCOs a chance to be the problem solver and if a cadet (or their parent) is always contacting someone outside of the chain, it quickly starts to destroy the system we have worked so hard to build up. I know there are times when it is necessary to go straight to the top with an issue, and I am not saying I don't want that to happen, however, cadets should quickly get to know what level in their chain to approach with an issue.
We are less than two weeks away from the Tri-Service dance, please get your tickets ASAP. We have some very large orders coming in from other units and I don't want our cadets to be left out of the fun.
Finally, a reminder ( I wonder if anyone will miss these when I stop?) Please get your sold books of lottery tickets turned in to Mrs. Chandler as soon as possible. I would like to stop saying this at some point before Christmas.
That's all for now,
Stay Safe and Have a Great Week.
Major Bliss
Aviation Photo of the Week
Another Flying Car
The Aeromobil 2.5, a flying car designed and built in Slovakia,
Using a steel frame with a carbon-fiber body, the Aeromobil 2.5 weighs 992 pounds empty and has a rear-mounted propeller powered by a Rotax 912 engine. In-flight maximum speed is claimed to be more than 124 miles per hour, though max speed on the ground drops to less than 100 mph (Aeromobil hasn't released exact numbers). Flying range is claimed to be 430 miles, and the driving range is limited to 310 miles. Check out the following video to see it flying.
http://ca.complex.com/sports/2013/10/aeromobile-25-test-flight-video
Our Website Chadburn.Org
Previous issues of the Dispatch may be found on our web site, Chadburn.org. To view past issues access the home page and then click on News.
The most recent news letters will be listed there while previous news letters may be accessed by clicking on the "view all news" heading located at the bottom of the section.
If you have comments or suggestions on ways to improve our newsletter or if you wish to unsubscribe from this email please notify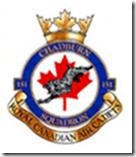 151 Chadburn Squadron
Royal Canadian Air Cadets
*** Excelsior per Debere ***Excellence through Endeavour
Proudly Sponsored by the Rotary Club of Oshawa