Proudly Sponsored for over 70 years by:
The Rotary Club of Oshawa
Issue # 11
Week of Nov 29, 2015
New Recruit Course!!
We have just started our second and last recruit course for this training year. However it is not too late to join.
So if you know of someone who might be interested in becoming an air cadet make sure they come to Rotary Hall on Monday night.
Tri-Service Dance!!
Friday December 4th is the Tri-Service Dinner and Dance
Tickets are available for $20.00
Officer Cadet Di Loreto will have the tickets available at closing parade on Monday night.
All cadets are encouraged to attend including our newest cadets.
If you have any questions regarding the dance, please email OCdt Di Loreto at heather.diloreto@gmail.com
Monday is the last day to purchase your tickets.
Paul Bawden Air Rifle Shoot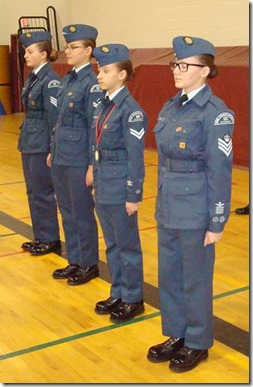 Our squadron was one of 25 cadet air rifle teams competing in the Paul Bawden air rifle completion
the was held in the Guelph Armouries. Our rifle team did extremely well as they placed second overall
with F/Sgt Carson placing second in the open competition. Although only one cadet is wearing a medal
we should note that all cadets did receive a medal for their 2nd place standing in the competition.
Well Done!!
Rotary Club of Oshawa Annual Polar Bear Swim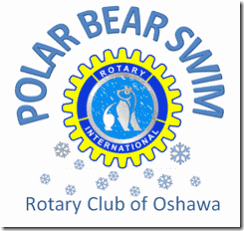 No we are not planning a polar Bear swim for cadets but the Rotary club is planning such a swim in Lake Ontario
for all those hearty souls who enjoy a challenge and who want to start the new year off with something just a little bit different.
The date is January 1, 2016 and the location is Lakeview Park, Oshawa.
Registration starts at 12 noon and Swimmers will be in the water at 1:30pm.
Participants will need to submit a waiver and a registration form.
Online Registration at Snap'd Oshawa https://oshawa.snapd.com/#/events/view/887908
before December 20, 2015 $25 after December 20, 2015 $30
If readers know of someone who might be interested in such a challenge please let them know.
Proceeds from the swim will be used to support Rotary activities in the community.
Royal Order of the Glassy Boot
This week the squadron welcomed 7 more cadets into our Royal Order of the Glassy Boot Society. Any cadet can join this most noble organization and all that is needed is
the approval of the squadron warrant officer and of course boots that reflect the aim and goals of the society. If you have doubts about the quality expected we suggest
cadets take a look at the standard exhibited by the Squadron's Senior NCOs.
As one can see the membership certificates are colourful and we know that this certificate
does look rather impressive when added to all those course certificates that cadets acquire as they progress through the cadet program.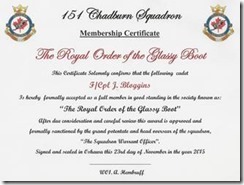 | | | | | |
| --- | --- | --- | --- | --- |
| LAC E. Boyden | FSgt R. Barton | WO2 B. Medina | WO2 A. Lloyd | F/Sgt M. Singh |
| F/Sgt A. Carson | WO2 E. Dellipizzi | F/Cpl F.Chandler | Sgt J.Hancock | F/Cpl J.Hancock |
| F/Cpl H. Kennedy | F/Cpl M. Anthony | F/Cpl R. Sealy | F/Cpl T. Talhouk | F/Cpl B. Wardell |
| WO1 A.Hembruff | | | | |
Future Cadet Activities
| | | | | | |
| --- | --- | --- | --- | --- | --- |
| Date | Day | Month | Activity | Location | Time |
| 4 | Fri | Dec | Tri Service Dance | Lviv Hall | 1800 hrs |
| 12 | Sat | Dec | Outdoor Training | Ganaraska Forest | TBA |
| 13 | Sun | Dec | Outdoor Training | Ganaraska Forest | TBA |
Cadet Graduation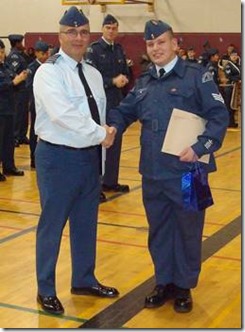 As everyone knows cadets can no longer participate in the cadet program once they reach the ripe old age of 19.
It is the custom in our squadron to present graduating cadets with a gift as well as a record of their cadet achievements.
One of these presentations occurred this past Monday.
This is a special occasion and we would like to take this opportunity to wish Sergeant Martin well on his graduation from the Squadron.
An Alumni Returns
This past week one of the squadron's former cadets WO 1 Josh Franssen dropped in for a visit.
He is now a member of the RCAF where he works as an avionics technician servicing Canada's CF18 fighter aircraft.
Currently he is home on leave after completing a tour in Kuwait and once his post deployment leave is up he
will be back servicing CF18's at CFB Bagotville Quebec.
Thoughts From the Treadmill
Less than a week until the Tri-Service Dance, there are still a few tickets left, and they can be purchased on Monday night. Please remember that cadets who are attending are representing the Squadron and we are expecting you to be on your best behaviour. Please remember that all of the other cadets attending are our guests and treat them all with respect.
Its an exciting time of year and also a very busy time. Over the next few weeks, we will be having visitors to the Squadron from different levels of our headquarters. Please remember that these visitors are here to see the Squadron in action and that if they ask you a question, be polite and answer the question to the best of your ability. Give your uniform a little bit extra attention and make sure your hair is cut to standard.
We will also no doubt be having more alumni visiting the Squadron, whether these folks are off in school or serving in the military, please take the time to say hi and ask questions of them. They wouldn't come and visit us if they didn't want to share their experiences with all of us.
There is still time to have new recruits come into the Squadron, if you have any friends or relatives who are interested, please have them come to the hall on Monday night.
That's all for now.
Stay Safe and Have a Great Week
Major Bliss
Aviation Photo of the Week
An Avro Lancaster from the Lincolnshire Aviation Heritage Centre in England
Our photo this week is no stranger to this part of our Dispatch. It is of course an Avro Lancaster but this one is a little different in that the aircraft is privately owned by two brothers in England. The aircraft is located at the Lincolnshire Aviation Heritage Centre which is the only Airfield Museum in England recreated to its original design and sited on an original WW2 airfield. This aircraft is actually operational and it is frequently used to give visitors a high speed taxi run down the main airport runway. However the aircraft is not currently certified for flight. The Centre has now acquired five new Rolls Royce engines for the aircraft and there is steady progress in upgrading the airframe to meet current aviation standards. Today there are currently only two Lancaster's in the world that are certified for flight, one in Canada and the other in England. If the Centre continues with its work to certify the aircraft there will hopefully one day be another Lancaster flying alongside the Lanc from the Battle of Britain Memorial Flight.
Few today few would know that a total of 7,377 Lancasters were built during the war. Of these 430 of them were built here in Canada and 3,932 were lost in action during the war. One of the most talked about raids in the aviation world occurred during the second World war when raids were conducted against the dams in the Ruhr Valley in Germany. The Dams Raid was conceived in the brilliant mind of Barnes Wallis, an experienced aircraft designer who in his spare time searched for weaknesses in the enemy's industrial infrastructure. The hydroelectric dams of the Ruhr Valley in Germany became his focus and he devised a cylindrical, 9500 pound weapon that could be dropped at low level while rotating backwards at 500 rpm. Released from a height of 60 feet, about 450 yards from a dam, and at a speed of 230 miles per hour, the weapon would then skip along the water (and over any torpedo nets) until it struck the dam wall, the spinning maintaining the weapon's stability as well as slowing it down. The backward rotation would then cause the cylinder to roll down the dam wall where it would explode at a predetermined depth. The wall would be weakened and the great weight of water behind the dam would cause the dam to collapse.
The raid was carried out by 617 Squadron of the Royal Air Force Based in England at RAF Scampton. We have included a special video of an emotional sunset ceremony to honour the memory of those who were lost in this operation. The parade involves the band of the Royal Airforce and the Queens Colour Squadron. The Lancaster aircraft above is also part of the ceremony and it taxis in to position prior to the start of the ceremony.
The ceremony is not that long but is a prime example of the drill and professionalism that exists in the Royal Air Force. We hope that cadets will take the time to view the following video as it is a prime example of the precision and pride that we all strive to encourage in our cadets.
https://www.youtube.com/watch?v=jlNixIFZ6wk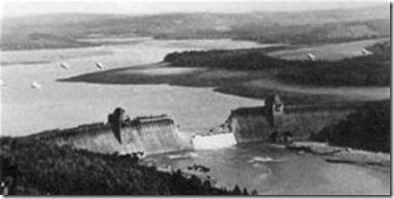 The Mohne Dam one of the dams destroyed by the Lancaster's of 617 Squadron.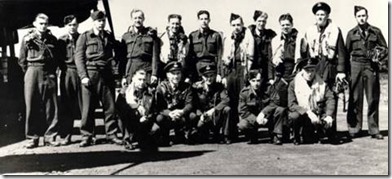 Canadian Aircrew from 617 Squadron who returned safely to England after the raid.
Our Website Chadburn.Org
Previous issues of the Dispatch may be found on our web site, Chadburn.org. To view past issues access the home page and then click on News.
The most recent news letters will be listed there while previous news letters may be accessed by clicking on the "view all news" heading located at the bottom of the section.
If you have comments or suggestions on ways to improve our newsletter or if you wish to unsubscribe from this email please notify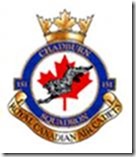 151 Chadburn Squadron
Royal Canadian Air Cadets
*** Excelsior per Debere ***Excellence through Endeavour
Proudly Sponsored by the Rotary Club of Oshawa