Dispatch Issue # 5
Week of Oct 9, 2011
Note:
There will be no regular parade on Monday due to the Thanksgiving Holiday
Tagging Weekend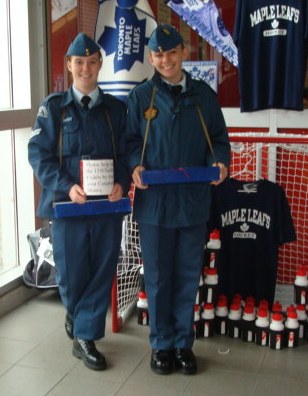 As everyone knows last weekend for some 4 days our Squadron's cadets were out tagging and raising funds across the city to help finance our Squadron's many activities. This is always a big operation and it entails cadets from the Squadron being out in public throughout the city. You might have met the two cadets that you see above who were located at the south Canadian Tire Store on Gibb Street.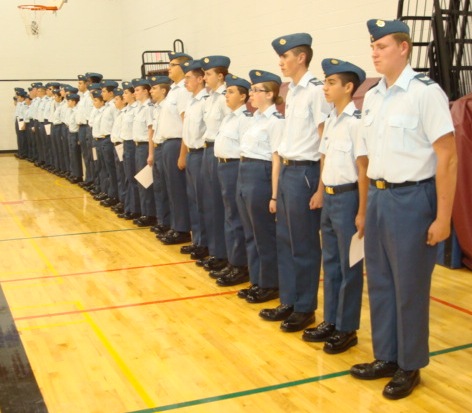 The weekend did have some technical problems and it did manage to rain making things a little more difficult. However the Squadron equalled the funds raised in last year's fall tagging session and overall it became a very successful operation.  The success was due in part to the dedication and hard work of the Squadron's staff and a number of parents who came out to help with the operation.  We know that all the cadets in the photo on the left collected at least $600 or more. The cadet on the right side of the photo actually collected $780. The other photo shows all the cadets who collected over $300. The Squadron would like to special thanks to Rick and Jane McAteer for their hard work in making this project such a success.
5 K Run Fund Raiser
For
Hearth Place Cancer Support Centre

On Sunday Morning October 23 the Squadron will be entering cadets in the 5 K Run at the airport to help Support Hearth Place a cancer support centre which is located at 86 Colborne Street west here in Oshawa. This is the first time that the Squadron has ever directly participated in a run such as this, although we have assisted at numerous other cancer fund raising events over the years.
Hearth Place was established in 1997 as a support centre where cancer patients and their families can come and share their experiences, find resources and discover new ways to care for themselves and each other. It is also a drop-in centre that offers a homelike atmosphere that provides community support for patients and their families dealing with cancer. They offer peer support, information, a resource centre, wellness programs and an ongoing lecture and discussion series.
An activity such as this is a good fit for the Squadron as it not only encourages physical fitness but it gets cadets involved in an important and positive community activity. The activity will be held on October 23 at the Oshawa airport and they will actually shut down the airport for about 4 hours on that Sunday morning. The 5K run will be down the taxiway and up runway 30. Two circuits will constitute the 5K run. There is also 1K walk or run for those who might wish for something a little less strenuous.  The Registration fee is $20 for cadets payable with cash or a check. Cadets are also encouraged to solicit additional donations from family, neighbours and relatives and enter their names on the pledge sheets.
We would also like to invite all those who receive this email as well as parents and alumni to join in this event. It is a new experience for the Squadron and an important community project. Please note that  the Squadron staff will be supervising only the unit's cadets that attend.
To assist cadets and others who may wish to participate in this event we have included at the end of this email an explanation of how this event will be organized and managed.
Lottery Ticket Draw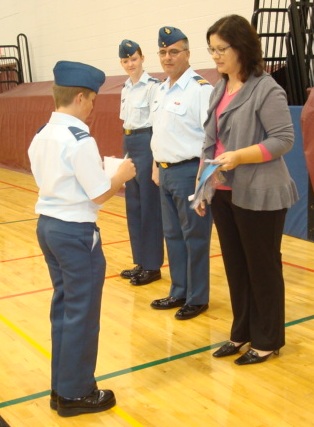 We are now well into the Air Cadet Leagues annual lottery program which helps to fund the Air Cadet League in the Province of Ontario. The Squadron has just concluded a special draw to help encourage sales and to get cadets to bring their one book of tickets sold and back at the Squadron. In the photo Mrs. Lysyk is shown presenting a prize to the winning cadet.
Royal Order of the Glassy Boot
You will notice that the membership list for our Squadron's most noble order of achievement and recognition is rather thin as we are just getting started again for this year. The reason is quite simple. Cadets who may have received this award last year must now in accordance good Air Force tradition re qualify, if they wish to have their names published below.
We are looking for hard working, sharp cadets who indeed meet the standards of the Royal Order of the Glassy Boot. So there be no doubt the standard for acceptance has not been revised, simply stated, if it's not glass all around you need not apply for only the best are allowed membership in this special society.
The challenge is there, if you wish to see your name below start working on your boots today. Last year 62 members of the Squadron succeeded in gaining membership in this exclusive order. It is a fact that if you want to gauge a cadet's enthusiasm, attitude and personal pride you need only to check the shine on their boots.
This year or goal is to get 75 cadets on this list so get busy.
Honourable Members
| | | | | | |
| --- | --- | --- | --- | --- | --- |
| 1 Flight | 2 Flight | 3 Flight | 4 Flight | 5 Flight | Band Flight |
| Sgt. A. Boyden | F/Sgt H. Whitney | F/Sgt J. Bauer | | | WO 2 T. Smith |
| | Sgt K.Katzer | Sgt. B. Mogosh | | | |
| | Cpl T.J Malette | | | | |
| | Cpl J. Ehrt | | | | |
Head Quarters Staff
| | | | | | |
| --- | --- | --- | --- | --- | --- |
| Squadron WO | WO | WO | Recruit F/Sgt | Recruit Inst. | Recruit Inst. |
| | | | | F/Sgt R. Manders | |
Aviation Photo of

The

Week
The Maverick a Flying Car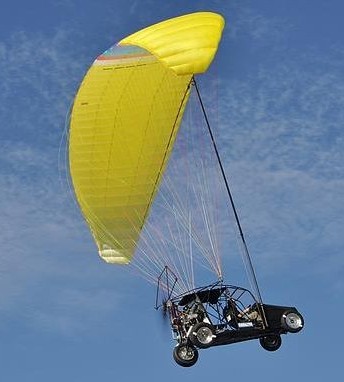 To see how versatile this car is open the following video
http://www.eaavideo.org/video.aspx?bcpid=90015277001&bctid=635469588001
151 Chadburn Squadron
Royal Canadian Air Cadets
*** Excelsior per Debere ***Excellence through Endeavour
Sponsored by the Rotary Club of Oshawa