To join the Squadron or learn about its activities go to our website at chadburn.org where you can check our activity calendar, see videos of cadets, view past issues of the Dispatch or connect on our social media streams.
Issue # 3
Week of Sept 25, 2011
The Dedication of the Departure Lounge
Oshawa Municipal Airport
In Memory of Lloyd Chadburn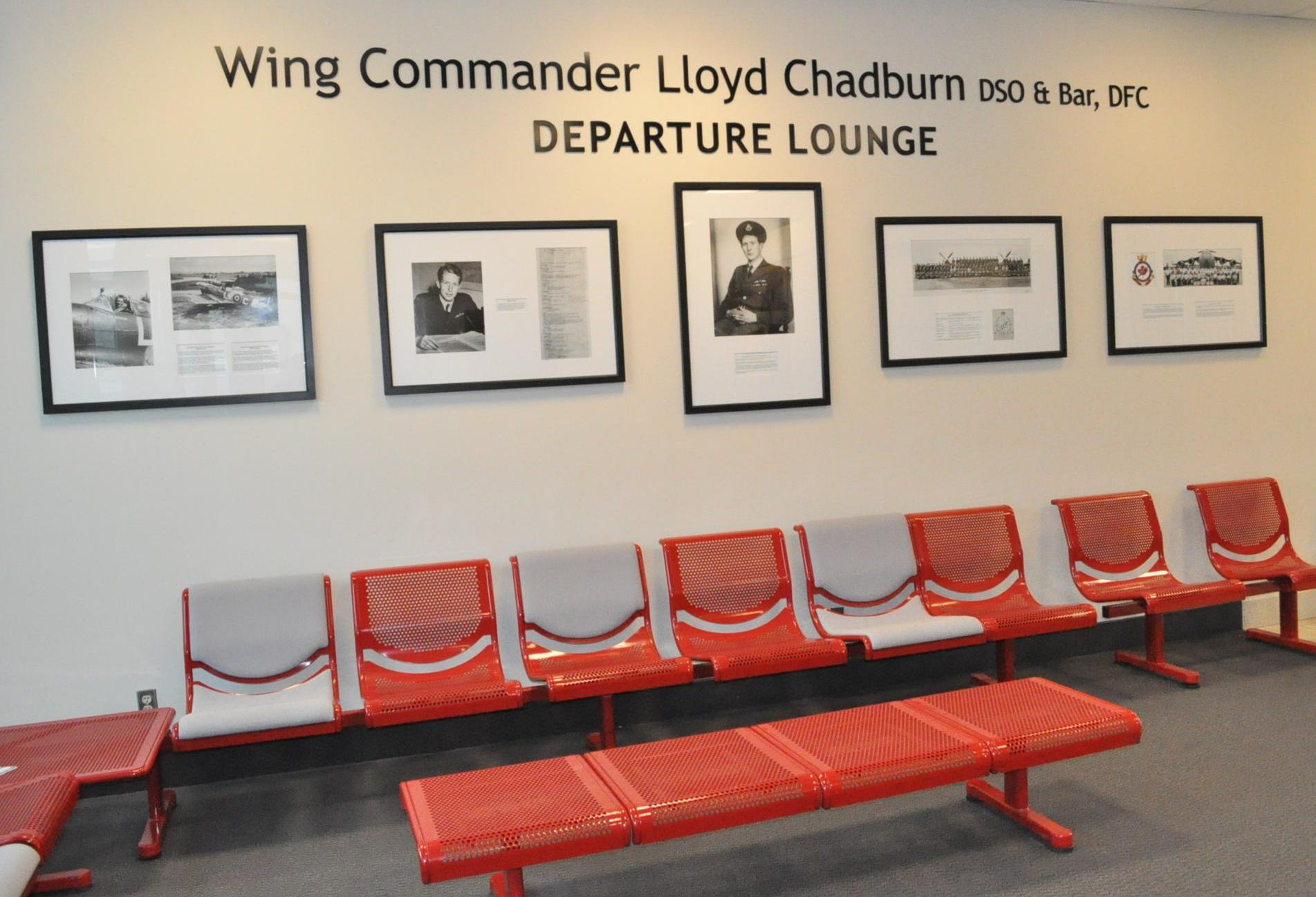 Oshawa Municipal Airport
In Memory of Lloyd Chadburn

This past Sunday morning the City of Oshawa conducted a special ceremony and parade at the Oshawa airport to officially name the Departure Lounge at the Oshawa Airport in honour of Lloyd Chadburn. Prior to the ribbon cutting the Mayor carried out a ceremonial review of the Chadburn Squadron which was followed by a march past and a general salute. In true Air Force style the cadets paraded in front of three vintage flight trainers of the Royal Canadian Air Force, a Tiger Moth, a Harvard and a DeHaviland Chipmunk.

Mayor John Henry Inspecting the Squadron
In writing the Dispatch we normally try to concentrate on photos and we endeavour to limit the number of words in an effort to make the Dispatch an easy read. However this was a very important day in the history of 151 Squadron so we taken the liberty of including a portion of the speech made by Mrs. Karen Wingrove a cousin of Lloyd Chadburn. We could fill the page with Chad's military accomplishments, his leadership abilities and his awards but these personal comments will let everyone see Chad as he was remembered by a young boy.
To many cadets the Second World War is just a collection of words that may sometime be the subject of a history course or perhaps it is the memory of a cold November Remembrance Day Service. To other's it a personal collection of memories of one of the greatest tragedies in world history. Today there are over 4000 air cadets who have worn a blue uniform which carried the name of Chadburn on its sleeve. Our Squadron's name is symbolic of one of those individuals in blue who played an important role in this epic struggle for our collective freedom.
Today the number of individuals who remember Chadburn's personality, his character and his actions, are slowly disappearing into history. There are however some who do remember Chadburn and his youthful personality. One of these individuals is Dick Hunter a retired business executive who now lives in Aurora. As a youth Chadburn boarded at his parents' home in Toronto while he attended a business school in the city. Mr. Hunter is known to only a few in our Squadron but he has been a quiet supporter of 151 Squadron over the years. The comments that follow are those of Mr. Hunter. Unfortunately he is unable to attend this morning but his thoughts and emotions about Lloyd Chadburn and his affect on his life are summed up in the following comments.
 Memories of a Young Boy Growing Up with Lloyd Chadburn
Lloyd became my 'Hero' at an early age…six years old as a matter of fact his mom and my mom were real good friends, starting when we lived in Oshawa. After Lloyd got out of Church Street Public School, he had to go to high school, but there was really nothing suitable for Lloyd. Lloyd wanted, and needed something more practical like training in accounting or in mechanics. So Florence Chadburn and my mother Nora Hunter made a deal. Lloyd boards with us in Toronto while he goes to Northern Vocational School on Mount Pleasant Road, not too far from where we lived. It was a great deal for the Hunter family, because I adored this cool looking teenager who drove a Ford convertible [Lloyd's departed dad had a Ford dealership in Oshawa]… and also the Hunter family could use the board money income because things were very tough in the thirties during the Depression. When Lloyd arrived, this six year old was in heaven. Lloyd took me out driving around north Toronto in the open convertible, with his long blonde hair held back by a yellow tie. Life was good at six! When he was home in Aurora during the summer, Lloyd had a reputation as an easy going teenager, a practical joker. He loved hockey and skiing. He was a true Canadian boy. He graduated too soon, well fed by Mother Hunter, then on to a short-lived bank job, then shuttling cars from GMC in Oshawa to Toronto dealers.
Then before I knew it, War broke and Lloyd had graduated from Uplands. At nine years of age I started a labour of love… a scrapbook that recorded all of Lloyd's exploits overseas. It started with the Uplands graduation and ended with the Memorial Service at Trinity Anglican Church in Aurora in late June 1944. I attended with my Mom and Dad… a heart broken thirteen year old. My scrapbook was added to after his death when I clipped a Toronto Star article and picture of Florence Chadburn receiving the Legion of Honour for Lloyd.
My life has been affected by him significantly. My leadership and management style evolved to be very easy going and approachable but highly disciplined, just like Lloyd's. He, however, was a born leader. His example took me to be a president and chairman of companies.
Lloyd, thanks for the memories … and the Lessons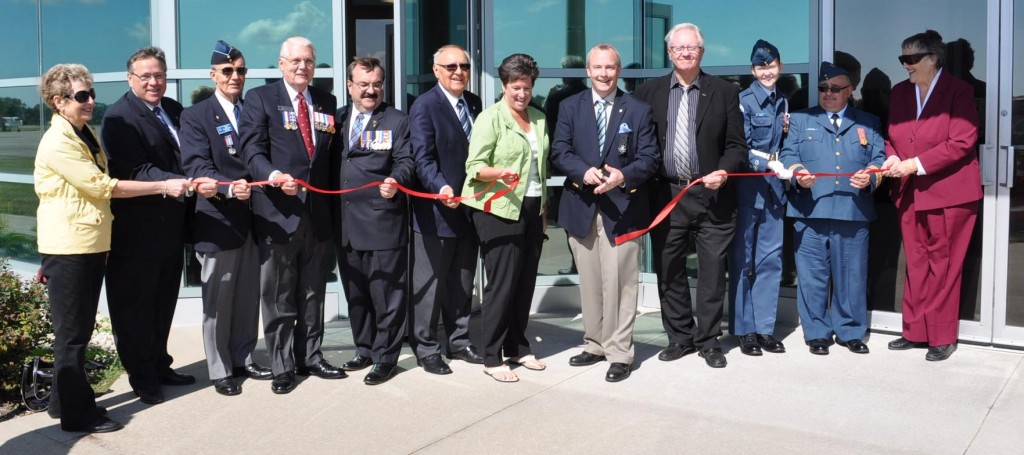 Mayor John Henry cutting the ribbon to officially open the lounge.  
The dedication ceremony concluded with the entire Squadron marching down runway 23 and across the airport to the Battle of Britain Ceremony which was conducted on the opposite side of the airport. This was a first for the Squadron. In fact it may have been a first for any air cadet squadron to march with their band playing and flags flying down one of the main runways of an fully operational airport.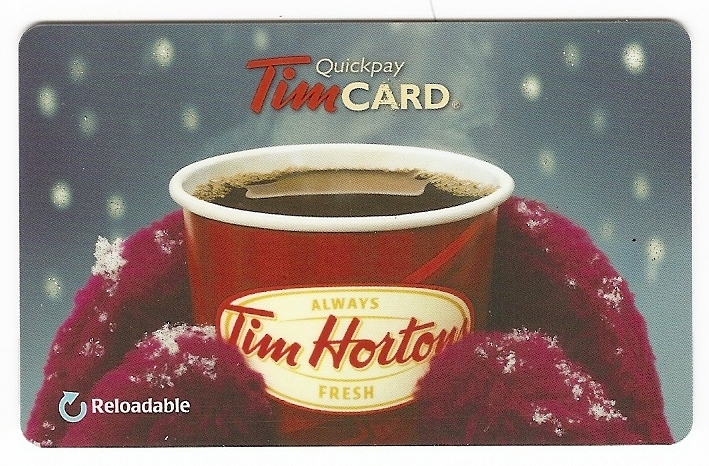 Tim Cards
In the Spring of last years training year Chadburn Squadron conducted a very successful campaign to send Tim Cards to members of the Canadian Forces who were over seas and serving serving in Afghanistan. As it turned out idea was a great success and we succeeding sending some 280 $10 Tim Cards overseas. During the summer months we received an email and a letter from members of the Forces which we would like to share with all those who participated in this rewarding effort. The first email came from MWO Langelier and the letter was sent to 11 year old Brandon McCutcheon in Coldwater Ontario. Brandon is Nancy Gilbank's grandson.
Good afternoon
My name is MWO Langelier, I am currently deployed in Afghanistan with the Mission Transition Task Force. We have been tasked with packing all the equipment currently in Afghanistan and returning it to Canada in order to be ready for the next Canadian Forces mission. This is my second mission in Afghanistan and I am always amazed at the level of support that we receive from Canadians. We were given the privilege to serve our country and can assure you that your constant support make us even prouder to do so. I would like to thank your Squadron for the Tim Hortons cards that you send overseas for us to enjoy, a coffee from Tim Hortons brings a little taste from home that is much appreciated by all. The well wishing thoughts that were included in with the gifts card are also big with all the troops. My card was signed by Louise Parkes, not sure if she is part of your squadron or a person residing in your area but if you could please pass on to her that her thoughts were appreciated along with the morning coffee.
MWO Langelier
CSM Logistic Support Group
TF 1-11
Afghanistan
Dear Brandon
I just received your note as well as the Tim Hortons card that you sent. It means a lot to the soldiers that are here that people
back home in Canada are thinking about us.Thank you very much for your kind words and I will definitely enjoy the coffee.
Lt. Col Terry Leigh
Battle of Britain Parade

This past Sunday our Squadron also participated in the annual Battle of Britain Parade held at the Airmen's Park at the Oshawa Airport. This parade is an important occasion and a time once again to reflect on the significance of this event and its affect on world history. It is best described through the following comments by Winston Churchill.
"The Debt to Our Airmen"
"The gratitude of every home in our island, in our Empire, and indeed throughout the world except in the abodes of the guilty goes out to the British airmen who,
undaunted by odds, unweakened by their constant challenge and mortal danger, are turning the tide of world war by their prowess and their devotion.
Never in the field of human conflict was so much owed by so many to so few."
Winston Churchill
Address to the British Parliament
Wednesday, August 21, 1940
They shall not grow old as we who are left grow old
Age shall not weary them, nor the years condemn
At the going down of the sun and in the morning
We will remember them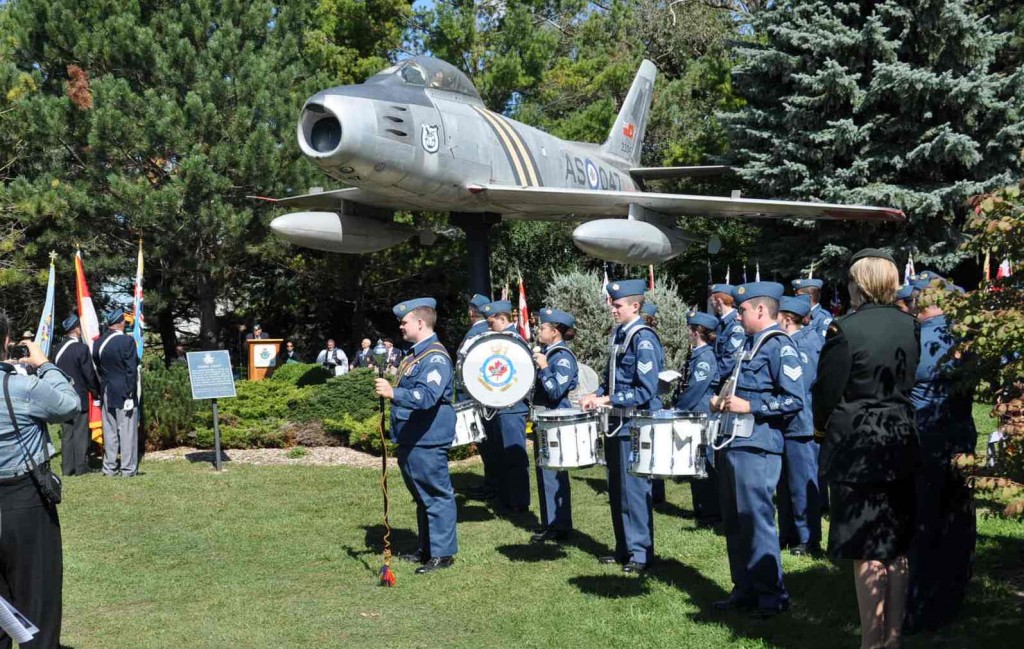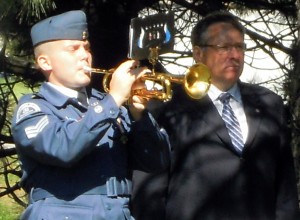 At the conclusion of the service and as the parade dismissed the participants and guests were thrilled to see of one of the only two Lancaster's in the world do a fly past across the field.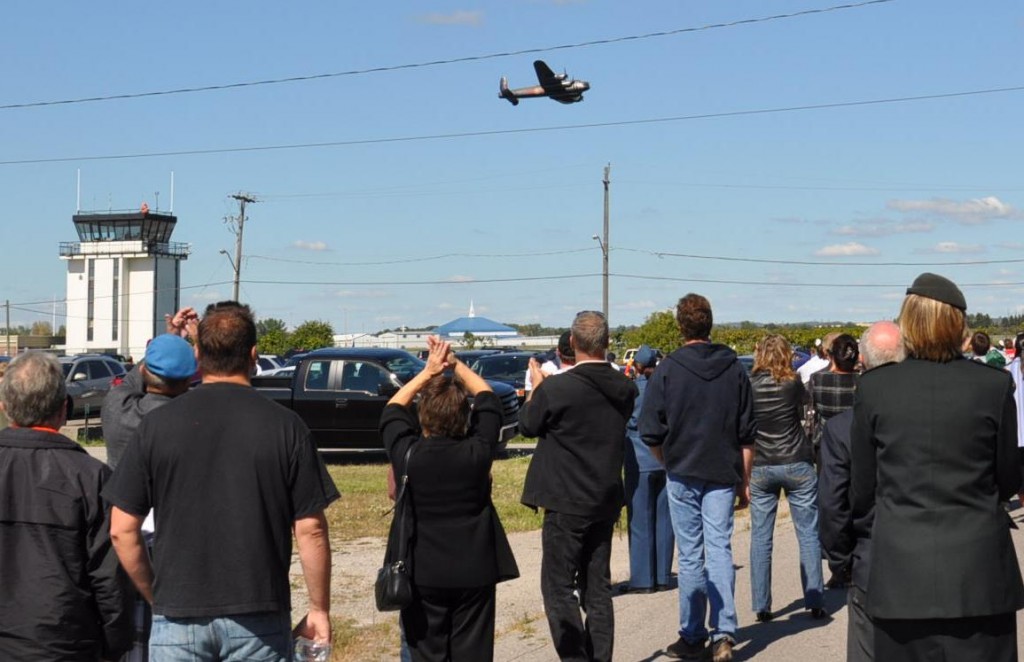 The flight was not scheduled they just happened to be passing by apparently on their way back to Hamilton and the Canadian War Plane Museum.
Aviation Photo of The Week
The Avro Vulcan bomber the only one of its type flying anywhere in the world.
It is seen here flying over northern England.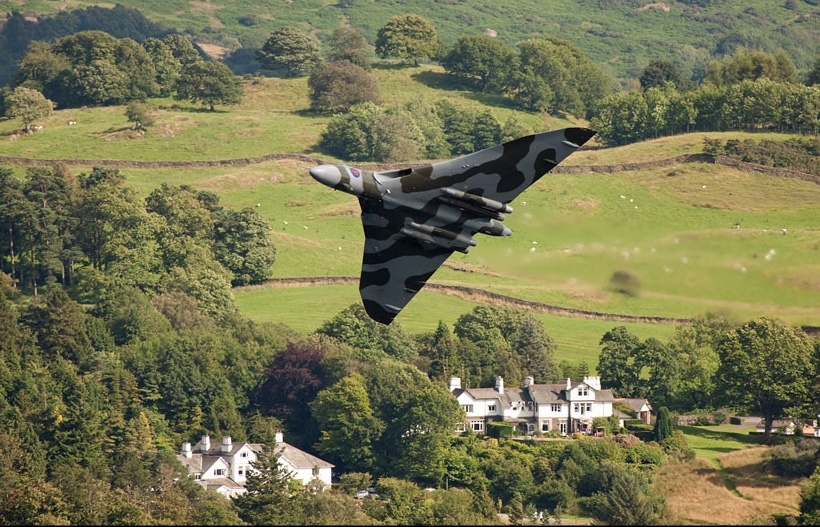 Avro Vulcan XH558 The Spirit Of Great Britain is the only airworthy example of the 134 Avro Vulcan Bombers that were operated by the Royal Air Force from 1953 until 1984.
Vulcan XH558 served with the RAF between 1960 and 1985 in the bomber, maritime reconnaissance and air to air refuelling roles.
It is presently operated by the Vulcan to the Sky Trust as a display aircraft, funded entirely by charitable donations and the UK Lottery's Heritage Fund.
It is registered with the United Kingdom Civil Aviation Authority as G-VLCN but has an exemption to fly in Royal Air Force markings as XH558.
Notes:
If readers wish to learn more about the cadet organization or view presentations of past cadet activities go to "About Us/ Web Links" at Chadburn.org.
If you have comments, questions or wish you to  join the Squadron – please  call us at (905) 576-1511 or email admin@chadburn.org
If you wish to unsubscribe from this email please notify rgilbank@rogers.com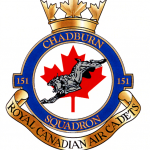 151 Chadburn Squadron
Royal Canadian Air Cadets
*** Excelsior per Debere ***Excellence through Endeavour
Sponsored by the Rotary Club of Oshawa