.
Dispatch Issue # 32
Week of April 29, 2012
.
Parents
.
1. You can pick up your MacMillan frozen Food Order at the Rotary Hall on Monday evening after 7 pm.
Parents may park across street behind the school.
Remember you must pick up your order tomorrow as we have no facilities to store frozen foods.
2. The Vesey's Bulb Order has been forwarded to PEI and we will advise you of the pickup date, time and place.
.
Cadets
.
1. Remember the Monday Parade will be at the "CHILDREN's" ARENA
.
2. Do not forget the last cadet dance of the year will be held this Friday at 420 Wing. It is a Neon Dance that means lots of loud and bright colors. This is your last chance this training year for another foot stomping and swinging affair so make sure you attend.
. 
3. Dayton Ohio Trip 2012. As we have mentioned over the last little while, the planning for the Year-End-Trip to Dayton Ohio is well under way.
http://chadburn.org/wp-content/uploads/2012/04/Dayton-cost-per-cadet.xlsx
.
This link will take you to the Squadron web page where you will see the list of 100 cadets who have been selected to attend the trip to Ohio.  There is also a column with the amount owing for each cadet.  This amount has been adjusted based on the amount of money raised during our recent fund-raising activities.  If you have questions regarding the amount owing, CI Di Loreto will be at the hall tomorrow night.
.
We are asking parents of these cadets to come to Rotary Hall on Monday evening April 30th at 7:00pm to fill out paperwork which is required to take the cadets across the border.  We ask that you bring the cadet's birth certificate and health card with you to ensure we have copies of them for the trip, we also require emergency contact information if you are not going to be at the phone numbers we have on file for you. 
.
Payment may be made by either cash or cheque, please make cheques payable to 151 Chadburn Squadron .
.
If your cadet has decided to withdraw their name from the trip, please email heather.diloreto@gmail.com so that another individual can be selected to fill their place. 
If you have any questions regarding the selection process please contact Captain D. Bliss
.
Just a Few LAC Promotions
.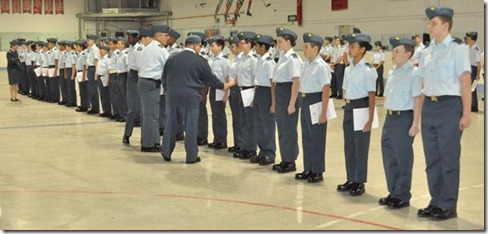 .
As well as presentations of First Aid Badges
.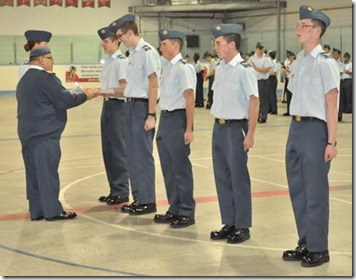 .
The Brits go to Belgium
.
All of the British Officers who visited with us last summer received a special invitation to visit Supreme Headquarters Allied Powers Europe (SHAPE). They also had a chance to visit some of the WW1 sites some of which were probably visited by Canadian Students on their recent trip to Vimy Ridge. Here are some photos that they took during their three day visit.
The first photo is W/C Pope and F/L Blackburn in a Black Hawk Helicopter.  The second is a photo of the Menin Gate in Ypres Belgium on whose walls are inscribed the names of over 57,000 names of those lost in the First WW who have no known grave.
The last photo is a bank of wreaths inside the gate .There are wreaths here from many including  the Canadian Forces and the last wreath top right is from Maxwell heights Secondary School here in Oshawa. If you would like to see what happens here every day at 8:00 PM click on the following:
.
http://www.greatwar.co.uk/events/menin-gate-last-post-ceremony.htm
.
.
.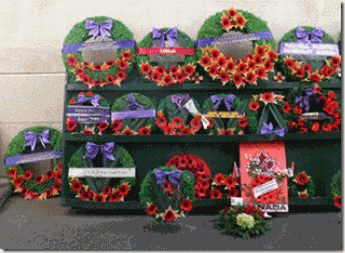 .
News Flash!!!——
.
Yesterday and today our Squadron participated in Ontario's Eastern Region Cadet Annual Band and Drill competition. The good news is that our Squadron's Drill with Arms Drill Team stood first in the Drill with Arms Competition. To top it off  the Squadron's Brass and Read Band also came in first overall as well. All the excitement was topped off with the  Drum Major being  judged the top Drum Major in the competition.
.
The final band competition was not without some humor as the Drum Major rocketed the Mace overhead only to have it end up hooked in a protective mesh hanging over the floor. It produced a rather humorous delay but a spare mace was quickly found and the competition went on. The Mace ended up staying suspended over the competition for the balance of the Squadron's performance. Trust Chadburn to perform a stunt like this.
Winning these awards means that our Squadron is now entered in the Provincial Championships which will be held at the end of May.
.
Here they are one excited group of proud hardworking cadets.
.
.
Our thanks goes out to all the cadets and staff who worked so hard to make this day such a success. Without all the effort by the cadets and the dedication of the Squadron's staff this remarkable achievement would not have been possible. Our congratulations to all.
.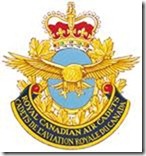 .
Air Cadet League Lottery
.
The following are the results of the 2012 OPC Raffle Lottery Draw held Friday, April 13, 2012 at 4900 Yonge Street:
.
1st GRAND PRIZE– 2012 Honda Pilot LX OR 2012 Honda Odyssey EX RES
OR Two Honda Civics, One LX Auto and one DX 5spd manual.
Ticket no: 097251 Courtney Davis, Bowmanville 172 Sqn
2nd GRAND PRIZE – $7,500 Cash
Ticket no: 066201 164 Squadron Sponsoring Committee 164 Sqn
.
3rd PRIZE– Four RESIDUAL PRIZES OF $5,000 Each
Ticket no: 049357 Min Ram, Mississauga 800 Sqn
Ticket no: 178202 Randy Weber, Perth 585 Sqn
Ticket no: 013401 Cameron Craig, Brampton 132 Sqn
Ticket no: 064123 Videta Mulligi, Oshawa 151 Sqn
.
4th PRIZE– Sixteen RESIDUAL PRIZES of $1,000 Each
Ticket no: 095514 Don Benassi, Hamilton 779 Sqn
Ticket no: 168283 L. Pisarek, Etobicoke 188 Sqn
Ticket no: 145038 Tony De Rosa, Toronto 180 Sqn
Ticket no: 132682 Helia daCosta, Cambridge 296 Sqn
Ticket no: 072126 Phil Ring, Caledon 892 Sqn
Ticket no: 004309 Rob Fourniize, St. Catharines 128 Sqn
Ticket no: 004995 B. Buzdygan, Thorold 128 Sqn
Ticket no: 063281 Taras Bahriy, Toronto 151 Sqn
.
Oshawa Golf Club
.
The Refuge,  Annual Fundraising Dinner
.
On Thursday evening the Squadron provided music at the Oshawa Golf Club for a special fund raising event for the "Refuge" an organization devoted to homeless and street youth in the Regional Municipality of Durham. The Squadron was asked to participate in the opening ceremony to welcome  the organizations special guest speaker Mrs. Laureen Harper who was accompanied to the dinner by Senator Don Meredith.
.
.
Durham Regional Heritage Fair
.
At the Durham District School Board Education Centre Taunton Road West.
.
A heritage fair is a new subject for the Dispatch. It is probably not well known but every spring from coast-to-coast more than 250,000 elementary and middle school students from over 1,500 schools participate in Canada's Heritage Fairs program. At these fairs students showcase the diversity of Canada's past through their research and hands-on activities.. The Ontario Heritage Fairs Association is learning initiative developed to increase public awareness and interest in Canadian history and it offers students the opportunity to explore their Canadian heritage and to present the results of their efforts in a public exhibition.
.
This week we found out that two of our cadets had been selected to exhibit their displays in the lobby of the Durham Board of Education Centre. Both had picked Lloyd Chadburn and 151 as their choices for their heritage display. The one on the left was made by AC Jonathon Glazier and the one on the right was made by Cpl. Brooke Kenedy. Both are students in Lakewood Public School.
.
Our congratulations to these two cadets for having their Chadburn displays selected for this special exhibition.
.
.
.
Chadburn Squadron is somewhat unique in the air cadet world as there are only two squadrons in Ontario and perhaps Canada that carry the name of a famous Canadian fighter pilot. The other is Billy Bishop another legendary pilot in the first World War. The Squadron bearing his name is in Owen Sound.  In our case we are fortunate to have personal contact with Chadburn's family and we have displayed on our website a considerable collection of articles and photos about his personal life and his military achievements. We hope cadets and others will take a moment to look at our site and see firsthand what a remarkable individual he was.
.
Quick Links to the Squadron Web Site – Chadburn.org
.
To link to the Summer Camp Application Status List – Click Here
The Squadron's Google Activity Calendar– Click Here
Past Issues of the Squadron Newsletters– Click Here
You Tube– Click Here
Web Links – Click Here
.
Aviation Photo of The Week
.
A Dutch company is close to achieving the dream of every motorist ever stuck in a traffic jam: the ability to lift off and fly over it. PAL-V Europe NV recently tested a half-plane, half-car hybrid that promises to cruise through the sky as easily as it cruises down the highway. The flying car is known as the PAL-V (Personal Air and Land Vehicle.)
.
The three-wheeled vehicle has been in development since 2008. The sleek design is an impressive blend of land- and aircraft. Retractable rotors power the vehicle in flight, but slide behind the PAL-V during ground transport. The top speed of the craft is reportedly the same on land or in the air: over 100 miles-per-hour.
.
Most impressively of all, the PAL-V is street as well as air legal. Anyone with a driver's license – as well as a private pilot's license – can captain the flying car.
.
.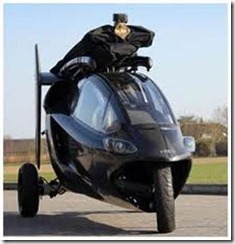 .
Check out this rather unique vehicle at
. 
 http://www.youtube.com/watch?v=SgHSaNtAMjs
.
Notes:
.
If you have comments or suggestions on ways to improve our newsletter, our website or if you wish to unsubscribe from this email please notify rgilbank@rogers.com
.
.

.
151 Chadburn Squadron
Royal Canadian Air Cadets
*** Excelsior per Debere ***Excellence through Endeavour
Sponsored by the Rotary Club of Oshawa