.
Dispatch Issue # 33
Week of May 6, 2012
.
A Flying Weekend
.
Yes we did go flying last weekend. 9 cadets went power flying Oshawa Airport and 38 cadets went Glider flying at Markham airport.
.
.
A Perfect Target "100"
.
It happened a week ago at a practice shoot in Pickering. This is second time in the Squadron's history of air rifle shooting that a cadet has achieved this remarkable feat.
.
.
The Top Taggers
.
The cadet tagging program this spring was a great success and these two cadets were the two top sellers in the whole Squadron. Unfortunately the top tagger F/Cpl Robert Walmsey was unable to attend last week's parade.
.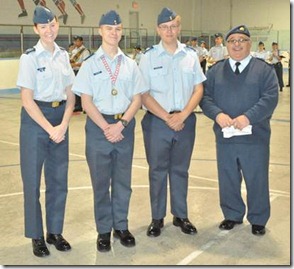 .
The Drill Team and Squadron Band Leaders
.
As everyone knows by now our band and drill teams which competed a week ago in Trenton came out as the top teams in the Eastern region of the Province. In addition the Drum Major was also the top D/M and he is shown here being promoted to the Rank of F/Sgt.
.
.
The Spring Dance 420 Wing
.
Last Friday was dance night at 151. In case you did not remember it was a neon Dance hence some rather colorful outfits.
.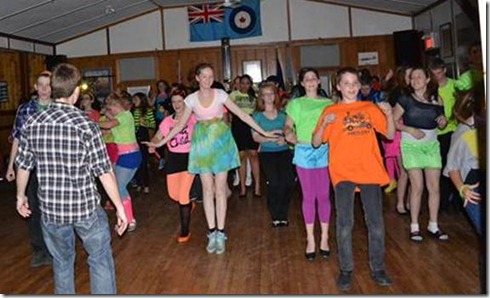 .
Quick Links to the Squadron Web Site – Chadburn.org
.
To link to the Summer Camp Application Status List – Click Here
The Squadron's Google Activity Calendar– Click Here
Past Issues of the Squadron Newsletters– Click Here
You Tube– Click Here
Web Links – Click Here
.
Aviation Photo of The Week
.
A scary moment for Canadian Warplane Heritage's beloved Lancaster
.
"A12O0048: The Canadian Warplane Heritage Museum Avro Lancaster Mark X (C-GVRA) was on a recurrent flight training local trip. After concluding some air work the flight crew noticed that the aircraft had a tendency to roll to the right. Looking from the cockpit the crew observed that the outer right wing tip had partially detached and flipped over on top of the wing., The ground crew examined the failed area and noted that the lower attachment brackets for the wing tip had failed but that the upper attachment wing tip brackets held the wing tip and prevented complete separation."
.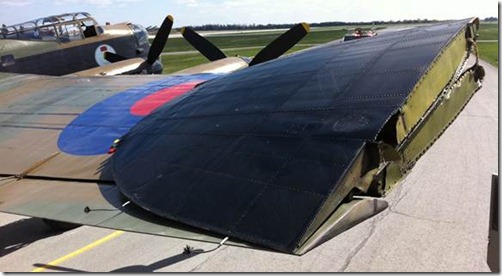 .
Notes:
.
If you have comments or suggestions on ways to improve our newsletter, our website or if you wish to unsubscribe from this email please notify rgilbank@rogers.com
.

.
151 Chadburn Squadron
Royal Canadian Air Cadets
*** Excelsior per Debere ***Excellence through Endeavour
Sponsored by the Rotary Club of Oshawa