.
Dispatch Issue # 30
Week of April 15, 2012
.
Band Practice!!
Band Practice this Thursday, April 19, is for the COMPETITION BAND ONLY
in the gym at Village Union school, which is across the street from the cadet hall
from 7 to 9:30pm.
.
Band competition is two weeks away and every practice is extremely important.
BE THERE!
.
Fund Raising Notice
.
Cadets and staff, don't forget to bring in your order forms and money for Vesey's Bulbs and MacMillan's foods
.
402 Squadron RCAF
.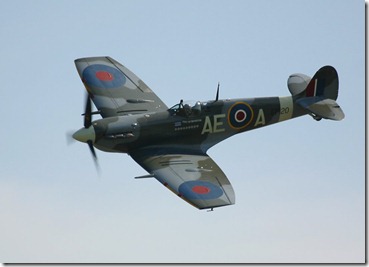 .
Some may remember that one of the aircraft flown by Lloyd Chadburn during the war was AEA a Mark 5B Spitfire which is still flying in England. This aircraft which Chadburn flew on 22 different occasions during the war was an aircraft from 402 City of Winnipeg Squadron. This week we were pleased to add  another name to our master email list. It was LCol Robert Patrick a former Commanding Officer of 402 Squadron who is now retired from the Royal Canadian Air Force and who lives in Winnipeg.
.
Easter Egg Hunt Oshawa Airport – Sponsored By "The Airport Lions Club"
.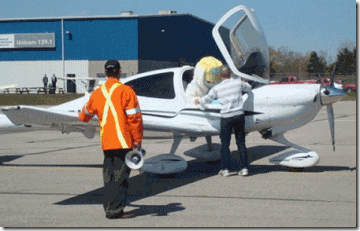 .
Of course the Easter Bunny arrives by aircraft
. 

.
The Waiting Crowd
.
.
.
An exciting moment for some little ones
.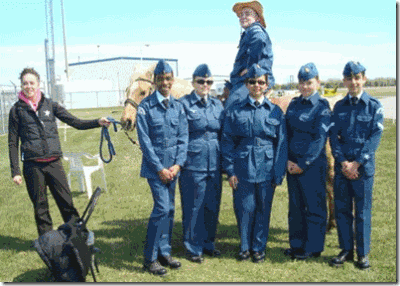 .
Naturally one of the cadets just had to try out the pony rides
.
The Presentation of a Trillium Fund Grant to
151 Chadburn Squadron
.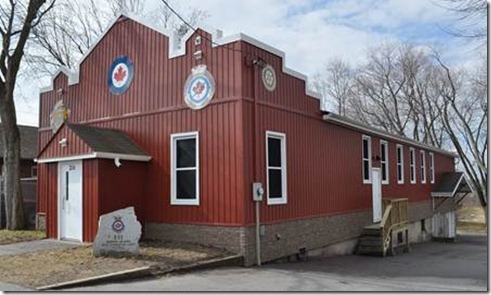 .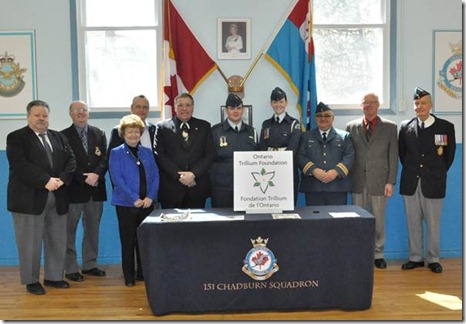 .
Last Friday the Squadron recognized the Trillium Foundation by holding a special ceremony at Rotary Hall to acknowledge the $48,000 Trillium grant that was used to insulate and modernize the exterior walls of the Squadron's headquarters. The ceremony was attended not only by members of the Squadron, the Rotary Club and the Air Cadet League but Mayor John Henry and our MPP Jerry Ouellette both of whom participated in the program. Our Squadron is now fortunate to have through this Trillium grant one of the most attractive and unique buildings in the community.
.
Air Cadet League Post-Secondary Education Scholarship
.
The Air Cadet League of Canada is pleased to offer two post-secondary education scholarship awards to Royal Canadian Air Cadets. They are the Birchall Scholarship, and the Dale Scholarship, respectively.
.
Air Commodore Leonard J. Birchall, CM,OBE,DFC,O.Ont,CD,LL.D,D.Sc.M, and Mrs. Kathleen Birchall, have been long-time generous supporters of the Royal Canadian Air Cadet movement across Canada, but especially of Air Cadets enrolled in squadrons of the "Birchall Wing" in the Eastern Ontario Area. Robert Gordon Dale, DSO, DFC,CD, and Mrs. Mary Dale, have given exceptional service to C Canada in times of both war and peace. This has been especially so in their support of Royal Canadian Air Cadets. Robert Dale served as the National President of the Air Cadet League of Canada in 1972-1973, and he has continued to serve diligently and effectively as the Honorary President of the Air Cadet League of Canada ever since.
.
Applicants must be graduates of the Secondary School (or equivalent) system of any Province or Territory, in the year of application, and who are entering directly into a full program of studies at a fully-accredited post-secondary education facility (university, college, cegep or technical institute) where the program to undertaken leads to a degree, diploma, or professional or technical qualification. Applications (original and one copy) for these awards must be received by the National Office of the Air Cadet League of Canada, 66 Lisgar Street, Ottawa, ON K2P 0C1, no later than 1 May of the entrance year.
.
An award will not be approved finally until confirmation of proof of acceptance and registration at the selected post-secondary education facility has been received. In this regard, it should be noted that such proof is not required at the time of application, but that it will be required from the selected recipients as soon as possible after that determination has been made. Forms are to be completed on-line and then printed. Information to be provided: (Original and One Copy) Data as requested on pages three (3) and four (4) of the application, including:
.
*    A letter from the applicant providing an outline of career goals and objectives;
*    A letter of recommendation from the applicant's Squadron Commanding Officer;
*    A letter of support from the Chairperson of the applicant's Squadron Sponsoring Committee;
*    Any other recommendations will be considered. i.e. School Principal, Department Head, or Counselor.
*    A copy of the most recently available Transcript of Marks from either the Secondary School, or from the Ministry of Education. For Québec Cadets – Secondary 5 Transcripts;
*    A selection board, comprised of members of the National Honours and Awards Committee, will be appointed to consider all eligible candidates.
.
The Chairperson of the Honours and Awards Committee will declare the name of the recipient of the award, and a cheque will be presented to the recipient when all requirements have been satisfied. Following selection, the recipient may be re quested to provide a photograph or digital image (in uniform) for purposes of publicity.
.
If you have any questions please contact the Air Cadet League, leaguehq@aircadetleague.com
.
Recognize Someone?
.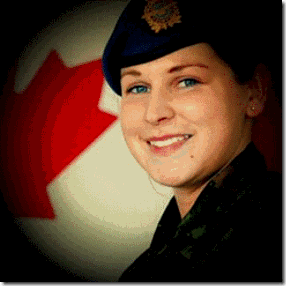 .
This photo which we just happened to find on Facebook is Michelle a former Squadron Warrant Officer who now works in the control tower at CFB Cold Lake as an air traffic controller
.
Royal Order of the Glassy Boot
Honorable Members
.
#1 Flight
F/Sgt C. Barton, F/Sgt M. Murphy, LAC F. Achan, Sgt. A. Boyden, F/Cpl D. Chandler, Cpl C. Zdebiak, Cpl R. Barton
# 2 Flight
F/Sgt H. Whitney, F/Sgt M. Lysyk, Sgt. K. Katzer, Cpl T.J. Malette, Cpl. J. Ehrt,
Sgt B. Jackson, Cpl. Flanagan Dellipiz, Sgt R. Bliss
# 3 Flight
F/Sgt J. Bauer, Sgt. A. Hembruff, Sgt B. Mogosh, Cpl B.Kennedy
# 4 Flight
F/Sgt M.Moroz, F/Cpl M. Wood, Sgt S. Schuldis, F/Cpl V.NcNaught, Cpl Medina, Cpl M. Obrien
# 5 Flight
F/Cpl  C. Barratt, F/Cpl  J. Shaw
Band Flight
WO2 T. Smith
Head Quarters Staff
WO 1 M.C.White, F/Sgt T. Neill, F/Sgt P. Lysyk, F/Sgt R. Manders, Sgt P.McQuillan, WO11 C. Williams
.
Quick Links to the Squadron Web Site – Chadburn.org
.
To link to the Summer Camp Application Status List – Click Here
The Squadron's Google Activity Calendar– Click Here
Past Issues of the Squadron Newsletters– Click Here
You Tube– Click Here
Web Links – Click Here
.
Aviation Photo of The Week
.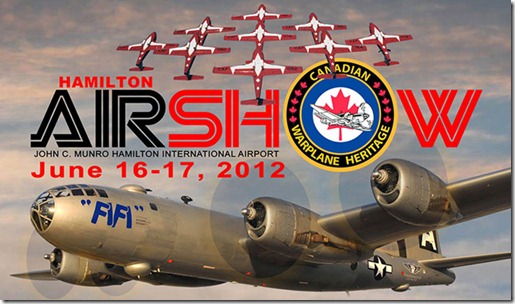 .
BOEING B-29 SUPERFORTRESS
.
Coming to the Hamilton Airshow. The only flyable B29 in the world
.
The Boeing B-29 Superfortress was the first very heavy bomber built for the United States Army Air Forces. The B-29 is most well-known for two missions that occurred in August of 1945 over Hiroshima and Nagasaki that lead to the end of World War II. Today, approximately twenty five aircraft remain with only "FIFI" being airworthy.
.
Click on the video and see what it takes to fly a real B29
.
http://www.eaavideo.org/video.aspx?v=1143348987001
.
Notes:
.
If you have comments or suggestions on ways to improve our newsletter, our website or if you wish to unsubscribe from this email please notify rgilbank@rogers.com
.

.
151 Chadburn Squadron
Royal Canadian Air Cadets
*** Excelsior per Debere ***Excellence through Endeavour
Sponsored by the Rotary Club of Oshawa