.
Dispatch Issue # 26
.
Week of Mar 18, 2012
.
Band Practice!!
.
Band practice this Thursday, March 22, is for the entire band  and will be held in the gym at Village Union Public School from 7:00pm to 9:30pm.
Village Union is located across the street from the Cadet Hall.
.
England Trip!!
.
There will be a short meeting on Monday night for those cadets who have paid the deposit for the England Trip.  We will be discussing fund-raising opportunities and ideas, please put your thinking caps on as we will be looking for good fund-raising ideas.  The meeting will be at 1915  in the Level 2 training classroom.  Listen for the announcement to fall out from opening parade.  Please have your email address with you as well as your parent's email address. (these can be printed on a piece of paper to make the process a bit faster and neater).
.
Annual Year End Trip!!
.
This year, the squadron will be visiting Dayton Ohio for our annual year end trip.  The dates for this trip will be Friday May 18th at 0700 until the evening of Monday May 21st.  We will be visiting Wright-Patterson Air Force Base which is the home of the United States Air Force Museum.  We will also be visiting other local attractions in the Dayton and Cincinnati areas.  The anticipated cost of this trip will be in the range of $200 each.  Cadets will be given the opportunity to reduce the cost of the trip through fund-raising activities.  As in previous years, passports will not be required by cadets who are Canadian Citizens.  There will be a sign-up list posted tomorrow night to gauge interest in this trip. 
.
Interprovincial Cadet Exchange!!
.
Starting Friday March 23rd, we will be hosting a group of cadets from 4 different Sea Cadet Corps in the Thunder Bay area.  On Saturday, Sunday and Monday afternoon, we can take 12 of our own cadets along to participate in the exchange activities.  There will be sign-up lists posted on Monday evening at closing parade.  Saturday will be spent in Toronto, Sunday we will be visiting Niagara Falls, and Monday afternoon we will travel East to Trenton for the Museum there.  Meals and activity fees will be covered by the military on all days. Please remember signing a list does not guarantee you will be attending.  Selected cadets will be contacted before Thursday night to let them know what activities they are attending. 
.
Cadet Familiarization Flying – Oshawa Airport.
.
This past weekend we were up flying, first on Saturday and then again on Sunday.
All together we succeeded in getting 24 cadets in the air and this brings our total cadets flown including British cadets to 109.
.
.
.
Royal Order of the Glassy Boot
Honorable Members
.
#1 Flight
F/Sgt C. Barton, F/Sgt M. Murphy, LAC F. Achan, Sgt. A. Boyden, F/Cpl D. Chandler, Cpl C. Zdebiak, Cpl R. Barton
# 2 Flight
F/Sgt H. Whitney, F/Sgt M. Lysyk, Sgt. K. Katzer, Cpl T.J. Malette, Cpl. J. Ehrt,
Sgt B. Jackson, Cpl. Flanagan Dellipiz, Sgt R. Bliss
# 3 Flight
F/Sgt J. Bauer, Sgt. A. Hembruff, Sgt B. Mogosh, Cpl B.Kennedy
# 4 Flight
F/Sgt M.Moroz, F/Cpl M. Wood, Sgt S. Schuldis, F/Cpl V.NcNaught, Cpl Medina, Cpl M. Obrien
# 5 Flight
F/Cpl  C. Barratt, F/Cpl  J. Shaw
Band Flight
WO2 T. Smith
Head Quarters Staff
WO 1 M.C.White, F/Sgt T. Neill, F/Sgt P. Lysyk, F/Sgt R. Manders, Sgt P.McQuillan, WO11 C. Williams
151 Squadron's Air Rifle Shooting Program
.
The Goal – Competitions such as "The  Zone Shoot R.S. McLaughlin Armories"
.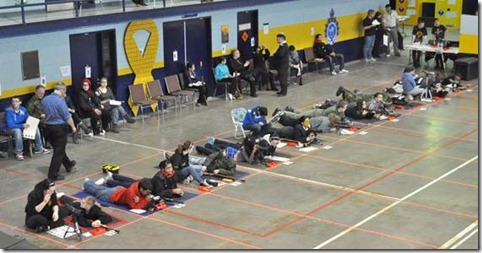 .
Our Shooting Team
.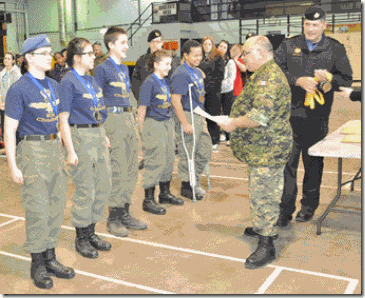 .
Where it all starts
.
.
And then practice  and  practice some more 
.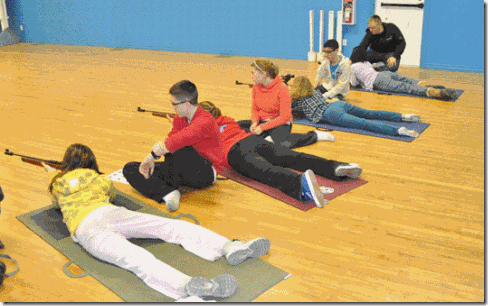 .
Our Indoor Range  –  At Rotary Hall
.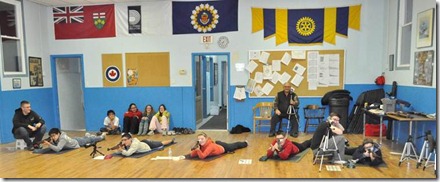 .
Quick Links to the Squadron Web Site – Chadburn.org
.
To link to the Summer Camp Application Status List – Click Here
The Squadron's Google Activity Calendar– Click Here
Past Issues of the Squadron Newsletters– Click Here
You Tube– Click Here
Web Links – Click Here
.
The Battle for Vimy Ridge in France
.
We know that there are several cadets who will be going to Vimy Ridge on a school trip this summer. We thought that readers might like to know that  Prime Minister Stephen Harper has just launched the Vimy Foundation Pin Campaign which seeks to raise awareness of the Battle of Vimy Ridge, one of Canada's most important military victories. It symbolizes Canada's victory at Vimy and recognizes the important role this battle played in shaping Canada's identity.
.
This year there will be special commemorative ceremony in the presence of 5000 Canadian youth marking the 95th anniversary of the Battle of Vimy Ridge
.
The Vimy Pin
.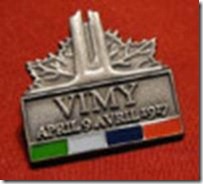 .
THE CLASP
.
On the top of the clasp is an elongated Canadian maple leaf, which has been used as a Canadian symbol since the early 1700s. Within the maple leaf are the iconic two towers of the magnificent Vimy Memorial designed by Walter S. Allward, built between 1925 and 1936 by the Canadian Government on land given to the nation by France to honor Canada's World War I sacrifice of 60,000 dead. The two towers represent Canada and France bound together by sacrifice.
.
THE COLOUR BAR
.
The four colored boxes represent the four Canadian divisions which fought together for the first time on April 9, 1917 at the Battle of Vimy Ridge. The red represents the First Division, the dark blue the Second Division, the grey-blue the Third Division, and the green the Fourth Division. The order of the ribbon's colors (left to right) reflects the positioning of the four Canadian Divisions facing the German defenses on the day of the battle.
.
The Vimy Pin was introduced in February 2009 and it has been described as "April's Poppy" by the National Post newspaper.
.
Aviation Photo of The Week
.
An Airline Pilot's Version of a Luxury Yacht
.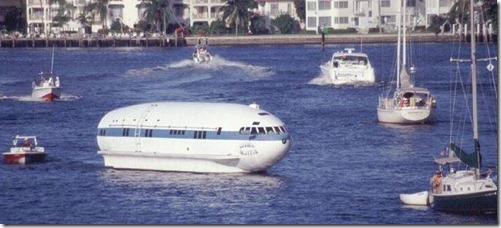 .
.
Notes:
.
.
If you have comments or suggestions on ways to improve our newsletter, our website or if you wish to unsubscribe from this email please notify rgilbank@rogers.com
.

.
151 Chadburn Squadron
Royal Canadian Air Cadets
*** Excelsior per Debere ***Excellence through Endeavour
Sponsored by the Rotary Club of Oshawa