.

.
Dispatch Issue # 25
Week of Mar 11, 2012
.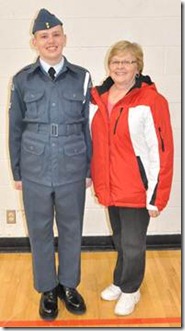 .
Cadet of the Week
.
Band Practice
.
Next week's band practice, Thursday March 15, is for the Competition Band Only
at the Hall from 7 to 9:30pm
.
Annual Squadron Mess Dinner
Lviv Ukrainian Hall
.
Our annual cadet mess dinner was held last Sunday and it was the largest dinner ever with almost 270 parents, cadets and guests in attendance. Our guest speakers both ex cadets gave interesting talks about their adventures as cadets and where they were in their current careers. Cate Wagstaffe now a professional diver and specializing in marine archeology talked not only about her experiences as a cadet but also about her diving adventures in various locations around the world,
.
Officer Cadet  David Brosseau on the other hand recounted his adventures as a cadet pilot and his participation in a variety of cadet summer camps across Canada. He will be graduating from Royal Military College this spring.   What follows are some of the speakers and the cadet award winners.
.
Our head Table 
.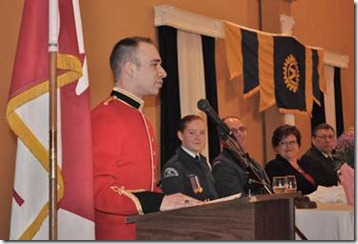 One of Our Guest Speakers
.
          International Exchange     Top Team Leader          Top Glider Pilot
.                     
                  Sports Award                       Band Award                  Drill Proficiency
.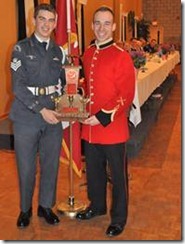 Snowbird Trophy – Top Power Pilot
.
         Top Cadet  – Leadership Course                     Top Model Builder
.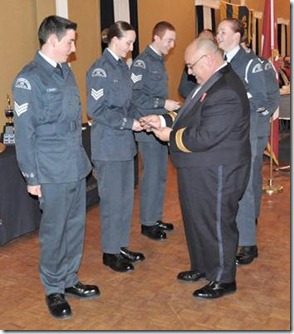 New Flight Sergeants
.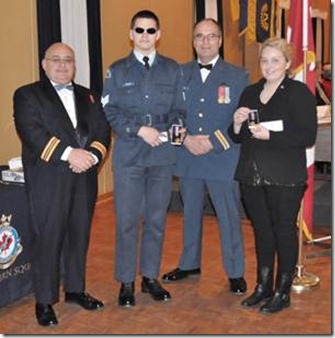 Our guest speaker with her cadet service award
.

Cadets who were awarded their cadet service medals at the dinner
.
.
Our Squadron Band
You can listen to a number of their musical selections that were played at the dinner by going to the Squadron's You Tube  site at:
.
http://www.youtube.com/user/ChadburnSquadronRCAC?feature=mhum
.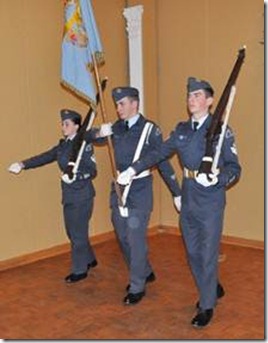 .
$1000 Rotary Club Post-Secondary Scholarship for Cadets in 151 Squadron
.
The Squadron is pleased to announce that our sponsor the Rotary Club of Oshawa is again this year awarding a $1000 academic scholarship to a Squadron cadet who will be entering a college or university next fall. The Scholarship will be awarded to the cadet who best demonstrates Rotary's four way test which is:
.
Is it the truth?
Is it fair to all concerned?
Will it build goodwill and better friendship?
Will it be beneficial to all concerned?
.
A letter from the applicant (approximately 300 words) is to be submitted summarizing their career as it pertains to the Four Way Test. They are also required to outline their career goals and list the post-secondary institutions that they have applied for. All applicants will be interviewed by members of the Rotary Club including a member of the Squadron's staff.
.
It is important that cadets base their comments on the points listed in Rotary's Four Way Test and how they have used these concepts in their life both in the Squadron and in their personal lives. Cadets will also be assessed on their dress, deportment, general knowledge and their participation in Squadron activities.
.
Award of a scholarship will not receive final approval  until confirmation of registration at a college or university has been received. Such proof is not required when submitting an application.
.
Cadets interested in applying for the scholarship are to advise the Commanding Officer of their interest.
.
Note: The interview date for the Rotary scholarship will be Tuesday 24 Apr 12  and the
interviews will be
conducted at the SQN HQ. Candidates will report in uniform and Candidates should prepare for a ten minute interview.
.
Interested in the Weather
.
Check out this site;  http://www.wrh.noaa.gov/zoa/mwmap3.php?map=usa
.
Question, what was the wind  velocity in Peterborough on March 9, 2012, 10.30 am?
Just click on the dot on the map for Peterborough
.
Royal Order of the Glassy Boot
Honorable Members
.
#1 Flight
F/Sgt C. Barton, F/Sgt M. Murphy, LAC F. Achan, Sgt. A. Boyden, F/Cpl D. Chandler, Cpl C. Zdebiak, Cpl R. Barton
# 2 Flight
F/Sgt H. Whitney, F/Sgt M. Lysyk, Sgt. K. Katzer, Cpl T.J. Malette, Cpl. J. Ehrt,
Sgt B. Jackson, Cpl. Dellipiz, Sgt R. Bliss
# 3 Flight
F/Sgt J. Bauer, Sgt. A. Hembruff, Sgt B. Mogosh, Cpl B.Kennedy
# 4 Flight
F/Sgt M.Moroz, F/Cpl M. Wood, Sgt S. Schuldis, F/Cpl V.NcNaught, Cpl Medina, Cpl M. Obrien
# 5 Flight
F/Cpl  C. Barratt, F/Cpl  J. Shaw
Band Flight
WO2 T. Smith
Head Quarters Staff
WO 1 M.C.White, F/Sgt T. Neill, S/Sgt P. Lysyk, F/Sgt R. Manders, Sgt P.McQuillan, WO11 C. Williams
.
Quick Links to the Squadron Web Site – Chadburn.org
.
To link to the Summer Camp Application Status List – Click Here
The Squadron's Google Activity Calendar– Click Here
Past Issues of the Squadron Newsletters– Click Here
You Tube– Click Here
Web Links – Click Here
.
Aviation Photo of The Week
.
January 10, 1964, started out as a typical day for the flight test group at Boeing's Aircraft Wichita plant. Over Colorado and cruising 500 feet above the mountainous terrain, the B-52 encountered some turbulence. The pilot climbed to 14,300 feet looking for smoother air. At this point the typical day ended. The bomber flew into clear-air turbulence. It felt as if the plane had been placed in a giant high-speed elevator, shoved up and down, and hit by a heavy blow on its right side.
.
The pilot told the crew to prepare to abandon the plane. He slowed the aircraft and dropped to about 5,000 feet to make it easier to bail out. But he then regained some control. He climbed slowly to 16,000 feet to put some safety room between the plane and the ground. Although control was difficult, The pilot believed he could get the plane back in one piece. As the pilot got closer to Wichita  a Boeing chase plane flew up to meet him and visually reported the damage. The other pilot, flying an F-100 fighter, came alongside the B-52 and he couldn't believe what he saw: The B-52's vertical tail was gone.
.
Six hours after the incident first occurred the pilot and his crew brought in the damaged B-52 in for a safe landing.
.

.
Notes:
.
If you have comments or suggestions on ways to improve our newsletter, our website or if you wish to unsubscribe from this email please notify rgilbank@rogers.com
.

.
151 Chadburn Squadron
Royal Canadian Air Cadets
*** Excelsior per Debere ***Excellence through Endeavour
Sponsored by the Rotary Club of Oshawa