.
Dispatch Issue # 24
Week of March 4, 2012
.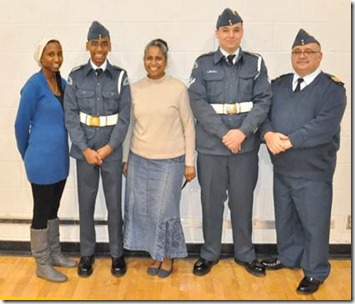 .
Cadets of the Week
.
NCO Leadership  Development Program
.
The Squadron recognizes that having well trained and experienced Team Leaders and Senior NCO's is one of the requirements for a successful cadet unit. To ensure that the unit has capable future leaders the  Squadron has just concluded a special five week training program which has been designed to supplement the normal cadet training activities. Cadets get hands on practice and instruction  teaching both in the classroom as well as on the parade square.
.
In addition they learn how to organize and manage cadet activities such as dances, sports, flying activities and administration. During the course cadets get a chance to rotate through various leadership positions such as Warrant Officer, Flight Commander, Team Leaders and Orderly Corporals. Throughout the course cadets are assessed on their drill and classroom techniques and they all participate in an interview process. In previous years NCO promotions were always based on courses such as this. Today with the new promotion system cadet evaluations are assembled for presentation at future merit review boards.
.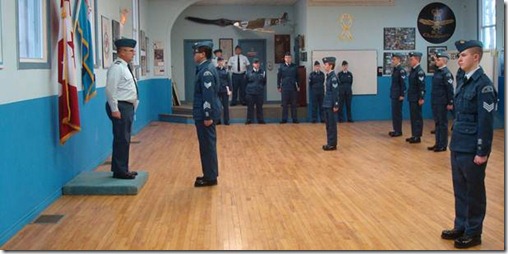 .
.
.
Model Contest
.
The photo shows all of the models (less two that arrived later) that were entered in this year's model building contest.
.
.
Winner 15 – 18 Years                                  Winner 12 – 14 Year
F/Cpl D. Chandler                                                Cpl R. Loney 
.
Special Mention
.
We would be remise if we did not recognize the effort and craftsmanship that was put into the following two models.
.
We did not suggest or ask for a diorama but we want AC Alex Shayda to know that the extra effort that he put into his entry was impressive and appreciated.
.
Similarly the effort that was put into the Stuka by F/Cpl DeMille made it very difficult to select just one winner.
.
.
.
Royal Canadian Air Force group  "SUPER SONIC" competing in CANADA SINGS.
.
A group of 13 RCAF musicians from Winnipeg will be testing their
musical chops in the global TV competition CANADA SINGS.
"SUPER SONIC" will be singing and dancing their hearts out on National
television to raise funds and awareness for the "Support Our Troops"
fund which helps serving and former military members in need.
The show will be taped in the John Bassett Theatre in the Metro
Toronto Convention Centre on Saturday, March 17, 2012 and the tickets
are FREE.
So come out and cheer our singing airmen and airwomen as they perform
in front of a live audience and 3 celebrity judges.  Tickets are
available from csings2@insight.com or by contacting the Royal Canadian
Air Force Band – Jetstream.
.
The international Canadian Airgun Grand Prix
At the Doubletree International Plaza Hotel Toronto
.
.
This past weekend three members of our shooting team participated in the 30th Canadian Airgun Grand Prix which is the largest international airgun competition in North America. It is held in the Doubletree International Plaza Hotel in Toronto and there are 69 shooting positions and a limit of 300 competitors in the Air Pistol and Air Rifle events.
.
We have included several photos taken inside the hotel to illustrate the size of the event as well as several photos of some of the sophisticated and very expensive equipment used by most of the shooters.
.
.
.
.
The Government of Canada marks National Aviation Day and announces new student internship in civil aviation
.
OTTAWA — The Government of Canada today proudly celebrates Canada's fourth National Aviation Day and the aviation industry's future leaders by launching a new internship program for senior high school students interested in civil aviation.
.
The Transport Canada Civil Aviation (TCCA) Student Internship Program is a paid, two-month summer work term at Transport Canada headquarters in Ottawa.
.
The internship is open to students currently enrolled in grades 11 and 12, Secondary V or the first year of CEGEP. Applicants must be fluent in either English or French and be prepared to submit a letter of reference from a teacher and a parental consent form.
.
Students must complete the online application and submit an essay by April 30, 2012, in order to be considered. The successful intern will be notified by June 8, 2012.
.
February 23 was first designated National Aviation Day in Canada in 2009. This occasion highlights the Government of Canada's role in aviation safety for all Canadians and celebrates the successes of our industry worldwide.
.
For more information on the eligibility requirements and the online application process for the Transport Canada Civil Aviation (TCCA) Student Internship Program and National Aviation Day, visit our website at www.tc.gc.ca/aviation-day.
.
Contacts:
.
Pierre Floréa
Press Secretary
Office of the Honourable Denis Lebel
Minister of Transport, Infrastructure and Communities, Ottawa
   613-991-0700  
.
Royal Order of the Glassy Boot
.
Honorable Members
.
#1 Flight
F/Sgt C. Barton, F/Sgt M. Murphy, LAC F. Achan, Sgt. A. Boyden, F/Cpl D. Chandler, Cpl C. Zdebiak, Cpl R. Barton
# 2 Flight
F/Sgt H. Whitney, F/Sgt M. Lysyk, Sgt. K. Katzer, Cpl T.J. Malette, Cpl. J. Ehrt,
Sgt B. Jackson, Cpl. Dellipiz, Sgt R. Bliss
# 3 Flight
F/Sgt J. Bauer, Sgt. A. Hembruff, Sgt B. Mogosh, Cpl B.Kennedy
# 4 Flight
F/Sgt M.Moroz, F/Cpl M. Wood, Sgt S. Schuldis, F/Cpl V.NcNaught, Cpl Medina, Cpl M. Obrien
# 5 Flight
F/Cpl  C. Barratt, F/Cpl  J. Shaw
Band Flight
WO2 T. Smith
Head Quarters Staff
WO 1 M.C.White, F/Sgt T. Neill, S/Sgt P. Lysyk, F/Sgt R. Manders, Sgt P.McQuillan, WO11 C. Williams
.
Quick Links to the Squadron Web Site – Chadburn.org
.
To link to the Summer Camp Application Status List – Click Here
The Squadron's Google Activity Calendar– Click Here
Past Issues of the Squadron Newsletters– Click Here
You Tube– Click Here
Web Links – Click Here
.
Aviation Photo of The Week
.
The Ekranoplane
.
In the thick of the Cold War, the Soviet Union built an immense vessel to carry their troops across the seas and into Western Europe.
.
Equipped with nuclear warheads and able to blast across the sea at 340 mph, the Lun-class Ekranoplane; part plane, part boat, and part hovercraft is a Ground Effect Vehicle (GEV).
.
A GEV takes advantage of an aeronautical effect that allows it to lift off with an immense amount of weight, but limits its flight to 16 feet above the waves. Its altitude can never be greater than the length of the wings.
.
Think of a large seabird, like a pelican, cruising inches from the water and not needing to flap its wings.
.
The only complete Ekranoplane now sits on the shores of the Caspian Sea.
.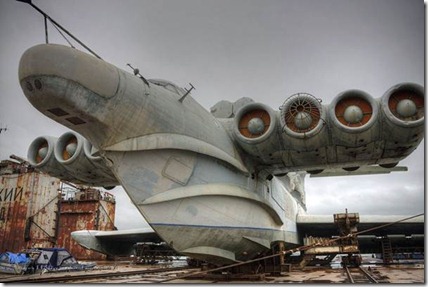 .
.
Nearly 243 feet long, almost as big as the Spruce Goose, the Lun is a ground effect aircraft that can only fly near the surface of the sea
.
The vessel carried six P-270 Moskit guided missiles armed with nuclear warheads
The "wing in ground "effect allows the fully loaded 2 million pound aircraft to fly low over the water and even get decent fuel economy
.
Notes:
.
If you have comments or suggestions on ways to improve our newsletter, our website or if you wish to unsubscribe from this email please notify rgilbank@rogers.com
.

.
151 Chadburn Squadron
Royal Canadian Air Cadets
*** Excelsior per Debere ***Excellence through Endeavour
Sponsored by the Rotary Club of Oshawa