.
Dispatch Issue # 27
Week of Mar 25, 2012
.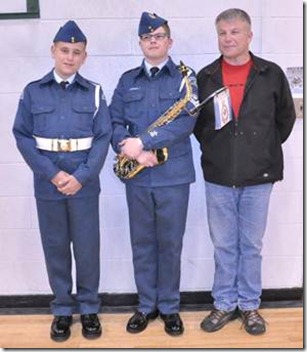 .
Cadets of the Week
.
Band Practice
.
Band practice this week, Thursday March 29, is for the entire band and
will be held from 7:00pm to 9:30pm in the gym at Central.
.
Roller Skating
.
Tomorrow evening at the Coachlite Gardens Roller Rink
No regular parade this week instead there will be roller skating with
the Interprovincial Exchange Sea Cadets from Thunder Bay
.
Air Cadet Appreciation Day
.
The K-40 Club, The Kinsmen Club of Oshawa
.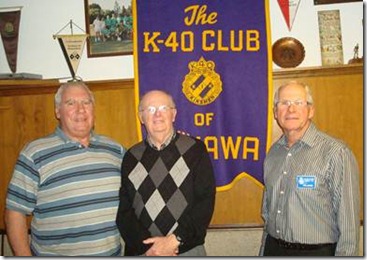 .
Last Thursday at Club Loreley – German Canadian Club members of the local Kinsmen Club listened intently as Col Gilbank presented a slide show that illustrated the many activities and opportunities that are available to local youth through the air cadet program. This presentation is available to the community if there are groups that are interested.
.
"Orienteering"
NCO Leadership Training Weekend
Ganaraska Forest Centre
.
.
Capt. Weigel the course instructor
.
This past weekend cadets from 151 Squadron and #2 Vandenbos Squadron in Whitby spent the weekend learning how to navigate through the bush using only a compass and a contour map.  Although we have been using orienteering as a leadership training program for our cadets for many years it is now a requirement for all cadets to successfully complete the orienteering program before they can graduate from the level 4 Cadet Training program and be eligible for promotion to the rank of F/Sgt.
.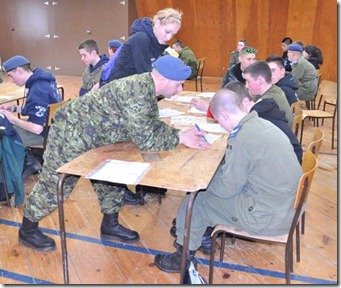 .
One of the finer points on the course gets a little more explanation
Royal Order of the Glassy Boot
Honorable Members
.
#1 Flight
F/Sgt C. Barton, F/Sgt M. Murphy, LAC F. Achan, Sgt. A. Boyden, F/Cpl D. Chandler, Cpl C. Zdebiak, Cpl R. Barton
# 2 Flight
F/Sgt H. Whitney, F/Sgt M. Lysyk, Sgt. K. Katzer, Cpl T.J. Malette, Cpl. J. Ehrt,
Sgt B. Jackson, Cpl. Flanagan Dellipiz, Sgt R. Bliss
# 3 Flight
F/Sgt J. Bauer, Sgt. A. Hembruff, Sgt B. Mogosh, Cpl B.Kennedy
# 4 Flight
F/Sgt M.Moroz, F/Cpl M. Wood, Sgt S. Schuldis, F/Cpl V.NcNaught, Cpl Medina, Cpl M. Obrien
# 5 Flight
F/Cpl  C. Barratt, F/Cpl  J. Shaw
Band Flight
WO2 T. Smith
Head Quarters Staff
WO 1 M.C.White, F/Sgt T. Neill, F/Sgt P. Lysyk, F/Sgt R. Manders, Sgt P.McQuillan, WO11 C. Williams
.
Quick Links to the Squadron Web Site – Chadburn.org
.
To link to the Summer Camp Application Status List – Click Here
The Squadron's Google Activity Calendar– Click Here
Past Issues of the Squadron Newsletters– Click Here
You Tube– Click Here
Web Links – Click Here
.
Aviation Photo of The Week
.
.      
A pilot for a Far East carrier requested permission and landed at FRA (Frankfurt, Germany) for an unscheduled refueling stop. The reason soon became apparent. The Number 3 engine had been shut down previously because of excessive vibration. The maintenance crew had taken some sturdy seat belts  and wrapped them around the fan blades and the structures behind, thus stopping any unwanted wind-milling and vibration.
.
Now the Germans, who are kind of picky about this sort of thing  inspected the malfunctioning engine and immediately grounded the aircraft.  The airline operator had to send a chunk of money to get the first engine replaced (took about 10 days).  The repair contractor decided to do some impromptu inspection work on the other engines, none of which looked all that great either.  The result: A total of 3 engines were eventually changed on this plane before it was permitted to fly again.
.
Notes:
.
If you have comments or suggestions on ways to improve our newsletter, our website or if you wish to unsubscribe from this email please notify rgilbank@rogers.com
.

.
151 Chadburn Squadron
Royal Canadian Air Cadets
*** Excelsior per Debere ***Excellence through Endeavour
Sponsored by the Rotary Club of Oshawa