Proudly Sponsored for over 70 years by:
The Rotary Club of Oshawa
Issue # 24
Week of Mar. 2, 2014
Cadet of the Week
151 Chadburn Squadron's Annual Cadet Mess Dinner
Lviv Ukrainian Hall
Sunday March 23, 2014
Tickets are now on sale do not forget to pick up yours this week.
Zone Shoot R.S. McLaughlin Armouries
Last Saturday, the Squadron marksmanship team participated in the annual zone marksmanship competition. This is the qualifying round for all cadet squadrons and corps in Durham Region to see who advances to the provincial and then national level of competition. As the teams have not been made aware of their standings yet, we can't post results here.
LAC Promotions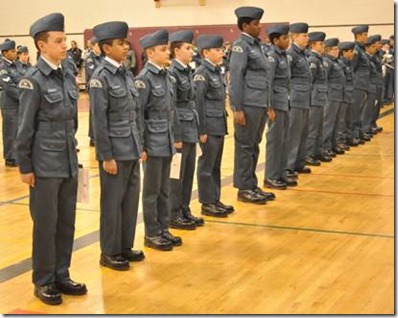 We would like to congratulate the large number of our cadets who were promoted to the Rank of LAC this past Monday.
Royal Order of the Glassy Boot
Honourable Members
WO1 B. Jackson, WO2 A.Hembruff, WO2 A.Boyden, WO2 R. Bliss, WO2 C. Tan, F/Sgt D. Lloyd, F/Sgt C.Travis, F/Sgt J.Shaw, F/Sgt K.Katzer, F/Sgt S.Sheppard, F/Sgt A.Ford Williams,
Sgt V.Singh, Sgt. E. Dellipizzi, Sgt. R. DeMille, Sgt. M. Obrien, Sgt. B. Medina, Sgt. B. McMurtry, Sgt R.Barton, Sgt. J.Ehrt ,Sgt. O.Sam, Sgt C.Brandow, F/Cpl. M. Annis, F/Cpl J.Hancock, F/Cpl C.Abraham, F/Cpl B. Hewett , Cpl J.Hancock, Cpl F.Chandler
50th Anniversary
Very seldom do we feature members of our Squadron's staff but this past weekend there was a special and emotional reception for two of the Squadron's volunteers as they celebrated 50 years of married life. It is perhaps not well known but 151 has a staff of some 40 adults who devote their time and energy to the youth of our community. Many have been in the squadron for many years and the bonds of friendship and devotion to the Squadron run deep.
In this case Bob McMurtry was a former cadet who spent over 20 years in the RCAF and then returned in later years as a volunteer. His wife Gloria is also a volunteer and is well known for her efforts in running the Squadron's Tri Service Dance. We all join in wishing them well as they celebrate this important day in their relationship.
Thoughts from the Treadmill
Another month is behind us and we draw closer to the activities that Chadburn Squadron traditionally does in the spring. It is hard to believe that the Mess Dinner is only a few weeks away, and after that things always seem to snowball into the end of our training year. Please make sure that you listen closely at opening and closing parades as well as the weekly phone calls. You don't want to miss something important.
We held our second planning meeting for our fourth ever fund-raising golf tournament. Things are going well in the planning, and a lot of great ideas have been introduced. Please watch out for an official letter coming home soon with your cadet to let you know about not only how to participate, but also to help the Squadron with selling sponsorship and lowering the price of your cadet's year end trip.
Over the next week, there will be a notice sent out via email to start signing up for the Year –End Trip. As mentioned before, the trip this year will be to Washington DC. Something new this year is that we will be leaving on the Thursday night of the long weekend in May. It doesn't mean any more time off school than would normally happen, but it does mean that the cadets will have to be a bit better organized and ready to leave on Thursday instead of Friday morning. We will be having on-line registration for this trip as well as a sign up on Monday nights.
Monday night marks the graduation of the second recruit course for this year; another group of enthusiastic cadets starting their careers and marking the beginning of their official membership in the Chadburn Family. Welcome aboard and congratulations on this important event.
I would like to congratulate another former cadet on his recent promotion in the Canadian Forces. Leading Seaman Corey Bliss is in the Royal Canadian Navy and was promoted last week. He is a former Flight Sergeant in the Squadron.
That's all for now.
Stay Safe and Have a Great Week.
Major Bliss
Aviation Photo Of the Week
Seafire Restoration
Checkout the following video to see how and why this Royal Navy Seafire flew again
http://www.youtube.com/v/TneYPcyGbbY&autoplay=1&rel=0
If you have comments or suggestions on ways to improve our newsletter or our website or if you wish to unsubscribe from this email please notify
151 Chadburn Squadron
Royal Canadian Air Cadets
*** Excelsior per Debere ***Excellence through Endeavour
Proudly Sponsored by the Rotary Club of Oshawa