Proudly Sponsored for over 70 years by:
The Rotary Club of Oshawa
Issue # 25
Week of Mar.9, 2014
March Break – Special Edition
151 Chadburn Squadron's Annual Cadet Mess Dinner
Lviv Ukrainian Hall
Sunday March 23, 2014
Tickets will be on sale at Rotary Hall Thursday Evening as well as next Monday evening at the school.
Note: No Drill Team Practice this week.
Zone Shoot R.S. McLaughlin Armouries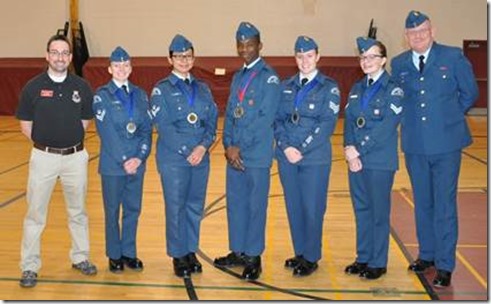 A few weeks ago, the Squadron's marksmanship team participated in the regional zone shoot for the western part of eastern Ontario. We are pleased to announce that the Squadron's team placed second in the competition with some great results from all the shooters. It is now just a matter of waiting to see if our scores are high enough to get us into the provincial competition in a few more weeks. Congratulations!
Royal Order of the Glassy Boot
Honourable Members
WO1 B. Jackson, WO2 A.Hembruff, WO2 A.Boyden, WO2 R. Bliss, WO2 C. Tan, F/Sgt D. Lloyd, F/Sgt C.Travis, F/Sgt J.Shaw, F/Sgt K.Katzer, F/Sgt S.Sheppard, F/Sgt A.Ford Williams,
Sgt V.Singh, Sgt. E. Dellipizzi, Sgt. R. DeMille, Sgt. M. Obrien, Sgt. B. Medina, Sgt. B. McMurtry, Sgt R.Barton, Sgt. J.Ehrt ,Sgt. O.Sam, Sgt C.Brandow, F/Cpl. M. Annis, F/Cpl J.Hancock, F/Cpl C.Abraham, F/Cpl B. Hewett , Cpl J.Hancock, Cpl F.Chandler
Thoughts from the Treadmill
Not many thoughts from the treadmill this week. I would like to wish everyone a great March Break and I hope that you all come back energized for the last couple of months of the training year. It is hard to believe that two months from this week is the Annual inspection.
Next week we will have a lot more information regarding the year end trip and the golf tournament.
Please notice the announcement for this week that there will be Mess Dinner Tickets for sale at the hall on Thursday Night.
We have received notice from the Royal Canadian Air Force Speaker's Bureau that we will have a Search and Rescue pilot as our guest speaker for the mess dinner; it should be a very interesting night. Please come out and join us.
Finally, I would like to offer my congratulations to 2Lt Kate McAteer and 2Lt Christine McAteer on their recent promotions. The cadet system has certainly benefitted from the McAteer family's involvement.
That's all for now.
Stay Safe and Have a Great Week.
Major Bliss
Aviation Photo Of the Week
The Russian An-225
An-225 Mriya is the heaviest airlift cargo aircraft ever taken off in the sky. The maximum take off weight makes 640 tons. An-225 was designed, due to the necessity to create the air transport system for the Soviet reusable Space Shuttle Buran.
If you have comments or suggestions on ways to improve our newsletter or our website or if you wish to unsubscribe from this email please notify
151 Chadburn Squadron
Royal Canadian Air Cadets
*** Excelsior per Debere ***Excellence through Endeavour
Proudly Sponsored by the Rotary Club of Oshawa