.
Dispatch Issue # 20
Week of February 5, 2012
 .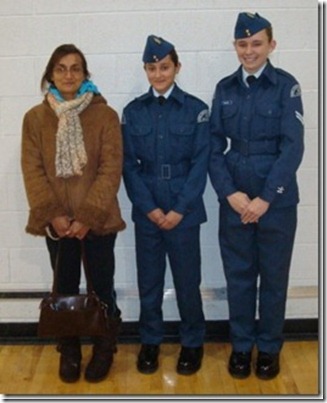 Cadets of the Week
 .
Flying Scholarship Examinations
Not all parents and cadets may realize that in order to first qualify for an air cadet flying scholarship, either glider or power, all candidates must first pass a qualifying exam which is carried out by the local cadet detachment. In order to prepare for the test all of our cadets attended a special ground school course which was held at Durham College. The 4 month course was led by C/I Todd Petzold a commercial pilot. From the class 8 cadets advanced to write the exams which this year were held in our headquarters building.
.
In our section, the eastern area of the province there were 40 cadets who wrote the Glider Pilot exam and three of our cadets stood 1st, 2nd and 3rd overall. In the same area 26 cadets wrote the power flying exam and out of this group two of our cadets were again near the top with one of our cadets standing 2nd and another standing 4th overall.
.
The selection process is very competitive. Cadet applicants are rated by their activities in their home unit, summer camp attendance, school marks and an interview all enter into the process. In the province 180 cadets wrote the power exam and 247 wrote the glider exam.
.
A number of the staff work hard to ensure that our cadets not only attain high marks but that they submit accurate and complete applications. Special thanks goes to C/I Don Biffin who managed the administration process and Todd Petzold for the many hours he devoted to the ground school classes at Durham College. Thanks to their efforts we now have some strong candidates to put forward for the leagues flying scholarship program.
.
Cadet Familiarization Flying
for cadets in
The Air Training Corps England
.
Everyone by now is well aware of our cadet flying program that we conduct at the Oshawa airport. We thought you might like to see what British cadets get a chance to fly in. The air craft supplied by the Royal Air Force is a Grob Tudor T1 trainer that you see below. Cadets get outfitted as shown and as this is a two seater and fully aerobatic the cadets get a chance to roll it around the sky. Hopefully when our cadets get to England this summer they get a chance to try their hand on one of these.
.
.
Bridal Event & Fashion Show
Campus Recreation and Wellness Centre
Durham College
.
Those who follow our Squadron know that we are active assisting in other community activities such as Easter Egg Hunts, Hospital Fund Raisers, Ribfests, Cancer Runs and what you see here a Bridal event organized by Metroland Media. A bridal show may be something a little different for a cadet unit but it is just part of our program to get cadets involved and visible in the local community.
.
"Please, let the boys know that they did an awesome job and from all of us here at Metroland Media, thank you".
Lisa Burgess
Marketing Assistant to Monique Lea
Metroland Media – Durham Division
.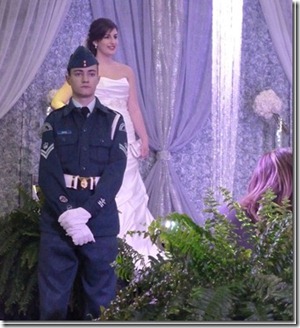 .
Soccer Competition
Notre Dame Catholic High School
.
We are fortunate that squadron's in the area are more than willing to help organize sports competitions for the cadets. This past weekend it was a soccer tournament in Pickering. There were four squadrons in the competition and as we normally do not play soccer on Friday sports parades we, well, apparently we did not score even one goal. But we really tried.
.

.
Model Building
.
We have now distributed all of the models. In fact more cadets have signed up for the competition (42) than in any previous year.
.
The Model Competition will be held during the regular Parade on
Monday Evening "February 27"
.
Cadets are to bring in their completed models at the start of the parade and leave them on the tables in the main hall.
.
The winners will be announced at the Mess Dinner on March 4.
.
Promotions
.
This past Monday the commanding officer was pleased to announce two important cadet promotions. The first was the promotion of a new warrant officer second class and the second was the appointment of a new Drum Major to lead the Squadron's Band.
.
.
Royal Order of the Glassy Boot
Honorable Members
.
#1 Flight
F/Sgt C. Barton, F/Sgt M. Murphy, LAC F. Achan, Sgt. A. Boyden,F/Cpl D. Chandler, Cpl C. Zdebiak, Cpl R. Barton
# 2 Flight
F/Sgt H. Whitney, F/Sgt M. Lysyk, Sgt. K. Katzer, Cpl T.J. Malette, Cpl. J. Ehrt,
Sgt B. Jackson, Cpl. Dellipiz
# 3 Flight
F/Sgt J. Bauer, Sgt. A. Hembruff, Sgt B. MoGosh,
#4 Flight
F/Sgt M.Moroz, Cpl M. Wood, Sgt S. Schuldis, F/Cpl V.NcNaught
# 5 Flight
Band Flight
WO2 T. Smith
Head Quarters Staff
WO 1 M.C.White, F/Sgt T. Neill, S/Sgt P. Lysyk, F/Sgt R. Manders, Sgt P.McQuillan
.
Quick Links to the Squadron Web Site – Chadburn.org
.
To link to the Summer Camp Application Status List – Click Here
.
The Squadron's Google Activity Calendar– Click Here
.
Past Issues of the Squadron Newsletters– Click Here
.
You Tube– Click Here
.
Web Links – Click Here
.
Aviation Photo of The Week
.
The past two weeks have been devoted to our model building contest and getting it up and running. We thought with the emphasis on models it would be a good opportunity to let everyone have a look at a video of a powered model airplane doing some impressive radio controlled flying. Click on the following link and be prepared to be amazed.
.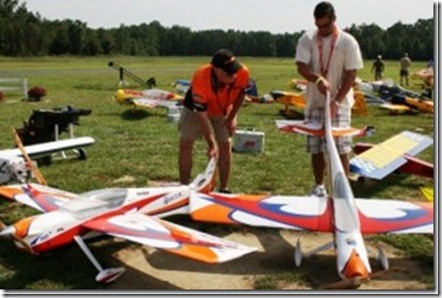 .
Joe Smith's Friday Noon Demo 2011
.
Notes:
.
If you have comments or suggestions on ways to improve our newsletter, our website or if you wish to unsubscribe from this email please notify rgilbank@rogers.com
.

.
151 Chadburn Squadron
Royal Canadian Air Cadets
*** Excelsior per Debere ***Excellence through Endeavour
Sponsored by the Rotary Club of Oshawa