.
Dispatch Issue # 21
Week of February 12, 2012
.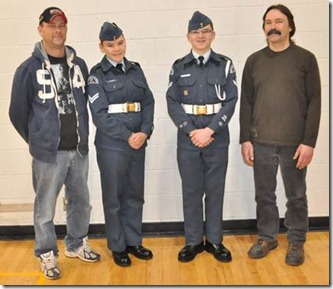 Cadets of the Week
.
Meet Our Guest Speakers
For the annual Cadet Mess Dinner on March 4
.
At this year's mess dinner there will be not one guest speaker but two. The speaker on the left is actually Cate Wagstaffe a former warrant officer in the Squadron who is now specializing in Maritime Archaeology and as such she has been on professional dive operations in many different locations around world.  The second speaker is another former warrant officer now Officer Cadet David Brosseau who will be graduating from Royal Military College this spring. Make sure you get your ticket to our dinner as it will be a great opportunity to meet the Squadron's staff and cadets and hear firsthand about the many opportunities available to youth through the air cadet program.
.
Warrant Officer Graduation
.
It is customary in the Squadron that once a warrant officer  ages out  the Squadron presents them with an engraved mug as well as certificates listing all of their accomplishments as cadets. This past week two of the Squadron's warrant officers reached this milestone and graduated from the cadet program. They are pictured  here along with the Squadron's officers and the current Squadron warrant officers.
.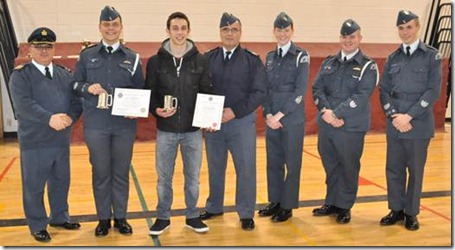 Valentine Dance 420 Wing
.
The Wing was packed last Friday evening when 151 and 2 Vandenbos held our annual  Valentine dance. Being an air cadet is not just all classes, uniforms and parades it is actually a fun place to be. Not only are there dances, in fact there are no less than 5 each year but there are also sports, roller skating at the Coachlite Gardens, dinners and other social activities.
.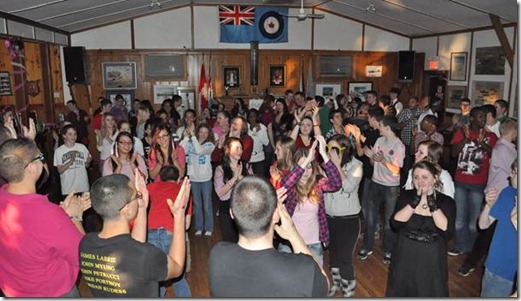 .
Royal Order of the Glassy Boot
.
Honorable Members
#1 Flight
F/Sgt C. Barton, F/Sgt M. Murphy, LAC F. Achan, Sgt. A. Boyden, F/Cpl D. Chandler, Cpl C. Zdebiak, Cpl R. Barton
# 2 Flight
F/Sgt H. Whitney, F/Sgt M. Lysyk, Sgt. K. Katzer, Cpl T.J. Malette, Cpl. J. Ehrt,
Sgt B. Jackson, Cpl. Dellipiz
# 3 Flight
F/Sgt J. Bauer, Sgt. A. Hembruff, Sgt B. Mogosh, Cpl B.Kennedy
# 4 Flight
F/Sgt M.Moroz, Cpl M. Wood, Sgt S. Schuldis, F/Cpl V.NcNaught, Cpl Medina
# 5 Flight
F/Cpl  C. Barratt, F/Cpl  J. Shaw
Band Flight
WO2 T. Smith
Head Quarters Staff
WO 1 M.C.White, F/Sgt T. Neill, S/Sgt P. Lysyk, F/Sgt R. Manders, Sgt P.McQuillan, WO11 C. Williams
.
Quick Links to the Squadron Web Site – Chadburn.org
.
To link to the Summer Camp Application Status List – Click Here
The Squadron's Google Activity Calendar– Click Here
Past Issues of the Squadron Newsletters– Click Here
You Tube– Click Here
Web Links – Click Here
.
Aviation Photo of The Week
A close call for the Snowbirds
.
It was a close call for the Snowbirds at the Reno Nevada air races on 21 December 2011 when a Thunder Mustang  a custom-built replica of a P-51  crashed close to their parked A/C. A Thunder Mustang is about 2/3 the size of the real one with a V 12 engine. Thankfully the pilot came out of it without any really serious injuries.
.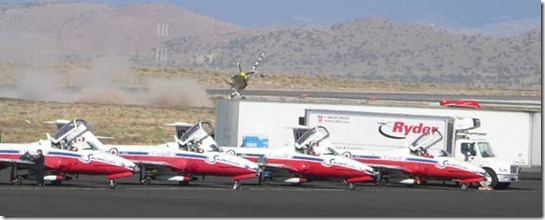 .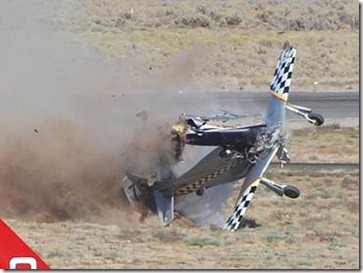 .
Notes:
.
If you have comments or suggestions on ways to improve our newsletter, our website or if you wish to unsubscribe from this email please notify rgilbank@rogers.com
.

.
151 Chadburn Squadron
Royal Canadian Air Cadets
*** Excelsior per Debere ***Excellence through Endeavour
Sponsored by the Rotary Club of Oshawa