Dispatch Issue # 19
Week of January 29, 2012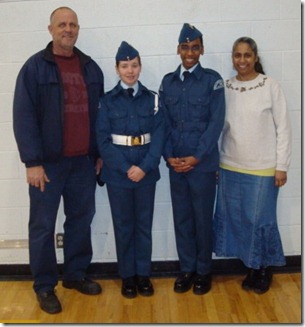 Cadets of the Week

.

.

Annual Cadet Mess Dinner

Sunday Evening, March 4, Lviv Ukrainian Hall

.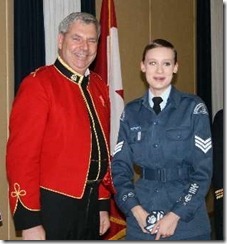 To all Parents, Guardians, Squadron Supporters, Alumni, Staff & Cadets
You are cordially invited to 151 Chadburn Squadron's Cadet Mess Dinner on
Sunday March 4, at LVIV Hall in Oshawa. Dinner is at 6 P.M..
Reserve your seats NOW!
.
Please confirm your attendance to Lt Ron Brosseau no later than February 21, via email at ronandjane@bell.net or by leaving a message at 905-576-1511.
.
Payment should be made by cheque only, payable to 151 Chadburn Squadron.
Tickets will be on sale on Monday evenings after closing parade
.
We recommend that you reserve early as seating capacity is limited and our caterer requires sufficient notice to plan for the dinner.
Cost: $20 per adult, $18 per cadet/child
Gone is the Angel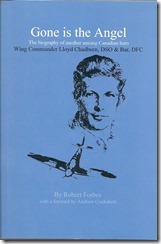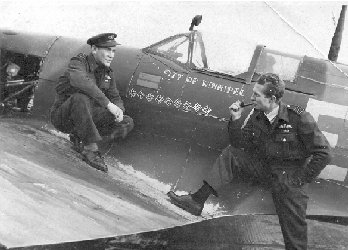 .
Chadburn cadets and our Squadron are fortunate to have a deep historical connection to Canadian aviation history and a famous Canadian fighter pilot W/C Lloyd Chadburn. His life and his exploits as a fighter pilot in the Royal Canadian Air Force have been chronicled in the book "Gone is the Angel" by Maj. Robert Forbes a former commanding officer of 151 Squadron.  Maj. Forbes has recently sent to the Squadron a large collection of photos that were used in illustrating the book.
This collection contained  two never before seen photos which  show Chadburn's burial in Benouville France. Unfortunately Chadburn died in a mid air collision over Normandy on June 13, 1944 and his death brought tears to the eyes of those who were flying with him.
The photos below were obtained by Maj. Forbes when talking to the biographer of S/L Jeff Northcott who is seen with Chadburn in the above photo and also at the grave side service.
.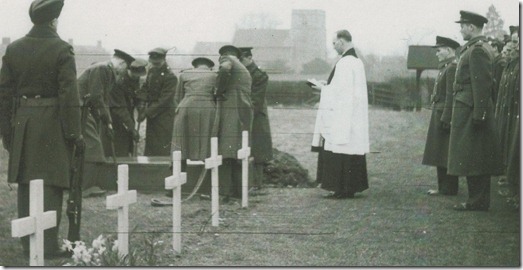 .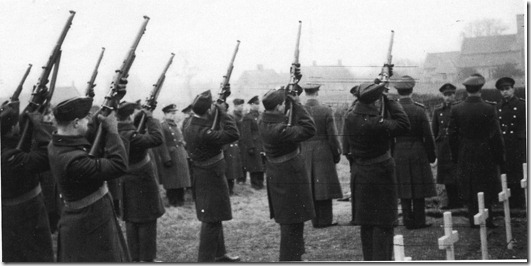 .
The following is a paragraph from the Eulogy by Group Captain J.A. McNab Protestant Chaplin at the Memorial Service, Trinity Anglican Church Aurora, June 25, 1944
from the book "Gone is The Angel"
.
Lloyd Chadburn was more than a great individual flyer. He was a resourceful and inspiring leader of men. I watched him train his squadron on an isolated Scottish aerodrome for the great struggle at Dieppe and all that followed. The power of his personality brought courage to his comrades in the air and our United States allies in their Liberators and Fortresses used to speak of his squadron as the Angel Squadron when the mantle of protection was thrown around their bombers. Our great, young leader fought a good fight, finished his course and kept the faith.
.
W/C Lloyd Chadburn
Here are two internet references for those who may wish to learn more about the  life and times of this remarkable individual.
Lloyd Chadburn a Short History
http://constable.ca/caah/chadburn.htm
Ontario Bank Clerk Youngest Air Leader
Power Flying – Oshawa Airport
.
.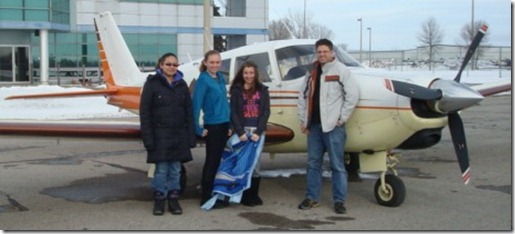 .
Twelve of our cadets were up flying this past weekend with a new member of our flying family. His name is Jason Beattie and he is actually a former cadet from 151 Squadron who learned to fly on an Air Cadet League flying scholarship. Today he is a professional pilot who regularly flies all over North American  as a captain on Air Canada EMBRAER jet aircraft.
.
Our Squadron has now a total of five pilots who have been approved to fly cadets by the Canadian Forces of which three are former cadets from our Squadron and three are current flight instructors.
.
If you are up on your aircraft you will note the aircraft that the cadets were in is a Piper PA-24 Comanche with retractable gear and it does move. The cadets all have headsets so they can monitor and follow the progress of the flight.
.
Royal Order of the Glassy Boot
Honourable Members
#1 Flight
F/Sgt C. Barton, F/Sgt M. Murphy, LAC F. Achan, Sgt. A. Boyden, Cpl D. Chandler, Cpl C. Zdebiak, Cpl R. Barton
# 2 Flight
F/Sgt H. Whitney, F/Sgt M. Lysyk, Sgt. K. Katzer, Cpl T.J. Malette, Cpl. J. Ehrt,
Sgt B. Jackson, Cpl. Dellipiz
# 3 Flight
F/Sgt J. Bauer, Sgt. A. Hembruff, Sgt B. McGosh,
#4  Flight
F/Sgt M.Moroz, Cpl M. Wood, Sgt S. Schuldis,
# 5 Flight
Band Flight
WO2 T. Smith
Head Quarters Staff
WO 1 M.C.White, F/Sgt T. Neill, S/Sgt P. Lysyk, F/Sgt R. Manders, Sgt P.McQuillan
.
Quick Links to the Squadron Web Site – Chadburn.org
To link to the Summer Camp Application Status List – Click Here
The Squadron's Google Activity Calendar– Click Here
Past Issues of the Squadron Newsletters– Click Here
You Tube– Click Here
Web Links – Click Here
Aviation Photo of The Week
.
The aircraft in the photo is a Mark 5B Spitfire of 402 City of Winnipeg Squadron. It is the same AC shown in the WW2 photo above and it was flown by Lloyd Chadburn on 22 different occasions during the war.
Today it has been fully restored and it flies today at the WW2 airfield and museum at Duxford in England.
.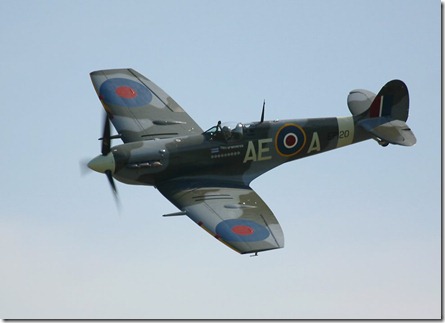 .
 

Notes:
If you have comments or suggestions on ways to improve our newsletter, our website or if you wish to unsubscribe from this email please notify rgilbank@rogers.com
.

151 Chadburn Squadron
Royal Canadian Air Cadets
*** Excelsior per Debere ***Excellence through Endeavour
Sponsored by the Rotary Club of Oshawa