Proudly Sponsored for over 70 years by:
The Rotary Club of Oshawa
Issue # 19
Week of March 15, 2015
Cadets of The Week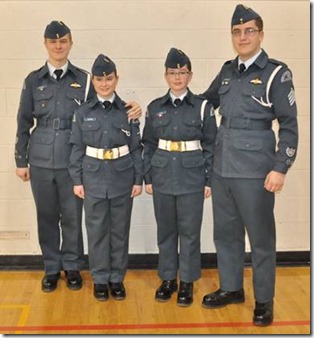 How about this for Family Support
Weekly Cadet Activities
There will be NO CADETS on Monday night, however some of the specialty teams will be training this week. 
Have a great March Break!
For details of the Squadron's many activities please review the squadron
calendar by following this link :
https://www.chadburn.org/activity-calendar-2
A Comment From A Reader
As we mentioned in a previous email our newsletter goes across Canada to alumni and friends. One of those who follows our squadron is Shirley Tort, a retiree who lives on Vancouver Island. Shirely has no involvement with the cadet program, however she does spend a lot of her time honouring and writing memorials for those who gave their lives serving Canada.
She had never heard about Lloyd Chadburn until she found his grave in France. She did a search and found that Chadburn was certainly well known and that there was actually an air cadet squadron in Oshawa that carried his name.
What follows is a comment from one of her recent emails. 
"The Dispatch was great again.  I'm impressed with the way young people get training for adulthood and how they go on to do great things in training within the military. 
Also liked the story on Marie. I pass the  email on to someone who was also a cadet many years ago.  He keeps saying we didn't get to do all these things when I was a cadet"
Royal Order of the Glassy Boot
The following cadets have all been accepted as full members in the special and exclusive society
known  as the "Royal Order of the Glassy Boot."
| | | | | |
| --- | --- | --- | --- | --- |
| WO1/WO2 | WO1 Bliss | WO2 Boyden | WO2 Hembruff | WO2 Lloyd, D |
| | WO2 Shaw | WO2 Sheppard | | |
| FSGT | FSgt Barton | FSgt Brandow | FSgt Dellipizzi | FSgt Gagnon |
| | FSgt Katzer | FSgt Lloyd, A | FSgt O'Brien | FSgt Sam |
| | FSgt Travis | | | |
| SGT | Sgt Abraham | Sgt Annis | Sgt Carson | Sgt Davies |
| | Sgt Hewett | Sgt Kennedy | Sgt Loyst | Sgt Mejia |
| | Sgt Milne | Sgt Nemeth | Sgt Singh | |
| FCPL | FCpl Alleyne | FCpl Chandler | FCpl Hancock | FCpl Hayes |
| | FCpl Katzer | FCpl Sealy | FCpl Talhouk | FCpl L. Mastroianni  |
| | FCpl S. Mastroianni | | | |
| CPL | Cpl Anthony | Cpl Garroick | Cpl Rabjohn | Cpl Goss |
| LAC | LAC Boyden | | | |
Cadets wishing to apply for membership must first be approved by the Squadron Warrant Officer,
then we will post their name here in our newsletter.
The History  Behind Our Squadron's Crest
New cadets in the Squadron are perhaps not always aware of the military history that surrounds our squadron. For example during the war years the City of Oshawa officially adopted 416 Squadron of the Royal Canadian Air Force as a way for local communities to support the war effort. 416 City of Oshawa Squadron was actually formed in 1943 in Petershead Scotland and Lloyd Chadburn became its first commanding officer.  As is the tradition in the air force each unit developed its own distinctive crest. In the case of 416 squadron the unit chose a leaping lynx and a maple leaf as the centre piece for its Squadron Crest. In the photo below you can see a photo of Lloyd Chadburn along with a Leaping Lynx that had been painted on one of the units Spitfires. 
Our squadron has no legal link to 416 Squadron however it was called the City of Oshawa Squadron and now that the Squadron has been officially amalgamated with another unit the Squadron's colours have been returned to the city. Today the Squadron's colours are now on display at our City Hall here in Oshawa. 
Today our Squadron has a colourful and distinctive Squadron crest whose military history can be traced back to Lloyd Chadburn and 416 Squadron of the Royal Canadian Air Force.
The original artwork for the Squadron crest was designed by LAC Matthew Ferguson who practiced his craft from 1941 until 1945.
He designed the artwork at Peterhead Scotland when he was with 416 (Lynx) Squadron. The maple leaf background for his artwork became a Ferguson trademark.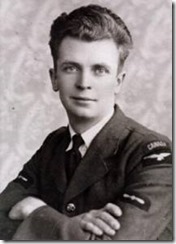 The Artist – LAC Mathew Ferguson
Up Coming Cadet Activities
| | | | |
| --- | --- | --- | --- |
| Day | Month | Activity | Location |
| | | | |
| 28 | Mar | Zone 16 Air Rifle Comp | R.S. McLaughlin Armories |
| 29 | Mar | Mess Dinner | Lviv Ukrainian Hall |
| 5 | Apr | Easter Egg Hunt | Oshawa Airport |
| 12 | Apr | Gliding | Mountainview |
| 12 | Apr | Spring Training | Ganaraska Forest |
| 16-19 | Apr | Fund Raising (Tagging) | City of Oshawa |
| 25 | Apr | EOA Band Comp | Kingston |
| 30 | May | Canadian International Military Tattoo | Hamilton |
Thoughts From the Treadmill
As it is March Break, there will be limited cadet activities this week, I hope you all have a great vacation and come back to us safe and ready to give the rest of the year 100% effort.
I'll leave you with the beautiful weather and the long awaited spring that finally seems to be upon us.  Get out and enjoy it.
That's all for now.
Stay Safe and Have a Great Week.
Major Bliss
"Rules of the Air"
Some practical thoughts and comments regarding the world of aviation.
"The  probability of survival is inversely proportional to the angle of arrival.
Large angle of arrival, small probability of survival and vice versa."
Aviation Photo Of the Week
The aircraft at National Museum of the United States Air Force at Wright-Paterson AF Base
If you are an airplane enthusiast then click on the following to see one of the world's greatest aviation collections.
http://www.cdsg.org/forums/viewtopic.php?t=381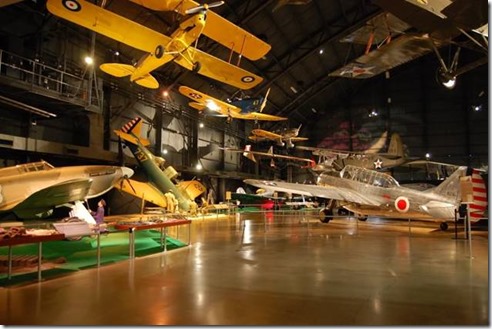 If you have comments or suggestions on ways to improve our newsletter, our website or if you wish to unsubscribe from this email please notify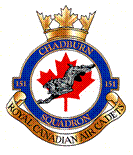 151 Chadburn Squadron
Royal Canadian Air Cadets
*** Excelsior per Debere ***Excellence through Endeavour
Proudly Sponsored by the Rotary Club of Oshawa