Proudly Sponsored for over 70 years by:
The Rotary Club of Oshawa
Issue # 20
Week of March 22, 2015
Remember to get your tickets for the Mess Dinner!!!
Wing Commander Chadburn's Aircraft
A Mark 5b Spitfire, AEA
Flown During the War by W/C Lloyd Chadburn
Few cadets today are aware that one of the aircraft flown by Lloyd Chadburn during the war survives to this day as a part of The Fighter Collection at The Imperial War Museum Duxford, Cambridgeshire, England. Chadburn's log book entries confirm that the aircraft was flown by him on numerous occasions in the months preceding his death in 1944.
This aircraft a Mark 5b Spitfire, EP120, Registration G-LFVB AEA and it was originally delivered in May 1942 to 45MU Royal Air Force. It served with 501, 19, and 402 City of Winnipeg Squadrons, finally ending with 53OTU. After a distinguished RAF career, in which its pilots were credited with 9 enemy aircraft shot down, it acted as Gate Guardian at a number of RAF airfields before being acquired by The Fighter Collection. It returned to the air on September 12 1995, and is currently based at the Duxford aerodrome in England. The aircraft has been rebuilt and it is now in pristine condition. If you are so inclined you can actually hire the aircraft to appear at air shows and special events in the UK.
W/C Lloyd Chadburn with Squadron Leader Jeff Northcott DFC
The photo above shows Squadron Leader Jeff Northcott and Lloyd Chadburn with the air craft AEA as it was during the war years when it was flown as an aircraft of 402 City of Winnipeg Squadron. The second photo shows members of the Squadron who were photographed with the aircraft inside the Museum at Duxford in 2000. Unfortunately when our squadron visited Duxford the aircraft was away from Duxford participating in an air show.
Wasp Wings a Video Which Includes Video of Lloyd Chadburn
If the history and actions of Canadian Spitfire squadrons during WW2 are a subject of interest then watch Wasp Wings a full length video which covers the history of the Canadian Spitfire
Squadrons during the second World War up to the final defeat of Germany. The video is somewhat unique as there is a short video of Lloyd Chadburn that appears during the first part of the film. (1.29 minutes from start)
https://www.youtube.com/watch?v=XnWGYZDLdNY
Weekly Cadet Activities
| | | | | | |
| --- | --- | --- | --- | --- | --- |
| Date | Day | Month | Activity | Location | Time |
| 23 | Mon | Mar | Regular Training | Central Collegiate | 1830 – 2200 hrs |
| 24 | Tues | Mar | Rifle Team Practice | Squadron HQ | 1830 – 2130 hrs |
| 25 | Wed | Mar | Drill Team | Squadron HQ | 1900 – 2130 hrs |
| 25 | Wed | Mar | Boot Shining | Squadron HQ | 1900 – 2130 hrs |
| 26 | Thurs | Mar | Non Comp Band | Squadron HQ | 1900 – 2100 hrs |
| 26 | Thurs | Mar | Competition Band | Lviv Hall | 1900 – 2130 hrs |
| 27 | Fri | Mar | Sports | Central Collegiate | 1800 – 2000 hrs |
| 27 | Fri | Mar | Rifle Team | Squadron HQ | 1900 – 2100 hrs |
| 28 | Sat | Mar | Zone 16 Shoot | McLaughlin Arm. | 0900 – 1400 hrs |
| 28 | Sat | Mar | Competition Band | Lviv Hall | 1200 – 1700 hrs |
| 29 | Sun | Mar | Cadet Mess Dinner | Lviv Hall | 1715 hrs |
For details of the Squadron's many activities please review the squadron
calendar by following this link :
https://www.chadburn.org/activity-calendar-2
Royal Order of the Glassy Boot
The following cadets have all been accepted as full members in the special and exclusive society
known as the "Royal Order of the Glassy Boot."
| | | | | |
| --- | --- | --- | --- | --- |
| WO1/WO2 | WO1 Bliss | WO2 Boyden | WO2 Hembruff | WO2 Lloyd, D |
| | WO2 Shaw | WO2 Sheppard | | |
| FSGT | FSgt Barton | FSgt Brandow | FSgt Dellipizzi | FSgt Gagnon |
| | FSgt Katzer | FSgt Lloyd, A | FSgt O'Brien | FSgt Sam |
| | FSgt Travis | | | |
| SGT | Sgt Abraham | Sgt Annis | Sgt Carson | Sgt Davies |
| | Sgt Hewett | Sgt Kennedy | Sgt Loyst | Sgt Mejia |
| | Sgt Milne | Sgt Nemeth | Sgt Singh | |
| FCPL | FCpl Alleyne | FCpl Chandler | FCpl Hancock | FCpl Hayes |
| | FCpl Katzer | FCpl Sealy | FCpl Talhouk | FCpl L. Mastroianni |
| | FCpl S. Mastroianni | | | |
| CPL | Cpl Anthony | Cpl Garroick | Cpl Rabjohn | Cpl Goss |
| LAC | LAC Boyden | | | |
Cadets wishing to apply for membership must first be approved by the Squadron Warrant Officer,
then we will post their name here in our newsletter.
Up Coming Cadet Activities
| | | | |
| --- | --- | --- | --- |
| Day | Month | Activity | Location |
| 28 | Mar | Zone 16 Air Rifle Comp | R.S. McLaughlin Armories |
| 29 | Mar | Mess Dinner | Livi Ukrainian Hall |
| 5 | Apr | Easter Egg Hunt | Oshawa Airport |
| 12 | Apr | Gliding | Mountainview |
| 12 | Apr | Spring Training | Ganaraska Forest |
| 16-19 | Apr | Fund Raising (Tagging) | City of Oshawa |
| 25 | Apr | EOA Band Comp | Kingston |
| 12 | May | Annual Inspection | Legends Center |
| 15-18 | May | Year End Trip | Kingston & Ottawa |
| 30 | May | Canadian International Military Tattoo | Hamilton |
| | | | |
Thoughts From the Treadmill
It is hard to believe that we are on the home stretch of the cadet year now. Typically the period after March Break is very hectic with more and more activities and the final portion of the cadet training year to finish off. We start into the Annual Inspection practicing in earnest and all of our competition teams switch into high gear practicing for the various competitions that they participate in.
Planning is going very well for our Year End Trip to Ottawa and it looks like it is going to be a great trip. We will be having sign ups in the very near future for this trip and I have a feeling that we will have more people signing up than we can handle. As normal, selections will be based on a number of things, but including achievements, fund-raising participation and Monday night attendance. As much as I would like to be able to take everyone that wants to go, both transportation and lodging becomes an issue, so the trip will be limited in numbers.
I hope you will all try to get out and join us for the annual Cadet Mess Dinner, we will once again be at the Lviv Hall and I am sure that it will be a great night. I am very excited to listen to our guest speaker Mr. Ted Barris. Many of you have probably heard Mr. Barris on the radio, and hopefully some of you have had the chance to read one of his many books. It is sure to be an interesting evening. Mr. Barris will have copies of his books available for sale at the dinner for $35.00, he will autograph all books sold that evening. Payment will be by cash or cheque only. There will be a 50/50 draw at the dinner tickets will be a strip for $5.00, the half of the money that is not won will be donated in honour of Mr. Barris to the June Callwood Scholarship of Centennial College.
We should start hearing shortly about summer training opportunities, please remember that if you are not able to attend camp that you let us know as soon as possible so that we can offer someone else the spot. If you are contacted by either Squadron Staff or someone from the Regional head quarters regarding medical information missing, please action that as soon as possible. They will only hold a camp spot for a limited amount of time before they give it to someone else.
Although it doesn't feel like it, Spring is upon us. Please continue to wear your winter dress uniform with the parka until told otherwise. It is very important that the Squadron remains uniform in their appearance.
I have had very good feedback from Captain and Mrs. Weigel regarding the lottery ticket returns, it has been a good year so far. Please remember that tomorrow night March 23 is the last night for ticket returns. We need to get them all sorted and accounted for so they can be returned to the Air Cadet League on time. Thank you all for your hard work in selling the tickets this year.
Finally, sign-ups are happening for Spring Tag days, when you sign up, please make note of the shifts you have committed to and let your parents know. We don't want to hear at the last minute that you are not available for a shift you signed up for. Remember, the top combined earner for both tag days (last fall and this April) will receive their trip free of charge. Everyone else will receive 10% of their combined tagging totals off the price of their year-end trip if they are selected to attend.
That's all for now
Major D. Bliss
"Rules of the Air"
Some practical thoughts and comments regarding the world of aviation.
"The propeller is just a big fan in front of the plane to keep the pilot cool.
When it stops, you can actually watch the pilot start sweating."
Aviation Photo Of the Week
The Avro Lancaster
Lancaster C-GVRA Canadian Warplane Heritage, Hamilton
Today one of only 2 Lancaster's flying anywhere in the world
Video the Reunion of Giants
Watch the video to see the only two airworthy Lancaster's in the world flying together over England.
https://www.youtube.com/watch?v=I0F958lJ9S8&feature=youtu.be
At look back at the history of the Lancaster Bomber
Of the total of 7,377 Lancaster's built (430 of them in Canada at Avro Aircraft in Toronto), 3,932 were lost in action. During the war Lancaster's flew a total of 156,308 sorties and dropped 608,612 tons of bombs, and placed over 12,000 mines in enemy waters.
Some of the aircraft's finest hours were in "non-offensive" operations as the war was about end and shortly after peace finally was in place. The first of these was during "Operation Manna." Lancaster squadrons dispatched a total of 3,156 sorties to drop 6,684 tons of food supplies to the starving Dutch in May 1945. The second saw many of the Lancaster squadrons tasked to return Allied Prisoners of War from various locations throughout Europe back to England. In a period of 24 days a total of 2900 round trips were flown and 74,000 ex-POW's were returned.
With the end of hostilities on all war fronts, the Lancaster was by no means finished in its service. The RAF continued to use the aircraft in various roles including photographic and maritime duties until October 1956. The Royal Canadian Air Force, who flew back many of the surviving Mk.X's back to Canada, continued to use the aircraft in photographic and maritime reconnaissance roles until the early 1960's. The last three RCAF Lancaster's were retired at a ceremony on April 1, 1964.
What is probably the finest tribute to the aircraft was written
by Marshall of the Royal Air Force Sir Arthur T. Harris,
wartime chief of Bomber Command:
"The finest bomber of the war! Its efficiency was almost incredible, both in performance
and in the way it could be saddled with ever-increasing loads without breaking the camel's back.
The Lancaster far surpassed all the other types of heavy bombers.
Not only could it take heavier bomb loads, not only was it easier to handle,
and not only were there fewer accidents than with other types,
the casualty rate was also consistently below those of other types."
"The Lancaster took the major part in winning the war with its attacks on Germany.
On land it forced the Germans to retrieve from their armies half their sorely needed
anti-tank guns for use by over a million soldiers who would otherwise have been serving in the field.
The Lancaster won the naval war by destroying over one-third of the German submarines in their ports,
together with hundreds of small naval craft and six of their largest warships.
Above all, the Lancaster won the air war by taking the major part in forcing Germany to concentrate
on building and using fighters to defend the Fatherland, thereby depriving their armies of
essential air and particularly bomber support."
If you have comments or suggestions on ways to improve our newsletter, our website or if you wish to unsubscribe from this email please notify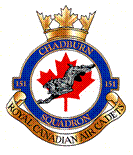 151 Chadburn Squadron
Royal Canadian Air Cadets
*** Excelsior per Debere ***Excellence through Endeavour
Proudly Sponsored by the Rotary Club of Oshawa