Proudly Sponsored for over 70 years by:
The Rotary Club of Oshawa
Issue # 17
Week of Jan 24, 2016
Cadets of The Week
The Glassy Boot Award
Cpl.

E. Boyden

FSgt.

R. Barton

WO2 B.Medina

WO2

A. Lloyd

F/Sgt. M.Singh

F/Sgt

A. Carson

WO2

E. Dellipizzi

F/Cpl F.Chandler

Sgt J.Hancock

F/Cpl J.Hancock

F/Cpl

H. Kennedy

F/Cpl

M. Anthony

F/Cpl

R. Sealy

F/Cpl

T. Talhouk

F/Cpl

B. Wardell

FCpl

N. Rabjohn

Cpl

J. Perreria

Cpl

R.Swanton

Cpl

A. Bone

FSgt

C. Abraham
A Little Air Cadet Humor
You know You have Been In Cadets Too Long When –
You get out of bed at 5.55 laughing because you beat the 6.00 reveille!
You teach your civvie friends to walk in step so you can maintain your sanity!
When people you talk about are labelled male and female!
You never leave the house without at least one piece of cadet clothing!
You salute your mailman!
A Flight Training Opportunity for Our Senior Cadets
An Introduction to Microsoft's flight simulator training program
This year our squadron purchased a new high definition computer that we have programmed with Microsoft's Flight Simulator Program.
Our unit is portable so our instructors can easily transport our computer system back and forth to Central Collegiate.
This well-known computer program gives our cadets the opportunity to experience flying any number of aircraft from a Cessna 150
up to a Boeing 747. As the unit is portable we can also connect the computer to a larger screen at Rotary Hall so that more cadets can make use of the computer and
see firsthand just what is involved in flying an aircraft.
Future Cadet Activities
Date

Day

Month

Activity

Location

Time

12

Fri

Feb

Valentine Dance

420 Wing RCAFA

TBA

5

Sat

Mar

Skiing

Mount St. Louis

TBA

3

Sun

Apr

Mess Dinner

Lviv Ukranian Hall

1800 hrs

8 – 10

Fri to Sun

Apr

Ganaraska Forest

Ganaraska Forest

TBA

9

Sat

Apr

Gliding

CFB Mountainview

TBA

17

Tues

May

Annual Inspection

Legends Centre

2000 hrs

5

Sun

Jun

Gliding

CFB

Mountainview

TBA
Thoughts From the Treadmill
Just a couple of housekeeping items this week, I received yet another phone call from the school board last week. This one was regarding the condition that the girl's change room in the gym had been left on Friday night. I can't stress enough the importance of making sure the school is left in better condition when we go home than when we get there. A lot of you have heard me say "It only takes one Oh Crap to erase a thousand Atta Boys", well, this is a prime example of that. Please pay attention to your surroundings and if you see something on the floor that shouldn't be there, pick it up and put it in the proper place.
There will be the first meeting of the effective speaking group next Saturday at the hall from 1030-1200. If you are interested in trying out for the effective speaking team, please make sure Mr. Wade has your name on Monday night.
Don't forget to sign up for the Ski Trip.
That's All for Now
Stay Safe and Have a Great Week
Major Bliss
Aviation Photos of the Week
Being Built Now
The largest aircraft in the world
"The Roc"
The ROC is being built for Stratolaunch by Scaled Composites, the Roc will be the largest aircraft ever made with a wingspan of 385 ft. This compares to 320 ft. for the Hughes H-4 Hercules (Spruce Goose), 290 ft. for the six-engine Antonov An-225, 262 ft. for the Airbus A380, and 225 ft. for the Boeing 747-8. the twin-fuselage carrier aircraft resembles a vastly enlarged version of the Scaled-built WhiteKnightTwo developed for Virgin Galactic.
Stratolaunch Systems would use the largest aircraft ever built to launch a rocket into space from Earth's upper atmosphere. Stratolaunch's carrier craft, named the Roc after a mythical bird that carried an elephant in its talons, will have a wingspan as long as a football field. It will use six 747 engines to carry a 120' multi-stage booster rocket that will release at 30,000 feet, blasting off into space. The rocket will carry payloads of up to 13,500 lbs. into orbit, providing relatively easy access to space for scientific or commercial missions.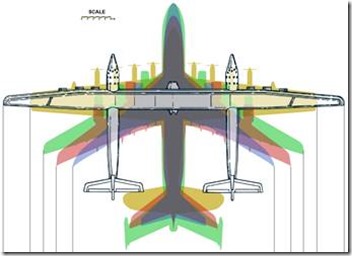 Please Note
Previous issues of the Dispatch may be found on our web site, Chadburn.org. To view past issues access the home page and then click on News.
The most recent news letters will be listed there while previous news letters may be accessed by clicking on the "view all news" heading located at the bottom of the section.
If you have comments or suggestions on ways to improve our newsletter or if you wish to unsubscribe from this email please notify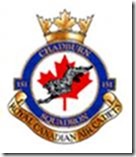 151 Chadburn Squadron
Royal Canadian Air Cadets
*** Excelsior per Debere ***Excellence through Endeavour
Proudly Sponsored by the Rotary Club of Oshawa