Proudly Sponsored for over 70 years by:
The Rotary Club of Oshawa
Issue # 18
Week of Jan 31, 2016
Cadets of The Week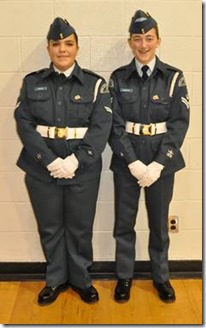 Staff Dinner
Held In Officer's Mess of "The Ontario Regiment"
One of the long standing traditions in 151 squadron is the annual staff dinner. The dinner is held each year in the historic officer's mess of the Ontario Regiment. While the gathering is a formal occasion there are no uniforms or medals to be seen and other than comments by the Rotary Club and the CO there are also few speeches. The dinner which has been held consecutively for over 40 years is an opportunity for all the Squadron staff and guests get together on an informal basis and share the fellowship of being together and part of a dynamic, positive and very successful youth program.
The Glassy Boot Award
Cpl.

E. Boyden

FSgt.

R. Barton

WO2 B.Medina

WO2

A. Lloyd

F/Sgt. M.Singh

F/Sgt

A. Carson

WO2

E. Dellipizzi

Sgt F.Chandler

Sgt J.Hancock

Sgt J.Hancock

F/Cpl

H. Kennedy

Sgt

M. Anthony

Sgt

R. Sealy

Sgt

T. Talhouk

Sgt

B. Wardell

FCpl

N. Rabjohn

Cpl

J. Perreria

Cpl

R.Swanton

Cpl

A. Bone

FSgt

C. Abraham
Inter Squadron Cadet Sports Competitions
Saturday was a busy day with the squadron participating in two different sports competitions.
The first, a soccer competition sponsored by 856 Pickering Squadron was held in a Whitby High School with the
second competition in floor hockey and volleyball being held in the Bowmanville High School and hosted by 172 Clarington Squadron. The competition held in Whitby
was open to all cadets whereas the competition in Bowmanville was open to junior cadets only.
The good news is that our squadron won both of these competitions.
Just recently we included in the Dispatch photos and comments about our Squadron's sports program.
As we mentioned the gym is open on Friday evenings for our cadets to get out and participate in whatever sport they wish.
Our goal is to get cadets involved in a positive physical activity of their choice.
If there are cadets who have not attended a sports parade then perhaps they should give it a try.
Our Floor Hockey Team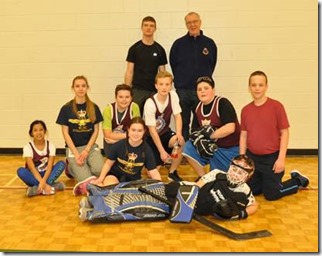 Our Soccer Team
Awards Presentation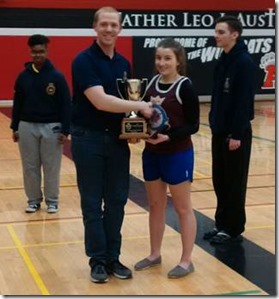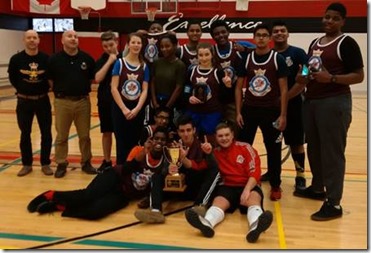 Future Cadet Activities
Date

Day

Month

Activity

Location

Time

12

Fri

Feb

Valentine Dance

420 Wing RCAFA

TBA

5

Sat

Mar

Skiing

Mount St. Louis

TBA

3

Sun

Apr

Mess Dinner

Lviv Ukranian Hall

1800 hrs

8 – 10

Fri to Sun

Apr

Ganaraska Forest

Ganaraska Forest

TBA

9

Sat

Apr

Gliding

CFB Mountainview

TBA

17

Tues

May

Annual Inspection

Legends Centre

2000 hrs

5

Sun

Jun

Gliding

CFB

Mountainview

TBA
Thoughts From the Treadmill
It was great to see so many Rotarians out to our annual staff dinner on Saturday night. This is the highest turnout from our sponsor that I can ever remember. I had the pleasure of sitting with several members of the Rotary Club of Oshawa including Mr. Dave Brooks who is the Chairman of the Sponsoring Committee, Mr. Geoff Lloyd who is the President of the club, Mayor John Henry and very special guests Mr. Blake Grundy and his wife Bonnie Brown. Mr. Grundy very recently made a donation to the Squadron and it was nice to be able to thank him in public. Talking to all of these people who we rely on to sponsor us was rewarding to me and I think they came away from the evening with a better idea of just what we do with the money they donate to us.
I mentioned to the staff and Rotarians who were present last night just how busy we are sometimes; as an example I took them through yesterday in the Squadron. We had Two staff members with a group of cadets in Whitby participating in a soccer tournament, we had two other staff members in Bowmanville with cadets in a sports competition. A staff member was at the hall with an effective speaking group in the morning, and then in the afternoon another group of cadets came to the hall and practiced their marksmanship under the supervision of three staff members. The DCO and I were also at the hall for a big chunk of the day checking numbers and setting the priority list for summer training. This was not really a 'normal' day in the Squadron, but surprisingly, these kinds of days happen quite a bit.
I realize that at times it must seem like I brag about the amount of work the Squadron staff put into running this unit, all I can say is that I am extremely grateful that Chadburn Squadron has so many dedicated people willing to give up so much of their time to deliver this fantastic program to the youth of Durham Region. I am proud of the work we do and the results we get.
That's all for now
Stay Safe and Have a Great Week
Major Bliss
A Message From Canada's Minister Of National Defense
https://www.facebook.com/888AvengerAirCadets/videos/485155471668325/
Aviation Photo of the Week
A United States X-47B Drone Successfully Takes Off And Lands On An Aircraft Carrier

The US Navy has successfully conducted take-offs and landings from the nuclear aircraft carrier, As you view the flight deck crew signaling the plane, they are simply signaling the on-board cameras, who in turn are being manned by staff inside the command intelligence center (CIC) on board the ship. To see a video of this aviation first click on the following link.
https://www.youtube.com/embed/WC8U5_4lo2c?feature=player_embedded
Please Note:
Previous issues of the Dispatch may be found on our web site, Chadburn.org. To view past issues access the home page and then click on News.
The most recent news letters will be listed there while previous news letters may be accessed by clicking on the "view all news" heading located at the bottom of the section.
If you have comments or suggestions on ways to improve our newsletter or if you wish to unsubscribe from this email please notify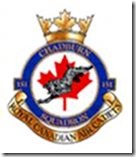 151 Chadburn Squadron
Royal Canadian Air Cadets
*** Excelsior per Debere ***Excellence through Endeavour
Proudly Sponsored by the Rotary Club of Oshawa