Proudly Sponsored for over 70 years by:
The Rotary Club of Oshawa
Issue # 16
Week of Jan 17, 2016
Cadets of The Week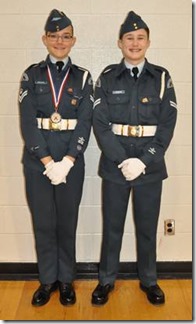 The Glassy Boot Award
Cpl

E. Boyden

F/Sgt

R. Barton

WO2

B. Medina

WO2

A. Lloyd

F/Sgt

M. Singh

F/Sgt

A. Carson

WO1

E. Dellipizzi

Sgt

F.Chandler

Sgt J.Hancock

Sgt J.Hancock

F/Cpl

H. Kennedy

Sgt

M. Anthony

Sgt

R. Sealy

Sgt

T. Talhouk

Sgt

B. Wardell
Our Squadron Marksmanship Team
Competes At The Tartan Shoot Held In The Moss Park Armouries In Toronto
The 11 Squadron cadets who participated in the shoot.
All of the cadets above competed in the Tartan air rifle competition that was held Saturday January 9th in Toronto at the Moss Park Armouries.
We fielded two teams, one of which placed second out of the 41 teams in the competition. One of our cadets placed 3rd overall in the open senior competition and
another cadet placed 3rd overall for the junior shooters. Overall another impressive showing for our squadron's marksmanship team.
Captain Chandler working hard during the competition.
Friday Evening Sports Parade
Not everyone may realize that 151 Squadron has an ongoing cadet activity every week day. We do have weekend activities such as gliding, flying, weekends in Durham forest and on occasion sports competitions. One of these activities is our sports night which is held every Friday evening the gym is available. This is not a formal and organized training program but rather a chance for cadets to get together and participate in sports of their choice such as soccer, basketball, volleyball and floor hockey. This week we have included a collection of photos that were taken this past Friday evening. As one can see there a lot going on and all of the sports that we play are open to all cadets no matter their level of athletic ability. However if the squadron enters a sports competition the team members are selected from those cadets who show up on Friday evening sports parades.
Future Cadet Activities
Date

Day

Month

Activity

Location

Time

12

Fri

Feb

Valentine Dance

420 Wing RCAFA

TBA

5

Sat

Mar

Skiing

Mount St. Louis

TBA

3

Sun

Apr

Mess Dinner

Lviv Ukranian Hall

1800 hrs

8 – 10

Fri to Sun

Apr

Ganaraska Forest

Ganaraska Forest

TBA

9

Sat

Apr

Gliding

CFB Mountainview

TBA

17

Tues

May

Annual Inspection

Legends Centre

2000 hrs

5

Sun

Jun

Gliding

CFB

Mountainview

TBA
Thoughts From the Treadmill
Another week and another Dispatch coming out later than I would like. I hope is that we can use this newsletter as a valuable communication tool to let cadets know what is coming up this week as well as what activities have happened recently. Unfortunately, sometimes my work schedule just doesn't line up with getting the email sent out in good time. We will continue to do our best to get it to you, thanks for your patience.
It looks (and feels) like winter is finally making an appearance. A couple of important things to remember. In the case of inclement weather, we sometimes have to cancel cadet activities. If this happens, we will make every effort to contact those cadets and staff involved. We will post the cancellation on the Squadron's web page as well as the Facebook page. I will also send out a message on Remind to those who have signed up for that service. If you have any doubt, please have your cadet call their team leader. It is our goal to be as safe as possible while still conducting our training.
Please remember to sign up for the Ski Trip, look back through last week's Dispatch for details and go to http://www.signupgenius.com/go/10c0849aaac2ba3fd0-mount
to sign up.
That's all for now.
Stay Safe and Have a Great Week
Major Bliss
Aviation Photos of the Week
Aircraft Photos by "Yellow Drum Productions"
Mike Luedey, Langley British Columbia
Check out the following video to see a rather impressive collection of aviation photos.
https://www.youtube.com/watch?v=6dnsV6fQZvs&feature=youtu.be
Previous issues of the Dispatch may be found on our web site, Chadburn.org. To view past issues access the home page and then click on News.
The most recent news letters will be listed there while previous news letters may be accessed by clicking on the "view all news" heading located at the bottom of the section.
If you have comments or suggestions on ways to improve our newsletter or if you wish to unsubscribe from this email please notify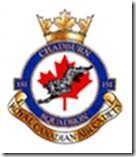 151 Chadburn Squadron
Royal Canadian Air Cadets
*** Excelsior per Debere ***Excellence through Endeavour
Proudly Sponsored by the Rotary Club of Oshawa