Proudly Sponsored for over 74 years by:
The Rotary Club of Oshawa
Issue # 17
Week of Feb 26, 2017
This is our 75 Anniversary

Final Recruit Course!
Remember it Starts this Monday February 27th
If readers know of an cadet age youth that may be interested in joining the Squadron, please let them know.
The course introduction will be in Rotary Hall at 7:30 pm on Monday February 27.
Attendees are reminded that they should park at Village Union School and not in our driveway.
Skiing Mount Ste Louis
Another great ski day at Mount Ste Louis.
The Royal Order of the Glassy Boot
WO 1 C.Abraham

CPL

C.Ye

WO2

M.Singh

WO2 A.Carson

F/Sgt.

F.Chandler

F/Sgt T.Talhouk

F/Sgt

D.Lloyd

F/Cpl

C.Lloyd

Cpl

K.Espe

Sgt

S.Scalia

Sgt.

D. Buller

F/Sgt

B.Wardell

F/Cpl

E. Boyden

F/Sgt

S.Alleyne

AC

A.Lang

Cpl

S. Mahadeo

AC

L.Eaton

F/Cpl.

A.Bone

F/Cpl

D.McLeod

F/Cpl

S.Baldasaro

Sgt N.Rabjohn

Sgt.

M.Garriock

F/Sgt S.Mastroianni

F/Cpl

A. Bone,
Important Future Cadet Activities
Day

Date

Month

Activity

Location

Sun

5

Mar

Sports Meet

Anderson Collegiate

Sun

26

Mar

Squadron Mess Dinner

Lviv Ukranian Hall

Fri

7 – 9

Apr

Leadership Course

Senior NCO's

CFB Trenton

Sat

8

Apr

Gliding

CFB Mountainview

Sat

22

Apr

Band and Drill Comp

TBA

Thurs-Sun

27- 30

Apr

Tag days

Oshawa

Thurs- Mon

18- 22

May

Year End Trip

TBA

Sat

3

June

Annual Inspection

Legends Centre
Annual Squadron Mess Dinner
Dear Parents, Guardians, Staff and Cadets,
It is my pleasure to invite you and your family to 151 Chadburn Squadron's Annual Cadet Mess Dinner. This dinner has traditionally been held mid-year to feature cadet achievements and to present a number of awards.
The dinner will once again be held at the Lviv Ukrainian Hall, 38 Lviv Blvd, (located off Simcoe Street South, one block north of Bloor Street) on Sunday, March 26, 2017. Doors will open at 5:15PM and dinner will be served at 6:00PM. The program will end at approximately 10PM.
Ticket price is $20.00 per person. If paying by cheque, please make it payable to 151 Chadburn Squadron. Tickets will be sold immediately following closing announcements on Monday nights up to and including Monday March 20, 2017. If you have any questions please contact Capt Ron Brosseau or CV Mrs. Jane Brosseau or at 905-985-2913 or ronandjane@xplornet.com
Please note we will not reserve seating unless tickets are paid for in full. We recommend that you purchase tickets early as seating capacity is limited.
Appropriate dress for the occasion is as follows:
Military: Mess Kit (with miniatures) or DEU Number 2 (with medals)
Civilians: Business dress/ Semi-formal attire
This dinner is an excellent opportunity to meet our guest speaker and staff members. We value your continued support and look forward to seeing you there.
Sincerely yours,
Major Dale Bliss CD
Commanding Officer
151 Chadburn Squadron
Royal Canadian Air Cadets
Historical Squadron Records
This past week we received a rather interesting email regarding the history of our squadron from Don Berrill the National President of the Air Cadet League in Canada. Don has actually visited our squadron and he is well known to a number of our staff. Few would know today that in the years 1941- 69 the League published a national Magazine about the activities of air cadets across Canada. The magazines were titled Canadian Air Cadet 1941 – 1947 and the Air Cadet Annual 1948 – 1969.
The following is a record of some of our squadron's activities that were found in the archives of these magazines that were published across Canada during the years 1948-1969. They detail 151 activities during the war years and up to the last edition in 1969. Other than a few photos of the squadron, Lloyd Chadburn and the squadron band, there are unfortunately few photos or records of our squadron's activities from this period. So we hope readers will find the following list of cadet activities from 1942 up to 1944 of particular interest especially since we are now in our 75 year.
| | | | | |
| --- | --- | --- | --- | --- |
| Squadron # | Place | Date Start | Disbanded | Area |
| 151 | Chadburn Sqn Oshawa | 6-Aug-42 | | |
| 151 | Oshawa Sqn | | | YSD |
1942 – Oct.p20 Squadron Directory
Sponsor
Chairman Dr. O.J. Mills
Secretary R.B. Faith
M. O.
Comm. Officer P.H. Jobb
Other; F.G. Pim, J.H. Rigg, L. Beal
# of Cadets 50
1942 – Oct.p24 The Sqn. is very proud of its OC L/Col P.H. Jobb, the Col started his career in 1900 as a bugler… fought in France as Captain ….was wounded at Passchendale and mentioned in dispatches. He was made a L/Col in 1937 and named OC of the Durham Regiment.
42 – Nov.p24 The local citizens got an uplift recently when the famous R.C.A.F. band and several hundred Toronto cadets marched up the town's main avenue to participate in a local squadron rally.
1943 – April p21 S/L L.B. Chadburn DFC (Sqn. named after him) the 23 year old R.C.A.F. Officer inspected the Sqn and gave a briefing on aircraft identification, rifle and pistol shooting.
43 – May p19 A bugle band has been proposed, cadets and officers are looking for instruments from citizens.
43 – Sept. p20 The following Squadron's from 94 Stouffville, 149 Havelock, 151 Oshawa and 164 Peterborough acted as part of guard of honour at Mountainview for presentation of Air Gunners Wing's to 25 members of the R.C.A.F.
43 – Oct. p20 The famed band of #1 I.T.S. Toronto, traveled to Oshawa to play a concert on behalf of the Squadron. Prior to the concert a parade was held through the city by 151 and the visiting band, and two flights from #20 E.F.T.S. The salute was taken by G/C H.O. McDonald, CO of #1 "M" Depot Toronto.
43 – Oct. p30 Former Cadets join R.C.A.F., L. Parkes, D. Ellison, D. Sutherland, A. Humphreys, W. Bewden.
43 – Nov. p3 Squardon name history – Lloyd V. Chadburn D.F.C., D.S.O. at 24 years old he is the youngest Wing Commander in the R.C.A.F., a commander of a fighter squadron overseas. His D.S.O. citation credits his squadron with the destruction of 16 enemy aircraft during sortees led by Chadburn. Of these he bagged 6 himself – his personal score totals 8 aircraft destroyed, 3 U-boats (torpedo) and a destroyer damaged off the Dutch coast. He enlisted in the R.C.A.F. as an airgunner at Toronto in April 1940. He remustered to a pilot shortly afterwards and went overseas wearing his pilots wings.
43 – Dec. p20 After a recent parade, cadets were guests of S.S. Kresge Co. at a dance held at the Avalon Pavilion. Recruiting stunt; cadets bring two suitable candidates, receive a flight, some cadets are working on two flights.
43 – Dec. p31 Former Cadets join R.C.A.F., A. Corbett, H. Linton, F. Crossley
1944 – Jan. p20 F/O Roy Farrell R.A.F. told the Sqn. how he was shot down and made a prisoner of war in Germany, he explained how he and 2 others escaped and returned to England. Cadets were inspected by F/L C. Cawker, Sqn. Liaison Officer from 20 E.F.T.S., the band made its first appearance and led the parade to the Sqn. quarters to see 3 excellent films supplied by British American Oil Co.
44 – Aug. p20 At a ceremonial parade, F/L Brown of 20 E.F.T.S. presented LAC Propellers. Following the ceremonies cadets led by their own band paraded to Alexandra Park were they rehearsed their inspection parade. The cadets were guests of the local theatre manager at the showing of "Air Cadets".
44 – Sept. p20 The Squadron attended summer camp at Dunnville, 80 cadets and 4 officers.
As a matter of interest to Rotary and the squadron we have also included the Squadron Directory 1948/49
1948/49 – p48 Squadron Directory
Sponsor Rotary Club
Chairman F.J. Grindley
Hon. Secretary S. Wilson
Comm. Officer S/L L.L. Beal
Adjutant. F/L P.A. Andrew
Instructors
# of Cadets 79
1950 – p66 Squadron Directory
Sponsor Rotary Club
Chairman F.J. Grindley
Hon. Secretary S. Hopkins
Comm. Officer S/L L.L. Beal
Adjutant. F/L D.C.R. Hill
Instructors P.O. L. French, S. Burke, G.A. Slocombe, A.M. Griffith, E.A. Waters.
# of Cadets 81
There are numerous photos that accompanied this presentation and we have included one of Neil Mosier who won the Tudhope Trophy as the top student pilot in Canada.
There are also several other photos that we will include in future editions.
Thoughts from the Elliptical
As I sit and write this, Colonel Gilbank and I just got off the phone after trying to figure out what is wrong with either my computer or the copy of the Dispatch that he sent me. It just acts as a reminder to me about how reliant we have become on technology, and how lost we can be when it is not working the way we hope it will.
Over the next few weeks, we will be unveiling a new (to us)method of allowing parents to pay for different things at the Squadron. In the past, we have been asked why we can't accept credit cards for payment on some of our activities. With the addition of a PayPal account, we will soon have the capability to accept payment for things such as mess dinners and year end trips. We will also be using this tool to accept payment for the upcoming 75th Anniversary activities.
I mentioned something to the cadets on closing parade last week after the roller skating, and that was that they should be saying thank you to the staff that are going out of their way to ensure that we can do things like ski trips and other outside the norm activities. I realize that it is a two way street, so I would like to thank this opportunity to thank all of the parents who drive their cadets to our activities, and the vast majority who show up on time to pick their cadets up at the end of the night. When I was growing up as a cadet, there were only two activities a week for most of the time, now that we are running at least five days a week, the demands on the parent's time is a lot greater than back then. I certainly hope that at the end of the day you feel like all the time driving (and waiting in the car) was worth it.
Hopefully the letter for the Mess Dinner comes out OK in the Dispatch that you all will see, I encourage all of you to join us on March 26th. The guest speaker sounds extremely interesting and as always, we will have some awards and promotions to present that night.
That's all for now.
Stay Safe and Have a Great Week
Major Bliss
Our 75th Anniversary Photos
There are many cadet memories of the year end trips that the squadron has been a part of. Over the years we have travelled to many different parts of Canada and the united States.
One of these was a visit to the Ausable Chasm in the State of New York. On this trip the cadets had a chance to ride a raft through the Chasm.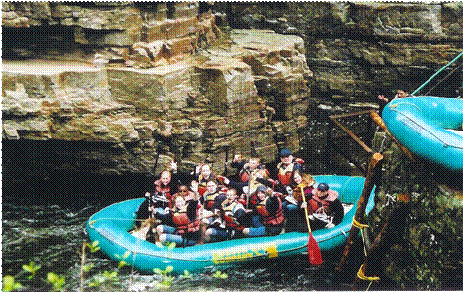 If you have comments or suggestions on ways to improve our newsletter,
our website or if you wish to unsubscribe from this email please notify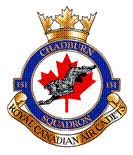 151 Chadburn Squadron
Royal Canadian Air Cadets
*** Excelsior per Debere ***Excellence through Endeavour