Proudly Sponsored for over 74 years by:
The Rotary Club of Oshawa
Issue # 19
Week of Mar. 12, 2017
Please note that there will be no regular Monday training parade
or Friday sports parade this week due to the March School Break.
This is our 75 Anniversary

Cadets of the Week
Tri Service Sports Competition Anderson Collegiate Whitby
This past week 1913 Army here in Oshawa organized a sports meet for all the cadets in the area.
There were 289 cadets competing in Dodgeball, European Handball, Volleyball, Basketball and tug of war.
Our squadron placed second in the competition behind 2525 Army Cadet Corps from Pickering.
Our Competition Team
The Royal Order of the Glassy Boot
WO 1 C.Abraham

CPL

C.Ye

WO2

M.Singh

WO2 A.Carson

F/Sgt.

F.Chandler

F/Sgt T.Talhouk

F/Sgt

D.Lloyd

F/Cpl

C.Lloyd

Cpl

K.Espe

Sgt

S.Scalia

Sgt.

D. Buller

F/Sgt

B.Wardell

F/Cpl

E. Boyden

F/Sgt

S.Alleyne

AC

A.Lang

Cpl

S. Mahadeo

AC

L.Eaton

F/Cpl.

A.Bone

F/Cpl

D.McLeod

F/Cpl

S.Baldasaro

Sgt N.Rabjohn

Sgt.

M.Garriock

F/Sgt S.Mastroianni

F/Cpl

A. Bone,
Important Future Cadet Activities
Day

Date

Month

Activity

Location

Thurs

16

Mar

Comp Band Only

Rotary Hall

Thurs

23

Mar

Comp Band Only

Village Union

Thurs

23

Mar

Non Comp Band

Rotary hall

Sun

26

Mar

Squadron Mess Dinner

Lviv Ukranian Hall

Fri

7 – 9

Apr

Leadership Course

Senior NCO's

CFB Trenton

Sat

8

Apr

Gliding

CFB Mountainview

Sat

15

Apr

Band Practice Comp

Band

Village Union PS

Sat

22

Apr

Band and Drill Comp

TBA

Thurs-Sun

27- 30

Apr

Tag days

Oshawa

Thurs- Mon

18- 22

May

Year End Trip

TBA

Sat

3

June

Annual Inspection

Legends Centre
More Historical Squadron Photos and Comments
From the National Magazine "The Cadet Annual 1948-1969"
"Mentioned in Squadron Despatches"
WO2 Glen Shortt, winner of the Hill Memorial Trophy awarded to the outstanding cadet of 151 Squadron. In 1950 he was awarded the RCAF flying training scholarship and an exchange cadet to UK. Another of his achievements was winning of a senior marksman's award at summer camp
Flying Officer Jack Houston
A parent and cadet shoot
The officer in the photo was Flying Officer Jack Houston who was our squadron range officer. He was a father figure to young inexperienced cadet officers due to his extensive service in the Second Battalion of the Scots Guards as an RSM. He served in the Palestine police force before the war but during the war he saw service with the guards in Norway and then North Africa, Sicily, Italy, France and Germany. He was affectionately known as Housty by all the squadron staff and his presence did much to encourage and develop the standards that still exist within squadron today.
Thoughts from the Elliptical
Heading into the March Break, I just want to wish everyone who is travelling a very safe trip and I hope to see you all when we start up again next week.
As I look at the historical pictures posted this week, I can't help but smile, I obviously never knew Glenn Shortt as a cadet, but I do have many fond memories of him being around the Squadron after I came back. Glenn always amazed me with his memory for cadet's names. At one time, it was quite common for a bunch of us to go out for breakfast every month or so, as stories were told, either old or recent, Glenn always seemed to be able to put a name with whatever we were talking about. As the first recipient of the Hill Trophy, he certainly set the standard for future generations of cadets. His love for the Squadron was always evident.
The picture of the band from the 80's brought an even bigger smile. This was taken a short time after I left the Squadron, but the faces of the cadets in the picture are all familiar. Michael VandenBos was a cadet in my flight at one point, he went on to fly with the Snowbirds and unfortunately was killed in a training accident in 1998, the Air Cadet Squadron in Whitby now proudly carries his name. There in the back corner is Captain Puglisevich ( he somehow seems taller in the photo) as a CI, he went on to command not only Chadburn Squadron but also 172 Squadron in Clarington before coming back home to us. And there in the front row is the mother of one of our current cadets. It goes to show that the Chadburn Squadron Family carries on and in many cases becomes a family tradition amongst it's members.
We are still collecting pictures to display within the Squadron and at our upcoming special events. If you have any photos of Squadron events or alumni, please share them with us.
I had the opportunity to attend the marksmanship team practice yesterday, I am always amazed (and more than a little bit jealous) at the ability of our shooters. I was able to see a young shooter score her personal best standing (and for those who haven't tried it, it is very difficult to do well), I also saw one of our more experienced shooters tie her personal best with a score of 99, this is the fourth time she has hit that mark, and I have a feeling she is only a blink away from scoring the elusive 100. I admire these guys for all of the hard work they put into this sport, and wish them all the best in their upcoming competitions.
That's all for now.
Stay Safe and Have a Great Week
Major Bliss
Our 75th Anniversary Photo
Our Squadron Band as it appeared in the late 80's
If you have comments or suggestions on ways to improve our newsletter,
our website or if you wish to unsubscribe from this email please notify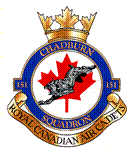 151 Chadburn Squadron
Royal Canadian Air Cadets
*** Excelsior per Debere ***Excellence through Endeavour