Proudly Sponsored for over 70 years by:
The Rotary Club of Oshawa
Issue # 16
Week of Jan 5, 2014
A New Pilot in the Canadian Forces
Just prior to the Christmas break the Royal Canadian Air Force presented pilots wings to four new RCAF pilots at a special wings parade that was held at CFB Moose Jaw Saskatchewan. What makes this parade so important to all of us is the fact that one of the graduates is David Brosseau a former air cadet warrant officer from 151 Squadron. As you can see from the photos all of David's family were in attendance to not only witness the graduation but a formation flypast by the new pilots. David is a graduate of Royal Military College in Kingston and now he is officially a pilot in the RCAF.
The next step for David will be a "transition" course to the CT-155 Hawk Jet. Upon completion of his transition course he will head to Cold Lake for "Fighter lead in training" using the
CT-155 Hawk Jet.
The CT-155 Hawk
The CT-155 Hawk was selected for the NATO Flying Training in Canada program because of its similarities to frontline fighter aircraft. Student pilots graduate from the CT-156 Harvard II to this highly advanced jet trainer. Its Rolls-Royce turbofan engine generates more than 6000lbs of thrust and powers the jet to supersonic speeds. The Hawk's sophisticated glass cockpit features a heads-up display (HUD), hands-on throttle and stick controls, and integrated navigation and targeting systems. With its superior technology, the jet can perform a wide range of high performance training missions.
Ever Wondered How You Become a Pilot in the Canadian Forces?
Student pilots chosen to attend NATO Flying Training in Canada (NFTC) complete their basic flight training in Moose Jaw, Saskatchewan on the Raytheon CT-156 Harvard II aircraft. Canadian military pilots training on the Harvard II have arrived at Moose Jaw after initial screening at Portage La Prairie on contractor-leased Slingsby Firefly aircraft. They then spend 95 hours on the Harvard II, at which point they are streamed into the fighter, multi-engine or helicopter programs for further advanced training.
Check out the video, flying a Harvard 11
http://www.youtube.com/watch?feature=player_embedded&v=dniDN9Bbt-U
Roller Skating Party Coachlite Gardens
And who says air cadets is all drill, classes and glassy boots?

Royal Order of the Glassy Boot
Honourable Members
WO1 B. Jackson, WO2 A.Hembruff, WO2 A.Boyden, WO2 R. Bliss, F/Sgt C.Travis, F/Sgt J.Shaw, F/Sgt K.Katzer, F/Sgt S.Sheppard, F/Sgt A.Ford Williams,
Sgt V.Singh, Sgt R.Barton, Sgt. J.Ehrt ,Sgt. O.Sam, Sgt C.Brandow, F/Cpl J.Hancock, F/Cpl C.Abraham, F/Cpl B. Hewett , Cpl J.Hancock, Cpl F.Chandler
Thoughts from the Treadmill
Happy New Year! I hope everyone had a safe and happy holiday and that the short break from cadet activities has helped to recharge your batteries.
It was great to see so many alumni both recent and those a little bit older around during the holiday season, whether it was new wings on the chest, new rank, new whiskers, or the celebration of an upcoming marriage, the smiles on the faces as the stories are told with old friends is what makes the holiday season in the Chadburn family special. I hope that all of our service members made it back to their homes away from home safely.
Over the break, there were a few newspaper articles that made the rounds concerning budget cuts and the future of the cadet program in Canada. The budget cuts are a fact, and we will see some changes in the way we handle our uniform supply; so far, that is the only place I have been informed of changes to our program. I have been in contact with the neighbouring units, and through the cooperation of the 4 Durham Air Cadet Squadrons, we will be able to outfit all of our cadets and hopefully keep them looking sharp. I ask again that if you have any uniform items at home that should be at the Squadron that you bring them in. As for the other "news" items, I ask that you please consider the source if you are getting your information from a social networking site. If there are any changes coming, we will be informed through our HQ and the message will be spread through our normal Chain of Command.
The recruit course is still going on, and they will be accepting new recruits into the course again tomorrow. If you know anyone who is at least 12 years old and is interested, have them come down and sign up.
There will be some exciting chances to lower the price of your Year-End-Trip coming up; details will be made available over the next couple of weeks.
That's all for now.
Stay Safe and Have a Great Week
Major Bliss
Aviation Photo Of the Week
This picture of refugees from the typhoon in the Philippines was taken on board one of the US Air Force's C-17's on one of the evacuation trips from Tacloban to Manila.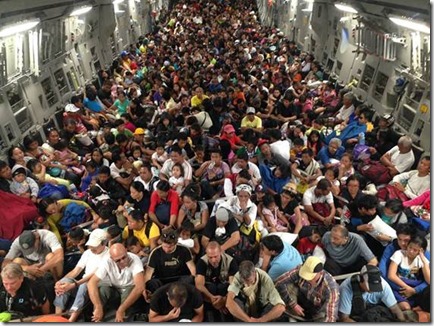 If you have comments or suggestions on ways to improve our newsletter, our website or if you wish to unsubscribe from this email please notify
151 Chadburn Squadron
Royal Canadian Air Cadets
*** Excelsior per Debere ***Excellence through Endeavour
Proudly Sponsored by the Rotary Club of Oshawa