Proudly Sponsored for over 70 years by:
The Rotary Club of Oshawa
Issue # 15
Week of Dec 15, 2013
Cadets of the Week
Remember!! There is No Regular Training Parade this Monday
It is Roller Skating at Coachlite Gardens on King Street West at McMillan Drive, The timings are 1830 until 2200.
Food Drive
Do Not forget the Salvation Army Annual Christmas Food Drive.
Food donations may be brought to the Coachlite Gardens Roller Rink this Monday evening, December 16.
Items Currently In Need Of Most
Large Soups

Peanut Butter

Canned Fruit

Canned Meat
Food Items Always In Need
Vegetables, Breakfast Cereals, Pancake Mix, Juice, Tea, Coffee, Cheese spreads, Jam, Canned Stew, Canned Fish, Pasta

Rice, Tomato Sauce, Dry Soup, Canned Soup, Holiday Treats, Baking Mixes, Personal Care Items, Grocery Gift Certificates

Diapers, Formula
Level 5 Training
Canadian Forces Base Trenton
A couple of weeks ago, eight of the level five cadets in our squadron went to a level five training weekend at CFB Trenton. The weekend is now a part of the level five mandatory training and every level five Air, Army, and Sea Cadet in the province must participate in one of the weekends throughout the year. During the weekend every cadet chooses four workshops that they would like to participate in. Some of the workshops are, Supervision, Healthy Relations, Time Management, Classroom Management, and Team Building, just to name a few. The object of the weekend is to train the higher levels to hopefully bring back some of what they learned to their home units. The cadets enjoyed the weekend and they enthusiastically recommended that all senior NCOs who have the chance to participate should attend.
Flying Scholarship Training – Durham College
Although flying scholarship appears on our weekly schedule not everyone may realize that the Squadron has a concentrated aviation program underway at Durham College for those cadets who wish to apply for a cadet power or gliding flying scholarship. This is a special aviation course to prepare our cadets to write the military flying scholarship exams which are the first step in the selection of cadets for these important and challenging courses.
In the photo you can see the power scholarship candidates working with the course instructor Todd Petzold. Todd has been the squadron's classroom flying instructor for over 20 years. He has been instrumental in getting a great number of our cadets through the cadet flying program and today you can see two of our cadets flying for Air Canada while several others are flying various aircraft in the Royal Canadian Air Force.
Leadership Development Program
Promotion in the squadron to the level of Sergeant is now automatic dependent on attendance and academic success. However promotion to the ranks of Flight Sergeant and Warrant Officer are based mainly on one's personal ability, skills and knowledge. In 151 Squadron we have for many years conducted a special leadership program to help develop the personal skills and abilities of those who will eventually lead the Squadron. This past weekend the Squadron held its last training parade for the cadets on this year's leadership development course.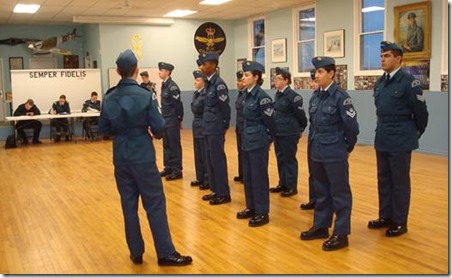 The Tri Service Dance
A Thank You From the Squadron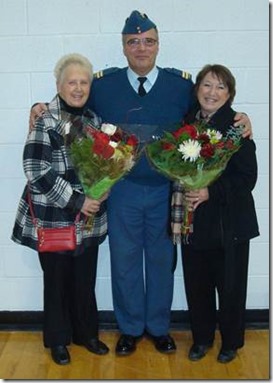 On December 6th, over 300 cadets and their guests attended our annual Tri-Service Dinner and Dance. It was a great success.
On Monday night Captain Weigel presented the two main organizers, Mrs. Gloria McMurtry and Mrs. Nancy Gilbank with a small gift from the Squadron.
Great Job Ladies!
Royal Order of the Glassy Boot
Honourable Members
WO1 B. Jackson, WO2 A.Hembruff, WO2 A.Boyden, WO2 R. Bliss, F/Sgt C.Travis, F/Sgt J.Shaw, F/Sgt K.Katzer, F/Sgt S.Sheppard, F/Sgt A.Ford Williams,
Sgt V.Singh, Sgt R.Barton, Sgt. J.Ehrt ,Sgt. O.Sam, Sgt C.Brandow, F/Cpl J.Hancock, F/Cpl C.Abraham, F/Cpl B. Hewett , Cpl J.Hancock, Cpl F.Chandler
Thoughts from the Treadmill
It certainly is beginning to look a lot like Christmas…. with the snow comes a reminder to pay attention to the web site for any event cancellations.
Recently, the clothing budget for all cadet units in Canada was frozen. This means that we will not be able to order any uniform parts until at least the next training year starts in September. So now, more than ever, it is important to bring back any extra uniform items you may have at home. I realize that sometimes mistakes happen and a parka or other uniform item may be taken home by the wrong cadet, I am asking that over the Christmas holiday, you have a look in the closets at home and if you have extra uniform parts, bring them in to the Squadron.
As mentioned previously, we will be hosting our 4th ever fund-raising golf tournament on Saturday June 7th 2014. The price of the tickets has been set at $75.00 per player. This includes a round of golf at the Oshawa Airport Golf Club, a fantastic BBQ dinner at the 420 Wing of the Royal Canadian Air Force Association, and a chance to win a great prize. There will be a hole-in-one competition, and prizes for certain skills on the course (longest drive, closest to the pin etc.). Tickets will be sold starting tomorrow at the roller rink. Please see either Mrs. Di Loreto or Mrs. Lysyk for your tickets. This should make an excellent gift for the golfer in your life. Just a reminder that this is not a cadet activity, however cadets are permitted to attend as long as they are accompanied by a parent.
I was saddened again this week by the announcement that a former cadet, staff member and friend passed away on Thursday evening. Mr. Glenn Shortt was a very familiar face around the Squadron for many years. Warrant Officer Shortt was the first recipient of the Flying Officer Don Hill Trophy; this was awarded in 1952, and came at the end of a cadet career that was very rewarding. Glenn received his private pilot's license through cadets, he participated in one of the first International Air Cadet Exchanges and he was a member of the drill team that used to compete against the Civil Air Patrol in the United States. Glenn became a CI with the Squadron and remained active for many years. After raising his own family, he came back to the Squadron and again volunteered with many different parts of the Squadron. He stayed at it until health issues made it necessary for him to move into a nursing home. Glenn was a huge supporter of the Squadron and loved coming out to see the cadets on parade. He will be missed.
As this is the last Dispatch of the year, I would like to take this opportunity to thank you all for your support and hard work. The New Year promises to be challenging and rewarding to those that are willing to put the extra work into all of their tasks.
I wish you all a Merry Christmas and a safe and Happy New Year.
Major Bliss
Aviation Photo Of the Week
This Really Exists:
Giant Concrete Arrows That Point Their Way Across America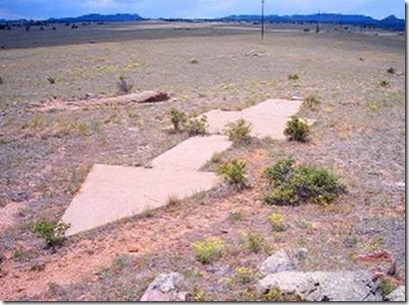 Here is one of the giant concrete arrows, as much as seventy feet in length that point their way across the United States. Actually the arrows are a part of the old U.S. Transcontinental Air Mail Route. On August 20, 1920, the United States opened its first coast-to-coast airmail delivery route. In those days pilots had to eyeball their way across the country so the Postal Service solved the problem with the world's first ground-based civilian navigation system. It was a series of lit beacons that extended from New York to San Francisco. Every ten miles, pilots would pass a bright yellow concrete arrow. Each arrow would be surmounted by a 51-foot steel tower and lit by a million-candlepower rotating beacon. This allowed pilots to get from the Atlantic to the Pacific not in a matter of weeks but in just 30 hours or so.
If you have comments or suggestions on ways to improve our newsletter, our website or if you wish to unsubscribe from this email please notify
This will be the last edition of our newsletter before the new year.
We would like to wish all who follow our squadron a very Merry Christmas and a Happy New Year.
Our next issue will be on January 5, 2014.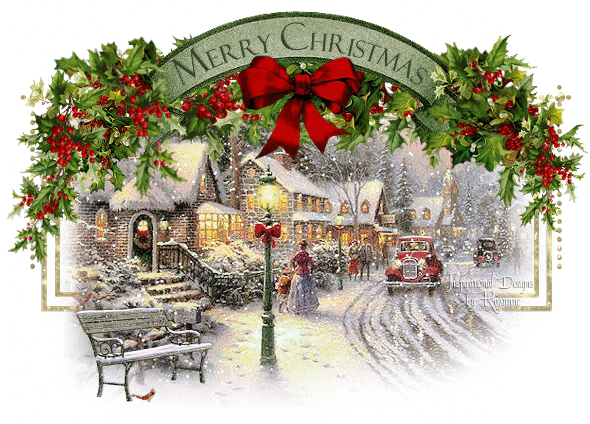 151 Chadburn Squadron
Royal Canadian Air Cadets
*** Excelsior per Debere ***Excellence through Endeavour
Proudly Sponsored by the Rotary Club of Oshawa