Proudly Sponsored for over 70 years by:
The Rotary Club of Oshawa
Issue # 14
Week of Dec 8, 2013
Ordre National De La Legion D'Honneur
Chadburn Squadron is unique in the cadet world in that there is only one other air cadet unit in the Province of Ontario that carries the name of a famous Canadian fighter pilot who personally gave permission for the squadron to use their name. That squadron is the Billy Bishop Squadron in Owen Sound. Lloyd Chadburn was a skilled pilot and an inspiration to all that knew him. We are indeed fortunate to carry the name of such a remarkable individual who left his mark in the historical record of the Royal Canadian Air Force.
Following the war, Chadburn was granted two of France's highest military honours one of which was the French Legion of Honour. The medal was presented to Chadburn's mother in 1947 and this past Monday Maj. Robert Forbes, the author of the book Gone is the Angel presented the squadron with the original document that accompanied the medal. This unique historical document now joins several other historical items that the squadron has on display in Rotary Hall.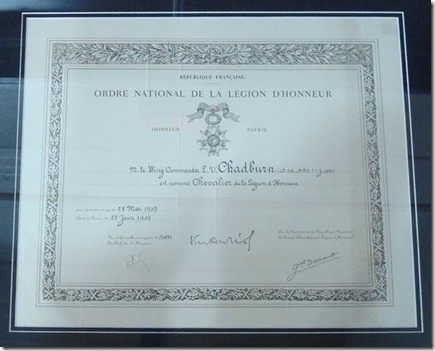 Two New Videos Now on Chadburn.org
Not everyone may be aware but there are a growing number of YouTube videos available on our squadron's website.
This past week two new videos were added one from the Remembrance Day Parade and a second video which was recorded at the new recruit graduation parade.
If you have not visited our video section it can be found on the home page of the web site under the heading of Video Gallery.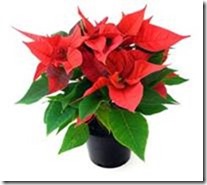 Poinsettia Pick Up
Remember this Monday all of the poinsettia flowers that were ordered will be at Rotary Hall and ready for pickup.
The hall will be open from 1PM to 9 PM.
Food Drive
Do Not forget the Simcoe Hall Settlement House Annual Christmas Food Drive.
Food donations may be brought to the Coachlite Gardens Roller Rink on Monday evening, December 16.
Tri Service Dance Lviv Ukrainian Hall
One of the most important and impressive events on the cadet calendar is the annual Tri Service cadet dinner and dance that is held each year in the Lviv Hall. Attendance is open to all of the cadets in the immediate area and this year there were over 330 Sea, Army and Air Cadets in attendance. The cadets were served a hot roast beef and chicken dinner with all the fixings and more pastries and deserts than they could handle. The music made the building rock and there were numerous door prizes to keep every ones spirits high. Below are some picture of the dinner and dance. The top photograph is of all of the Warrant Officers (or equivalent) from all the cadet units in attendance.
Royal Order of the Glassy Boot
Honourable Members
F/Sgt K.Katzer, WO2 A.Boyden, Cpl F.Chandler, F/Sgt J.Shaw F/Sgt S.Sheppard, F/Sgt A.Ford Williams, WO2 R. Bliss,
WO2 A.Hembruff, F/Cpl J.Hancock, Sgt R.Barton, F/Cpl C.Abraham, Sgt V.Singh, Cpl J.Hancock, F/Sgt C.Travis
F/Cpl B. Hewett, Sgt. J. Ehrt ,Sgt. O.Sam, Sgt C.Brandow
Familiarization Flying Oshawa Airport
Finally after numerous delays and a continuous run of poor weather conditions we succeeded in getting some of our cadets up flying on Saturday morning. It was an important day for the squadron as we welcomed not only a new pilot but a new aircraft to our flying operations. The aircraft is called a Diamond aircraft which as one can see it is a rather unique and modern aircraft. The owner and pilot is Lee Arsenault who has kindly agreed to use his aircraft to fly our cadets.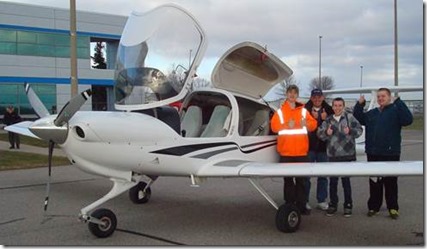 Thoughts from the Treadmill
With the Tri-Service Dance behind us, it officially feels like Christmas. I am normally available to see the whole day unfold and the progression of the day from the shopping to the hall set-up and the food preparation right down to the clean-up. This year unfortunately, my work kept me away for most of the day. I must say, it is quite a sight to walk in to the beehive of activity that comes about thirty minutes before the dinner bell is rung for 330 anxious cadets and supervising staff. The two lead people on our team, Mrs. Nancy Gilbank and Mrs. Gloria McMurtry have been working to make this a successful event for many months. Judging from the smiles I saw on Friday they did a great job. I would like to thank not only the two of them, but the entire staff who made this all possible.
Please remember that the poinsettias will be available at Squadron HQ on Monday from 1300-2100hrs only. Tomorrow is the only day that the pre-ordered flowers will be available for pick up. Please make sure you swing in to get them.
As we move in to winter, I'd like to remind everyone that in case of inclement weather, we will do our best to get any cancellation notices posted on the web site and on the Squadron answering machine. It is not always possible to get the word out by phone calls in time. When possible, we will also have cancellations announced on local radio stations.
I was saddened to learn earlier this week of the passing of a long-time supporter and friend of the Squadron. Mr. Henry Cooper (we always knew him as Lee) passed away on November 22 at 91 years of age. Lee had been the cadet liaison with the 420 Wing of the Royal Canadian Air Force Association for many years. He was a fixture at so many cadet activities and I think he truly loved the Squadron and the cadets. I remember he always carried a little note book and would carefully write down anything the Squadron requested so he wouldn't forget it. He had a tremendous sense of humour, was always quick with a smile, had a good strong handshake and always seemed to have a twinkle in his eye. It is unfortunate that at times when we deal with some of our veterans, we don't know their entire history, and as the years go by, more and more of this history is lost.
At the going down of the sun and in the morning. We will remember them.
That's all for now.
Stay Safe and Have a Great Week
Major Bliss
Aviation Photo Of the Week
Jet World Masters Competition
Meiringen Air Base, Switzerland 2013
The Jet World Masters competition is a major cultural event which welcomes teams from all over the world. To date there has been 10 world model building and flying competitions. The accuracy, detail and precision flying of the radio controlled models is truly amazing. If you would like to see the models and view and view some of the flying demonstrations then click on the links below.
http://www.youtube.com/watch?v=BbwcFZb07sg
http://www.youtube.com/watch?v=HcwNO38RIQA
If you have comments or suggestions on ways to improve our newsletter, our website or if you wish to unsubscribe from this email please notify
151 Chadburn Squadron
Royal Canadian Air Cadets
*** Excelsior per Debere ***Excellence through Endeavour
Proudly Sponsored by the Rotary Club of Oshawa