Proudly Sponsored for over 70 years by:
The Rotary Club of Oshawa
Issue # 13
Week of Dec 1, 2013
A New Recruit Course will be starting this Monday
If readers know of youth who are interested in becoming an air cadet in our squadron
please let them know that a Parent/Cadet information Night will be held at
Rotary Hall, 254 Centre Street South, Oshawa
7.30 PM, Monday, December 2
Parking is available across the road at Village Union Public School, access off of Gibb Street. The briefing will last about 1 hour with time for questions at the end.
Please let them know to bring the potential cadet's Ontario Health Card as well as their Birth Certificate and if not born in Canada, proof of Canadian Citizenship. Please click on the link below and fill out the forms in advance to speed up the registration process on Monday night.
https://www.chadburn.org/wp-content/uploads/2011/12/151-Chadburn-Recruit-Application-Package-V3.pdf
It's Coming the Simcoe Hall Settlement House
Annual Christmas Food Drive
On the last cadet parade of the year which will be held on December 16 at the Coachlite Gardens Roller Rink the
Squadron will be collecting food in support of Simcoe Hall's annual Christmas food drive. This is still a couple of weeks away and donations are only to be
brought in to the roller rink on December 16. This proved to be a very successful program last year and we are hoping for similar results again this year.
Guest Speaker – Youth and Drugs
Durham Regional Police
Drugs and problems that come with their illegal use were front and centre for our junior cadets this past Monday. The cadets had a chance to hear directly from a police officer about all of the different drugs that are out on the streets. The presentation was complete with a video presentation as well as a display which illustrated the scary variety of illicit drugs that are out there. An impressive presentation which ended with a lively question and answer session.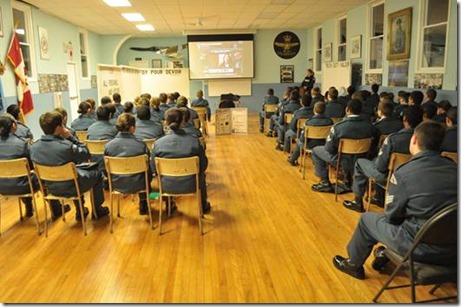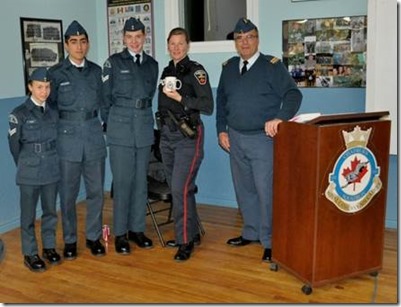 Tri Service Cadet Dinner and Dance !!!!
Monday is your Last Chance to get your tickets to the best cadet dance in town
Do not be left out
Tickets are only $20.00 and include Dinner, Dancing and the chance to win one of many door prizes.
Royal Order of the Glassy Boot
Honourable Members
F/Sgt K.Katzer, WO2 A.Boyden, Cpl F.Chandler, F/Sgt J.Shaw F/Sgt S.Sheppard, F/Sgt A.Ford Williams, WO2 R. Bliss,
WO2 A.Hembruff, F/Cpl J.Hancock, Sgt R.Barton, F/Cpl C.Abraham, Sgt V.Singh, Cpl J.Hancock, F/Sgt C.Travis
F/Cpl B. Hewett, Sgt. J. Ehrt
Presentation of Summer Training Graduation Certificates
This past week junior and senior cadets who attended training last summer were presented with their graduation certificates. The cadets also received a training qualification badge that is to be worn on their cadet tunic.
Thoughts from the Treadmill
December… They say as you grow older time seems to speed up. I must be about a hundred years old, because this year has flown by faster than ever.
As we count down the final days of 2013, it is good to look back at our successes as well as look forward to new challenges and adventures in the coming year.
We are going to be busy for the last month of the year, starting tomorrow night, we will welcome the second and final recruit course of the training year. If you know of anyone who is at least 12 years old and interested, have them come out and sign up.
Tomorrow night will also be the last night to buy your tri-service dance tickets. $20.00 for a full meal, a night of fun and a chance to win one of several door prizes is a deal that can't be beat. Please see Mrs. McMurtry at either the attendance sign in desk or at closing parade. The Dance is on Friday night at the Lviv Hall in Oshawa. Please remember that male cadets will wear their full uniform and females should wear a suitable dress. Male guests are expected to dress in a suit and tie.
As I mentioned earlier in the year, Chadburn Squadron will once again be holding a fund-raising golf tournament. This will be our fourth ever tournament and promises to be a great day of comradeship, fun and good food at the dinner afterwards. Tickets this year will be $75.00 for golf, prizes and a BBQ dinner at the 420 wing. The date of the tournament is Saturday June 7th. It will once again be held at the Oshawa Airport Golf Club. Printed tickets will be available for sale starting December 16th. This is a great idea for a fun Christmas gift. Although this tournament is not a cadet activity and is mainly designed for adults, cadets will be permitted to golf as long as they are with their parents. For adults wishing to attend the BBQ dinner only, the ticket price will be $25.00. We will be putting the word out in the New Year looking for sponsors and donations of prizes. Please stay tuned for that. Finding sponsors will be a great way for cadets to lower the price of their year-end trip.
The NCO course is drawing down to its final day tomorrow and then the big testing weekend next Sunday. I would like to wish everyone who is participating as a candidate good luck and the reminder that you will benefit just by completing the course. To everyone who has given so much of their time to instruct and do the administration for the course, Thank You. I know it has been a lot of Sunday afternoons away from your families, but it is a greatly appreciated and very important job.
That's all for now.
Stay Safe and Have a Great Week
Major Bliss
Aviation Photo Of the Week
Rolls-Royce has unveiled the first jet engine to be made entirely from Lego – a total of 152,455 bricks
The Lego engine, which was unveiled at the Farnborough Air Show in Hampshire England is a half-size replica of the Rolls-Royce Trent 1000 which powers the Boeing 787 Dreamliner aircraft.
It shows the complex inner workings of a jet engine and took four people eight weeks to complete. The engine weighs 677lb and is more than 6ft long.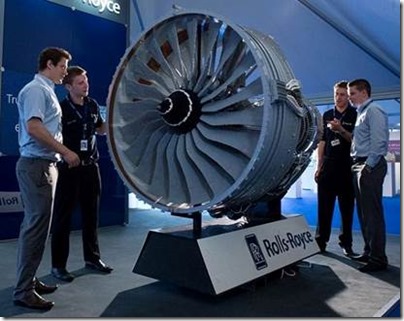 If you have comments or suggestions on ways to improve our newsletter, our website or if you wish to unsubscribe from this email please notify
151 Chadburn Squadron
Royal Canadian Air Cadets
*** Excelsior per Debere ***Excellence through Endeavour
Proudly Sponsored by the Rotary Club of Oshawa