Proudly Sponsored for over 70 years by:
The Rotary Club of Oshawa
Issue # 17
Week of Jan 12, 2014
Cadets of the Week
Flying Scholarship Exams
After some four months of preparation our Squadron along with cadets from other local units sat down in our hall to write the qualifying examination for Air Cadet League glider and power scholarships. This is just the first step in the selection process as squadrons must now use the exam marks to select their candidates for these important awards. Once the nomination forms have been submitted the next step will be an interview with members of the League and final selections will be made by the League during the month of May.
Sports Parades Friday Evenings Central Collegiate
Friday evening sports parades are set up to be a relaxed evening where cadets can hang out and spend the evening playing a variety of different sports. After a warm up session cadets are free to play hockey, soccer, basketball or volley ball. So if you are a little bored on Friday evenings then why not try out a sports parade.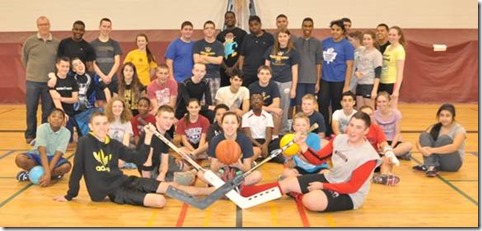 Rotary Club Donation
At the start up of the cadet year in September the Squadron assisted our sponsor the Rotary Club at their annual Ribfest in Lakeview Park here in Oshawa. At the Ribfest the Rotary Club conducted a 50/50 draw and this week after the winner was presented with their award the Club divided the remaining proceeds with other organizations one of which was 151 Squadron.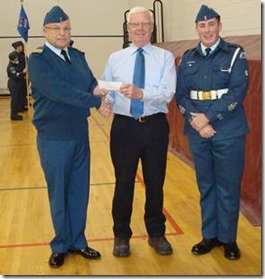 Royal Order of the Glassy Boot
Honourable Members
WO1 B. Jackson, WO2 A.Hembruff, WO2 A.Boyden, WO2 R. Bliss, F/Sgt C.Travis, F/Sgt J.Shaw, F/Sgt K.Katzer, F/Sgt S.Sheppard, F/Sgt A.Ford Williams,
Sgt V.Singh, Sgt R.Barton, Sgt. J.Ehrt ,Sgt. O.Sam, Sgt C.Brandow, F/Cpl J.Hancock, F/Cpl C.Abraham, F/Cpl B. Hewett , Cpl J.Hancock, Cpl F.Chandler
Thoughts from the Treadmill
I would like to thank the Rotary Club of Oshawa on behalf of the cadets and staff of the Squadron for their very generous donation last week. During Rib Fest in September the club held a 50/50 draw as a fund-raiser. They then went and split their portion of the funds in three and donated it to three different organizations within the city. This is over and above the amount the club provides as sponsorship every year. We will find something worthy of this donation to purchase for the Squadron.
As you can see in the photos above, Chadburn Squadron was once again asked to provide a suitable space for the cadets of the Western portion of the Eastern Ontario Area to write their Flying Scholarship Exams. It is nice to be able to show our Headquarters to other cadets form the area. We do not yet have the results of the exams, and I know the cadets who wrote will be biting their nails until we hear. I will have the results to Mr. Petzold as soon as I get them.
I would like to take this opportunity to pass on the condolences of not only myself, but of all of the staff and cadets of the Squadron to Mr. Jerry Smith on the loss of his wife Linda earlier this week. Jerry is the liaison for the Squadron at the 420 Wing of the Royal Canadian Air Force Association, as well as the financial guru who comes out to talk to our cadets about money matters.
That's all for now.
Stay Safe and Have a Great Week
Major Bliss
Aviation Photo Of the Week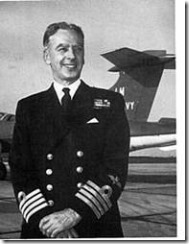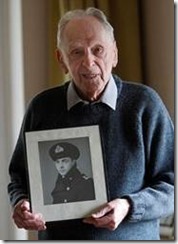 We do not have an aircraft photo this week just a photo of a 94 year old pilot who is one of the world's greatest aviators. His name is Captain Eric Melrose "Winkle" Brown, CBE, DSC, AFC, Hon FRAeS (born 21 January 1919). He is a British former Royal Navy officer and test pilot who has flown more types of aircraft than anyone else in history, piloting 487 different aircraft types. He is also the Fleet Air Arm's most decorated living pilot and holds the world record for aircraft carrier landings – 2,407. Eric Brown must rank as the most extraordinary airman alive. Indeed, open his memoirs at any page and you are left asking a single question, how on earth did this modest Scotsman live to tell the tale?
The first carrier landing and take-off of a jet aircraft – Eric "Winkle" Brown taking-off from HMS Ocean in the Sea Vampire LZ551/G in 1945 – this aircraft is preserved at the Fleet Air Arm Museum, Yeovilton England.
He was the first man to fly a jet on and off an aircraft carrier. He has set aviation records that will almost certainly never be broken and is revered as one of the greatest test pilots of all time. Here is a man who narrowly cheated death in the wreckage of a torpedoed ship, helped to liberate Belsen and took 2,000 enemy prisoners armed only with a pistol. In the immediate aftermath of the war, Eric had to interrogate a bewildering cross-section of leading Nazis, including Hermann Goering, as well as plane manufacturer Enrst Heinkel and designer Willie Messerchmitt. What's more, he then had to test all their aircraft. And all this before turning 30. Little wonder that when he arrived at Buckingham Palace at the grand old age of 28 for the fourth time, to receive the AFC in addition to the DSC, MBE and OBE he had already received, George VI greeted him with the words: 'Not you again.' In fact, young Brown would soon be back once more to receive the King's Commendation for Brave Conduct. Years later, he would end up as an aide-de-camp to the Queen, who would add a CBE to his collection in 1970
Pin-sharp at 94, Eric is in constant demand from historians and documentary makers, while his autobiography, Wings On My Sleeve, is a must-read for any self-respecting aviator.
If you would like to learn more about this world famous British aviator go to;
http://en.wikipedia.org/wiki/Eric_Brown_(pilot)
If you have comments or suggestions on ways to improve our newsletter, our website or if you wish to unsubscribe from this email please notify
151 Chadburn Squadron
Royal Canadian Air Cadets
*** Excelsior per Debere ***Excellence through Endeavour
Proudly Sponsored by the Rotary Club of Oshawa