Dispatch Issue # 10
 Week of Nov 13, 2011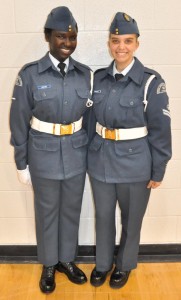 Cadets of the Week
2012 Summer Training 
SUMMER TRAINING(CAMP) APPLICATIONS ARE DUE THIS COMING MONDAY NOVEMBER 14, 2011.
CV Biffin will be available at the school attendance desk. Recruits may hand their applications into 2LT Brosseau or Mrs Di Loreto
If you have not handed in an application and don't have the form, it can be found on the Chadburn website under this link. http://chadburn.org/wp-content/uploads/2011/10/Summmer-Training-Application-Letter-2.pdf.
The website also contains information on course description's and criteria.
If you have completed an application, you will find this on the Chadburn website under this link.
 http://chadburn.org/wp-content/uploads/2011/11/Summer-Training-Applications-Status-Nov-91.pdf.
If you don't see your application or it doesn't reflect the right camp selections, please send a note to summertraining@chadburn.org with the corrections.
 Please ensure the e-mail lists your name(last and first),  rank and the corrections required.
                    Any general questions may be forwarded to summertraining@chadburn.org or asking one of the summer                                            training coordinators.

We have only received 66 applications to-date.

         

            Our goal is to see more cadets apply this year so

              make sure you get your application in on time.
Remembrance Day Luncheon
                The Rotary Club of Oshawa 
This past Monday the Squadron Sponsors the Rotary Club held their annual Remembrance Day luncheon in the Officers' Mess of the Ontario Regiment. Our trumpeter was there to play the last post at the start of the luncheon along with a piper who played the lament. There were two guest speakers at the dinner, a Captain from the Regiment and the young lady third from the left. The Captain recalled several of his more interesting experiences serving in Afghanistan. For instance he recounted holding meetings with villagers and on one occasion a newspaper was produced.
The village elder could not read the paper but a young 10 year old boy could. Perhaps a small but positive sign that our presence has made a difference. The other speaker a young lady had emigrated to Canada from Afghanistan and while she was a guest speaker she did not speak. Instead due to deafness all of her comments were delivered in sign language and translated by the lady on her right. It was an inspiring Remembrance Day and one luncheon that will be difficult to forget.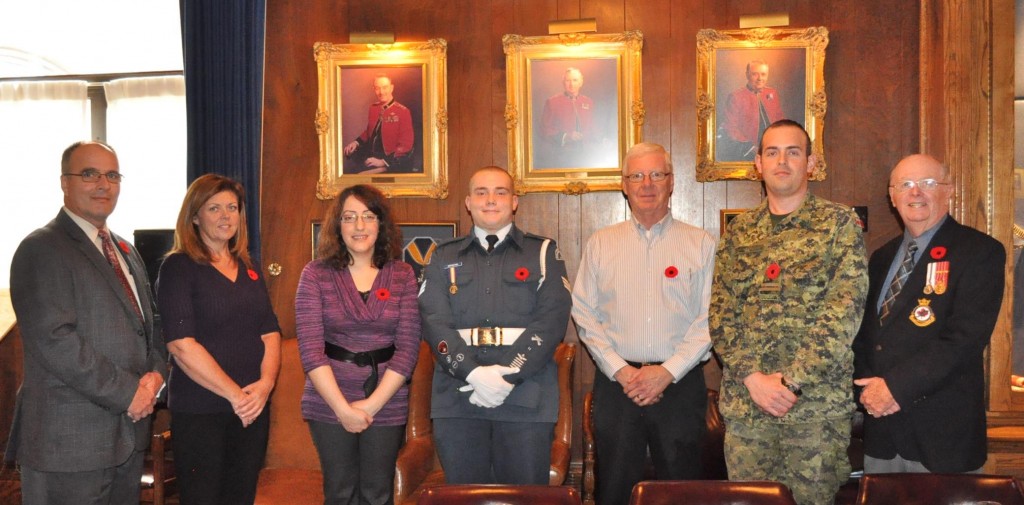 A Letter to AC D. Baranowski from Afghanistan

Dear AC D. Baranowski

Thank you very much for your thoughtful gift of a Tim Horton's card which you sent to me and my fellow Canadians who work and live here in Kandahar. I am right now sitting across from Tim Hortons enjoying an ice cup, bagel and donut, thanks to you. Kandahar is hot and dusty and at night it is starting to get cooler which is nice. There is no grass like a home and few trees.
I am currently based at 424 Squadron in Trenton, just down the road from Oshawa. I am a pilot and fly the CH146 Griffon helicopter in a Search and Rescue role. We often fly in to Oshawa airport for lunch when we are training.
In Kandahar I am the base Flight Safety Officer in charge of all the countries and civilians who fly here, but I do not fly myself. Kandahar Air Field (KAF) is the busiest single runway airport in the world with 400 aircraft stationed here and 800 take offs and landings per day
Are you learning to fly? Have you done any gliding in the Trenton area.
I have included a few photos. One of Tim Hortons and one of myself in front of a USAF HH60 combat search and rescue helicopter. Please share them with your fellow cadets.
Thank you again for your thoughtfulness in sending these cards. I am almost done my Ice Capp so I will say good bye.
Regards Ray StockermanMajor – Royal Canadian Air ForceCOMKAF  Flight Safety Officer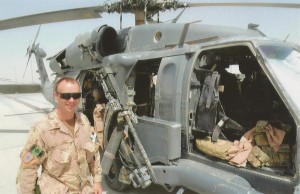 Poppy Campaign – Branch 637
Royal Canadian Legion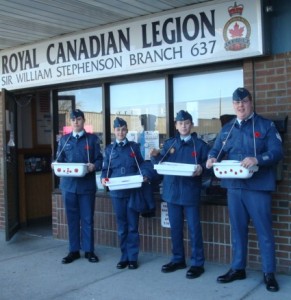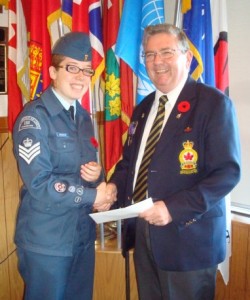 Remembrance Day Parade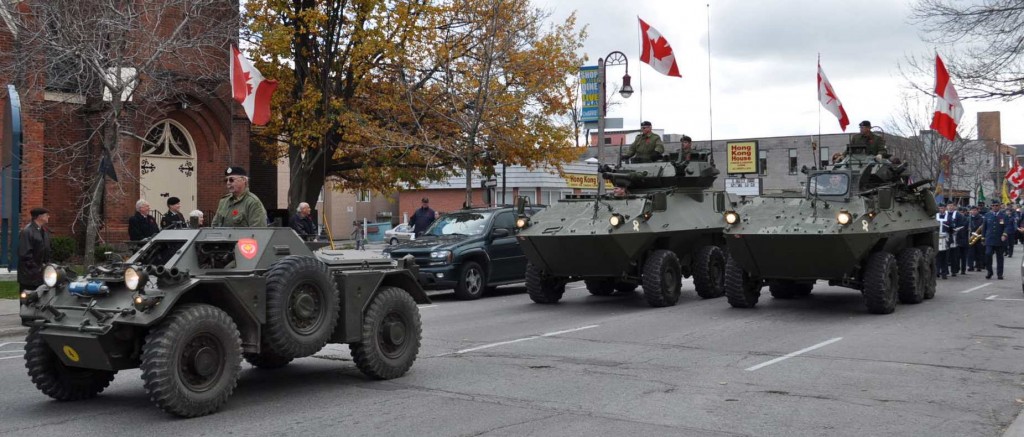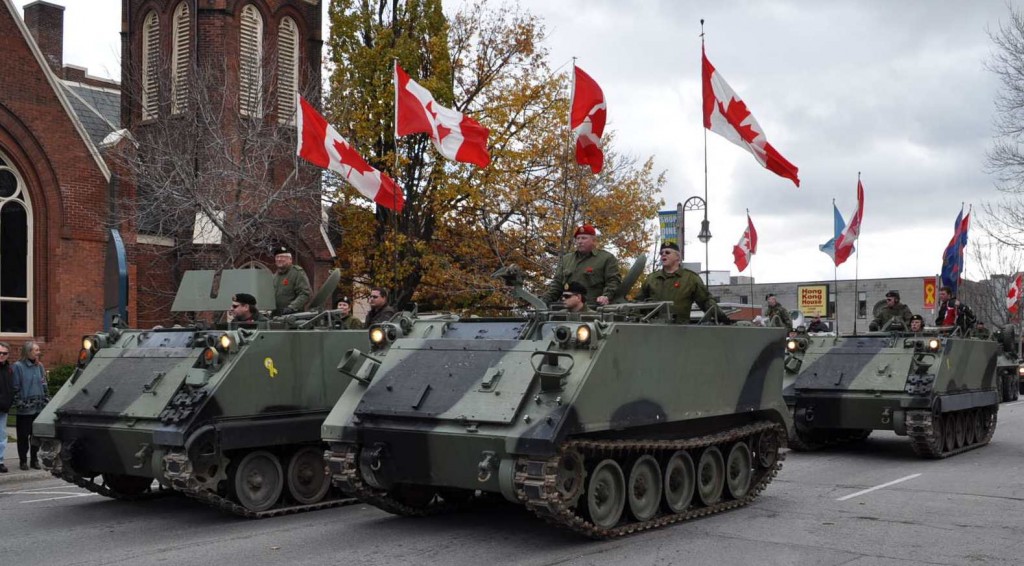 From  the Cenotaph Remembrance Day Service
Laurence Binyon's Poem
"For the Fallen"
They went with songs to the battle, they were young,
Straight of limb, true of eye, steady and aglow.
They were staunch to the end against odds uncounted;
They fell with their faces to the foe.
They shall grow not old, as we that are left grow old:
Age shall not weary them, nor the years condemn.
At the going down of the sun and in the morning,
We will remember them.
Remembrance Day Band Concert
Extendicare Seniors Residence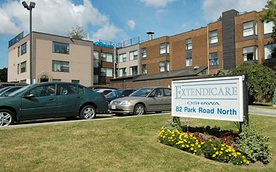 Each year our Squadron provides a special 45 minute Remembrance Day band concert for the residents of Extendicare on Park Road here in Oshawa. The cadets visit the residence in the evening and play a variety of music ranging from popular music to military marches. This year for the first time ever we had the pleasure of trading stories with one of the residents who was a member of 428 Ghost Squadron RCAF where he served as a tail gunner in Lancaster bombers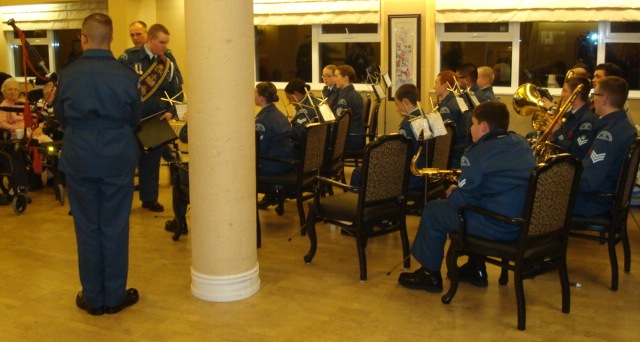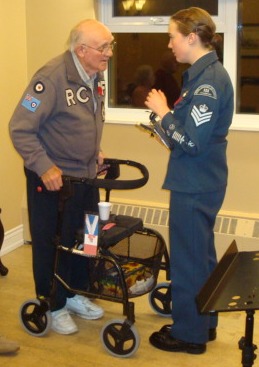 Click on the link below if you would like to hear the band playing Amazing Grace accompanied by the Squadron's piper. (link)


Aviation Photo of The Week
A Canadair CL – 215 Water Bomber at Wor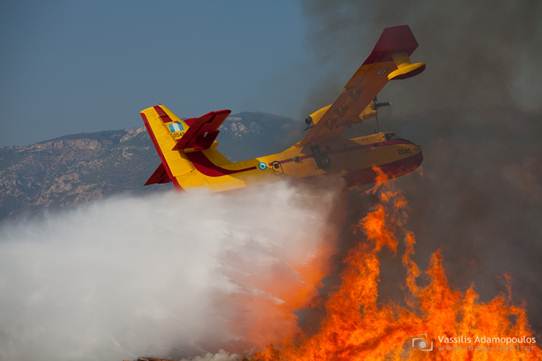 Notes:
If readers wish to learn more about the cadet organization or view presentations of past cadet activities go to "About Us/ Web Links" at Chadburn.org.
Past issues of the newsletter are also available on the Chadburn.org home page.
If you have comments or suggestions on ways to improve our newsletter, our website or if you wish to unsubscribe from this email please notifyrgilbank@rogers.com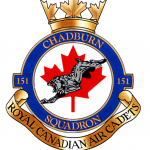 151 Chadburn Squadron
Royal Canadian Air Cadets
*** Excelsior per Debere ***Excellence through Endeavour
Sponsored by the Rotary Club of Oshawa