Proudly Sponsored for over 74 years by:
The Rotary Club of Oshawa
Issue # 8
Week of Nov 6, 2016
This Year is Our 75th Anniversary

Royal Canadian Legion
Annual Poppy Drive
The past two weekends have seen our cadets assisting our local Royal Canadian Legion Branches, 43 and 637, with their annual Poppy Campaign
The photos below are just some of the cadets working out of Branch 637 in north Oshawa.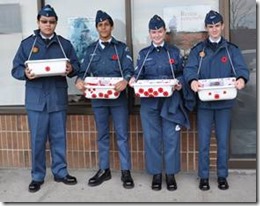 Presentation of Summer Camp Certificates and Badges
Some of the many cadets from the Squadron who attended summer training this past summer received their certificates and qualification badges last Monday night.
Halloween Dance 420 Wing
This year's Halloween Dance was a great success with over 80 cadets attending.
As you can see, it was really an entertaining evening and there were some rather interesting costumes.
Just one of many fun activities cadets are able to participate in.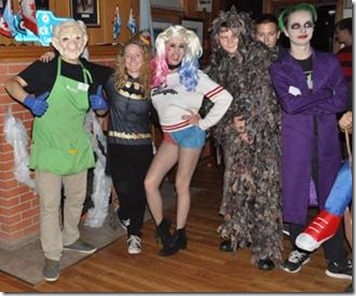 Important Future Cadet Activities
Remember the complete list of the squadron's activities can be found on the Squadron's website
Chadburn.org under the heading "calendar"
| | | | | |
| --- | --- | --- | --- | --- |
| Day | Date | Month | Activity | Location |
| | | | | |
| Fri. | 11 | Nov. | Remembrance Day | R.S.McLaughlin Armouries |
| Sat -Sun | 12 – 13 | Nov. | Outdoor Training | Ganaraska Forest Ctr. |
| Fri | 9 | Dec | Tri Service Dance | Lviv Ukranian Hall |
Members of the Glassy Boot Society
WO 1 C.Abraham

CPL

C.Ye

WO2

M.Singh

WO2 A.Carson

F/Sgt. F.Chandler

F/Sgt T.Talhouk

F/Sgt D.Lloyd

F/Cpl

C.Lloyd

Cpl

K.Espe

Sgt

S.Scalia
Thoughts from the Elliptical
Starting out, I would like to thank everyone who was able to help with a donation of clothing last week. I received a very warm greeting when I dropped the many boxes off at the school the other day. This was a one day activity for us and we are not in position to collect any more donations of clothing. Closer to Christmas, we will once again be collecting non-perishable food items to donate on behalf of the Squadron, We will give you lots of notice for this.
As we enter Remembrance Week, I would like to remind everyone that the Squadron will be participating in the Oshawa Remembrance Day Parade on Friday November 11th. We will be meeting behind the new Holiday Inn by the Armouries at 1000 on Friday Morning. We will have cadets participating in many different activities throughout the week culminating in our annual concert at Extendicare Nursing Home on Friday night. Please remember that you are representing the Squadron and all eyes are typically on you.
For those cadets in a position to be attending senior summer training in the summer of 2017, it is time to decide what you would like to apply for. If you are in the Flying or Gliding Scholarship program on Tuesday night with Mr. Leslie, chances are that you will be applying for a flying course. If you are interested in one of the other courses (Aircraft Maintenance, Airport Operations or International Exchange) please read up on them and make sure you meet the prerequisites. Mr. Biffin will be gathering the applications very soon.
That's all for now.
Stay Safe and Have a Great Week
Major Bliss
Our 75th Anniversary
Memories from Our Past
"Log Drill"
Back in 2002 when the Squadron was celebrating our 60th anniversary, we were without the use of our Drill Purpose Rifles. For some reason, the military had collected them from all cadet units. This left us without what had become one of our "go to" displays for our annual inspection. Someone had seen a group doing "log drill" at the Halifax Tattoo and it was decided that 151 Squadron would put together a drill team using "logs" (actually 8 foot 4×4 lumber painted white).
If you have comments or suggestions on ways to improve our newsletter,
our website or if you wish to unsubscribe from this email please notify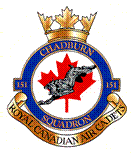 151 Chadburn Squadron
Royal Canadian Air Cadets
*** Excelsior per Debere ***Excellence through Endeavour
Proudly Sponsored by the Rotary Club of Oshawa