Proudly Sponsored for over 70 years by:
The Rotary Club of Oshawa
Issue # 7
Week of Nov 1, 2015
Presentation of Awards
At the Annual General Meeting of the Ontario Provincial Committee
of
The Air Cadet League of Canada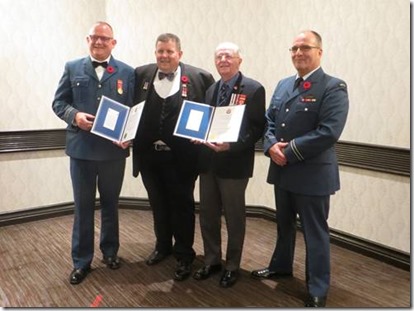 This weekend, the Ontario Provincial Committee of the Air Cadet League of Canada held its annual general meeting in Toronto, three of the squadron's staff were awarded special recognition for their contributions to the air cadet program. Captain Bert Weigel was awarded a Provincial Cadet Instructor Cadre Award of Excellence while Major Dale Bliss was awarded a National Certificate of recognition. LCol Ret'd Ted Gilbank was awarded a National Certificate of Honour.
Summer Camp Forms – Non National Camps.
The Forms for summer camp have been handed out last Monday to the majority of the squadron. Please fill these out as soon as possible with your Last name/rank/First name  and your contact information along with your three choices.  This is a two minute job and simple to do so there is no need to drag your heels on this!!!!
If you have misplaced your form, you can access it online at this link: https://www.chadburn.org/wp-content/uploads/2012/06/2016-Summer-Training-Application1.pdf.
The last date for returning the forms will be on December 14/2015. Please hand in your completed forms to either CI Weigel or Captain Booth.
Royal Order of the Glassy Boot
| | | | | |
| --- | --- | --- | --- | --- |
| LAC E. Boyden | FSgt R. Barton | WO2 B. Medina | WO2 A. Lloyd | F/Sgt M. Singh |
| F/Sgt Carson | WO2 E. Dellipizzi | | | |
| | | | | |
Squadron Fund Raising Project
Poinsettia Christmas Flowers from Rekker Gardens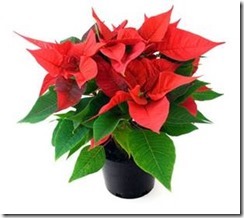 The squadron will again this year be selling Poinsettia flowers as a fund raising project to help support the
Squadron's many activities.  Order forms describing all of the different flowers that are available
will be handed out to cadets this Monday. There are several different arrangements and colours of  flowers
available and they range in size from 4 inch up to 12 inch pots. The flowers make a great Christmas gift
and they are a great way to bring the Christmas spirit into one's home.
The order forms will be handed out on Monday night at closing parade.
The following is a schedule for the return of order forms and the delivery of plants.
All order forms must be in to the Squadron by Monday November 16th.
Delivery will be made from the Squadron's HQ on Monday December 7.
The Squadron's Halloween Dance
Friday Evening 420 Wing RCAFA
Some may think that cadets is all drill, uniforms and academic classes. If so they should drop in on one of our Squadron's dances.
They are a hoot and as usual this one was another fun night for our cadets.
Hearing aids are really not necessary at these dances, however ear defenders might be a more realistic suggestion.
It's fun to be in 151 even the staff get dressed up.
Ticket Sales – Tri Service Cadet Dance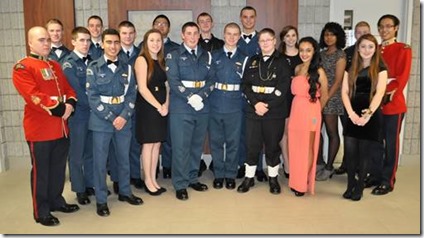 Our Tri Service Cadet Dance has become one of the highlights in the social life for cadets in Durham Region.
Last year over 380 Navy, Army and Air Cadets and staff attended. The Evening gets underway with a 
full course roast beef and chicken dinner with all the trimmings.
Tickets are $20 each as they have been for many years and now is the time for cadets to reserve their spot at this unique cadet social event.
Future Cadet Activities
| | | | | | |
| --- | --- | --- | --- | --- | --- |
| Date | Day | Month | Activity | Location | Time |
| 7 | Sat | Nov | Poppy sales | TBA | TBA |
| 8 | Sun | Nov | Poppy Sales | TBA | TBA |
| 4 | Fri | Dec | Tri Service Dance | Livi Hall | 1800 hrs |
| 12 | Sat | Dec | Outdoor Training | Ganaraska Forest | TBA |
| 13 | Sun | Dec | Outdoor Training | Ganaraska Forest | TBA |
Thoughts From the Treadmill
I was honoured to be selected to receive an award from the Air Cadet League of Canada on the weekend.  I was more honoured to be able to stand next to stand next to LCol Gilbank and Captain Weigel as they also received recognition for their years of dedication to not only the Squadron, but the Air Cadet Program as well.  It is very humbling to stand next to two gentlemen who have been role models to me over the years and share in the these awards.  I would like to thank Major David Brown from the Ontario Provincial Committee for nominating me for the award.  
I realize that we have been extremely busy so far this training year and that sometimes everyone needs a break.  I also realize that many of our cadets were at the Concert of Remembrance on Saturday and were therefore unable to attend Poppy Sales.  I still find it extremely hard to come to grips with the very low number of cadets that made and kept the commitment to help our veterans on the weekend.  There are all sorts of clichés that can be used to try to get the cadets to do the right thing, I believe I have used up more than my fair share of them.  I think I have also let everyone know how important supporting our veterans is to me.  If three hours of your time can't be spared to assist in the very worthwhile cause, I would recommend you take a look at your priorities and lets try to take a page from the Rotary Club's book.  Service Above Self.  There are still three shifts Poppy selling next weekend if you have not already signed up, it is not too late. 
At the OPC AGM on the weekend we saw many awards being presented to squadrons around the province for their excellence in many different areas.  One of these is lottery ticket sales.  Years ago, Chadburn Squadron was at the top of the list for selling lottery tickets.  We have eased off on this part of our fundraising efforts, and don't try to go crazy with the number of books we ask each cadet to sell.  Now we are down to one book per cadet.  I am happy that over half of our allotted books have been returned sold to the Squadron. I would like to remind those of you that haven't sold your tickets yet that the longer you hold on to your tickets, the more chance is that you will lose them and have to pay for them anyway.  Get them sold and turned in early and I won't bug you about them anymore (until next year at least).
The next recruit course will be starting in three weeks on November 23rd. I would like to see a lot better numbers come out for the second recruit course than we had for the first one.  Part of how we can do this is advertising within the community, a big part of the recruiting drive is word of mouth advertising from our cadets and their parents.  If any of you have ideas of how to get the word out better, we are wide open to ideas.  Please jot them down and send me an email.  Although I don't want this to sound like a pure numbers thing, at the end of the day, the more cadets we have, the more summer training opportunities we get and the more money we get from the military to provide training and uniforms to our cadets.  Please put on your thinking caps and let us know.
Don't forget that the Tri-Service Dance is now less than five weeks away.  OCdt Di Loreto will once again have tickets for sale on Monday night.  Interest from other units is building and tickets are limited in numbers. Don't get left out in the cold.  Buy your ticket soon. 
That's all for now.
Stay Safe and Have a Great Week
Major Bliss
Aviation Video of the Week
2014 Highlights from the Airshow Over Budapest Hungary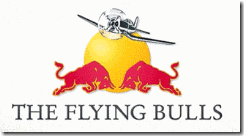 https://www.youtube.com/watch?v=0px9HFIVYjY
Our Website Chadburn.Org
Previous issues of the Dispatch may be found on our web site, Chadburn.org. To view past issues access the home page and then click on News.
The most recent news letters will be listed there while previous news letters may be accessed by clicking on the "view all news" heading located at the bottom of the section.
If you have comments or suggestions on ways to improve our newsletter or if you wish to unsubscribe from this email please notify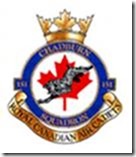 151 Chadburn Squadron
Royal Canadian Air Cadets
*** Excelsior per Debere ***Excellence through Endeavour
Proudly Sponsored by the Rotary Club of Oshawa