Proudly Sponsored for over 70 years by:
The Rotary Club of Oshawa
Week of May 1, 2016
Issue # 29
Cadet of the Week
Cpl. S. Baldasaro
Promotions
Promotions to the rank of Leading Air Cadet
Fund Raising – Cadets Tagging
Each year the Squadron has two tagging activities to raise funds to cover many of the extra activities that the cadets participate in during the cadet year.
This is a very important activity and the it starts on a Thursday and ends on Sunday. It involves not only all the cadets but most of the Squadron's staff as well as there
is a considerable amount of management and organisation required to make the operation as success.
The cadets in the photo below were part of the crew that were tagging at the Oshawa Centre.
YEAR-END TRIP
Every Year, on the long weekend in May, the Squadron holds our annual Year-End Trip. This year, the trip will be to Sudbury and surrounding areas up north. We will be departing on Friday May 20th and returning on Monday May 23rd. We will be staying at Laurentian University and visiting some very neat local attractions. All food, accommodations and entry to any attractions will be included in the price of $200 per cadet.
We will be crediting cadets with 10% of both their fall and spring tag day totals to come off the price of their trip. This amount will be available next week.
Sign-ups will happen starting tonight and will be based on priority according to achievement points and participation in tag days.
To sign up online, please go to
www.SignUpGenius.com/go/10C0849AAAC2BA3FD0-2016
Future Cadet Activities
Date

Day

Month

Activity

Location

Time

18

Wed

May

Annual Inspection

Legends Centre

2000 hrs

28

Sat

May

Gliding

CFB

Mountainview

TBA
Memories from a Cadet Summer Camp
The drawing that follows is another of those cartoons that were drawn by Bickle a former cadet in 151. The drawing and his interpretation comes from his memories of camp life when
cadets were housed in canvas tents when attending cadet summer camps. Today cadets are housed in barracks or the permanent mod type tents that are used at CFB Borden.
Current Members of the Glassy Boot Society
Cpl

E. Boyden

FSgt

R. Barton

WO2

B. Medina

WO2

A. Lloyd

F/Sgt

M. Singh

WO2

A. Carson

WO1

E. Dellipizzi

Sgt F.Chandler

Sgt J.Hancock

Sgt J.Hancock

F/Cpl

H. Kennedy

Sgt

M. Anthony

Sgt

R. Sealy

Sgt

T. Talhouk

Sgt

B. Wardell

FCpl

N. Rabjohn

Cpl

J. Perreria

Cpl

R. Swanton

Cpl

A .Bone

FSgt

C. Abraham

LAC

K. Espe

LAC

S. Mahadeo

Sgt

M. Annis

Sgt

B.Hewitt

AC

S. Dewes

FCpl

L.Hayes

Cpl

S. Baldasaro

FCpl

S. Goss

Cpl

Z. Hamilton

FCpl

M. Garriock

Cpl

C.Lloyd
Thoughts From the Treadmill
I for one find it hard to believe that it is already May. We have three Monday nights left in the training year and they will all be practices for our Annual Ceremonial Review. All practices will be at Harmon Park Arena at 795 Douglas St, Oshawa ON L1H 5C8. There is quite a bit of parking in the parking lot, please do not jam up the front of the building.
As mentioned above, we held our spring tag days on the weekend. For the terrible weather and some other hurdles that were put up in our way, I must say I am very pleased with the results. A very large thank you to Mr. Lloyd for all of his hard work in chasing down locations and to Lt. Mastroianni for putting all of the cadet names in the right spots. Sometimes this task can seem like trying to herd cats, and the results show that it was done very well. Of course, all of the staff deserve a thank you for all of the work done this weekend, it can't happen without their effort.
Have you ever wondered if you have what it takes to be a Warrant Officer in Chadburn Squadron? Well other that the CO having you on speed dial, the Operations Officer expecting you to have a firm grip on not only your own issues but those of all your subordinates as well on a week to week basis, along comes a Tag Day weekend where you are expected to put in a 40 hour work week on a few nights and the whole weekend to make sure your cadets are in the right places at the right time (while still doing your other assigned duties). I'd like to thank Squadron Warrant Officer Flanagan-Dellipizzi and her team of Warrants and Senior NCOs for their great work this weekend. It is fun and rewarding to watch these young people step up to the challenges we place before them. BZ
I want to remind all of the cadets about the 75th anniversary logo competition that I announced a couple of weeks ago. Remember that the winning design will be made into a pin that all of the squadron cadets will wear on their uniforms next year.
And finally, next year will be our 75th anniversary, in past (50th and 60th), we have held rather large reunions. We are not sure exactly what will happen next year, but we will be starting the planning for it in the next couple of weeks. There have been almost 5000 cadets come through our door in the last 74 years, a lot of them still live locally and would love to get together with old friends. This promises to be a great year. We will be looking for alumni to step up and get involved in the planning and organizing of whatever activities do happen. Please look for a new Facebook page coming soon.
That's all for now,
Stay Safe and Have a Great Week.
Major Bliss
Aviation Photo of the Week
More feedback from a reader who reminded us that one of the famous RCAF aerobatic teams was the Golden Hawks. In 1959 the Royal Canadian Air Force celebrated its 35th anniversary along with 50 years of powered aviation in Canada. To mark that special occasion a team known as the Golden Hawks were created and they were equipped with 6 Canadair Sabre Mk 5 aircraft and later with the Mark 6 version. The airplanes were distinctively in overall gold with a stylized red and white hawk emblem painted on each side of the fuselage.
Please Note
Previous issues of the Dispatch may be found on our web site, Chadburn.org. To view past issues access the home page and then click on News.
The most recent news letters will be listed there while previous news letters may be accessed by clicking on the "view all news" heading located at the bottom of the section.
If you have comments or suggestions on ways to improve our newsletter or if you wish to unsubscribe from this email please notify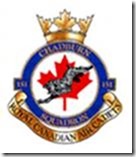 151 Chadburn Squadron
Royal Canadian Air Cadets
*** Excelsior per Debere ***Excellence through Endeavour
Proudly Sponsored by the Rotary Club of Oshawa