Proudly Sponsored for over 70 years by:
The Rotary Club of Oshawa
Issue # 22
Week of February 21, 2016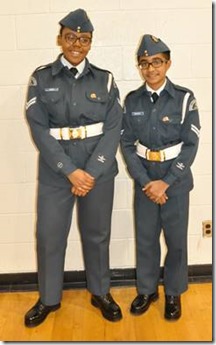 Cpl Wade and Cpl Maharaj
Current Members of the Glassy Boot Society
Cpl

E. Boyden

FSgt

R. Barton

WO2

B. Medina

WO2

A. Lloyd

F/Sgt

M. Singh

F/Sgt

A. Carson

WO1

E. Dellipizzi

Sgt

F.Chandler

Sgt J.Hancock

Sgt

J.Hancock

F/Cpl

H. Kennedy

Sgt

M. Anthony

Sgt

R. Sealy

Sgt

T. Talhouk

Sgt

B. Wardell

FCpl

N. Rabjohn

Cpl

J. Perreria

Cpl

R. Swanton

Cpl

A .Bone

FSgt

C. Abraham

AC

K. Espe

AC

S. Mahadeo

Sgt

M. Annis
Cadet Public Speaking Competition
Not everyone may be aware that public speaking is part of the air cadet training program and that our cadets such as those you see below are getting ready for the Provincial
Effective Speaking and Debating Competitions which are set to be held on April 30th and May 1st, 2016 at Mohawk College.
These two competitions are amazing programs that aim to develop self-confidence, promote citizenship and leadership and much more in our cadets.
From among the 13 regions in the OPC, most have already set their Regional Effective Speaking Competition dates and venues.
As part of the 75th Anniversary of the Air Cadet Organization in Canada
The Air Cadet League of Canada Has Created
"A National Air Cadet Alumni Organization"
Something new has been added to the Air Cadet Program here in Canada and that is the creation of a National Air Cadet Alumni Organization. This is all part of the 75th Anniversary of the air cadet organization here in Canada and the Air Cadet League of has been reaching out to past cadets to share with readers and alumni their experiences in the cadet program and where these experiences have taken them. Former cadets who may wish to join this group are invited to visit the following website where they will find an application form.
http://aircadetleague.com/ab ex out-us/75th-anniversary/air-cadet-alumni/
This site contains a variety of items such as posters, badges and other air cadet memorabilia that they may wish to purchase. There is also a section where cadets can enter a write-up on how the cadet program has influenced their life. Here is one of the stories that was copied from the website:":
"Air Cadets gave me a huge jump into aviation; attaining my glider pilot, private pilot and glider instructor ratings, as well gliding tow pilot. The professionalism and leadership that I was shown at a young age helped me in my future career as an Aircraft Maintenance Engineer at a number of aircraft maintenance companies, regional airlines and finally at the Flight Research Laboratory of the National Research Council in Ottawa. The hard work of volunteers that I saw when I was an Air Cadet continues today, as I witnessed while serving on the sponsoring committee of my son's squadron. – P.T."
Future Cadet Activities
Date

Day

Month

Activity

Location

Time

5

Sat

Mar

Skiing

Mount St. Louis

TBA

3

Sun

Apr

Mess Dinner

Lviv Ukranian Hall

1800 hrs

8 – 10

Fri to Sun

Apr

Ganaraska Forest

Ganaraska Forest

TBA

30

Sat

Apr

Public Speaking C.

Mohawk College

TBA

1

Sun

May

Public Speaking C.

Mohawk College

TBA

9

Sat

Apr

Gliding

CFB Mountainview

TBA

18

Wednesday

May

Annual Inspection

Legends Centre

2000 hrs

5

Sun

Jun

Gliding

CFB

Mountainview

TBA
This is a reminder for cadets and parents to get their tickets now for
our Squadron's Annual Cadet Mess Dinner at the
Lviv Ukranian Hall
Dear Parents, Guardians, Staff and Cadets,
It is my pleasure to invite you and your family to 151 Chadburn Squadron's Annual Cadet Mess Dinner. This dinner has traditionally been held mid-year to feature cadet achievements and to present a number of awards.
The dinner will once again be held at the Lviv Ukrainian Hall, 38 Lviv Blvd, (located off Simcoe Street South, one block north of Bloor Street) on Sunday, April 3, 2016. Doors will open at 5:15PM and dinner will be served at 6:00PM. The program will end at approximately 10PM.
Ticket price is $20.00 per person. If paying by cheque, please make it payable to 151 Chadburn Squadron. Tickets will be sold immediately following closing announcements on Monday nights up to and including Monday March 28, 2016. If you have any questions please contact Capt. Ron Brosseau or CV Mrs. Jane Brosseau or at 905-985-2913 or ronandjane@xplornet.com
Please note we will not reserve seating unless tickets are paid for in full. We recommend that you purchase tickets early as seating capacity is limited.
Appropriate dress for the occasion is as follows:
Military: Mess Kit (with miniatures) or DEU Number 2 (with medals)
Civilians: Business dress/ Semi-formal attire
This dinner is an excellent opportunity to meet our guest speaker and staff members. We value your continued support and look forward to seeing you there.
Thoughts From the Treadmill
Another week goes by, and still waiting for winter to really hit. I know I can certainly live with it if this is as bad as it gets. February 28th and seeing motorcycles on the highway is a pretty neat thing.
I managed to get off to a hockey game this evening and watched our Oshawa Generals do a very nice job in beating the Petes, I am always very impressed with the skill so many of these young guys have. It was a neat experience taking my niece who lives in the States to her first hockey game. Something that we take for granted is so different to so many. It also once again opened my eyes to how different most of our cadet's behaviour is to what I guess is the 'average' teenager. I certainly like the polite and courteous that I see from our guys a lot more than some of what I saw out there tonight.
I phoned quite a few of our cadets today and talked to them about our upcoming ski trip. I guess that most of you certainly don't expect to get a call from the CO on a Sunday afternoon and some of the comments I could hear in the background had me grinning…. but then grimacing in a way, that a call from me would earn a "what did you do" comment directed at a cadet from a parent. I certainly won't be calling to chat on a regular basis, but it did open my eyes to an opportunity for the future. Stand by for that.
That's all for now.
Stay Safe and Have a Great Week (especially those going skiing)
Major Bliss
Aviation Photo of the Week
Not an airplane photo this week but a robotic bird that really does fly.
Check out the video to see this impressive engineering feat.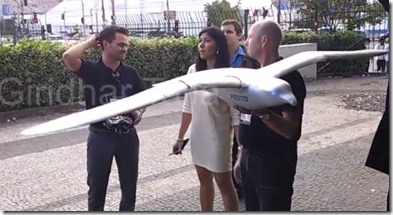 https://www.facebook.com/GiridharTalla/videos/1668773730065611/?fref=nf
Please Note
Previous issues of the Dispatch may be found on our web site, Chadburn.org. To view past issues access the home page and then click on News.
The most recent news letters will be listed there while previous news letters may be accessed by clicking on the "view all news" heading located at the bottom of the section.
If you have comments or suggestions on ways to improve our newsletter or if you wish to unsubscribe from this email please notify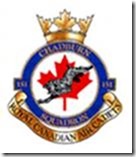 151 Chadburn Squadron
Royal Canadian Air Cadets
*** Excelsior per Debere ***Excellence through Endeavour
Proudly Sponsored by
the Rotary Club of Oshawa