,

Proudly Sponsored for over 70 years by:
The Rotary Club of Oshawa
Issue # 17
Week of March 1, 2015
Cadet of The Week
Next week we plan to once again start publishing the photo of a first or second year cadet who has been selected by the NCO's as the cadet of the week. Cadets should know that if you are selected as the "Cadet of the Week" your photo  will be seen here not only by your fellow cadets but it will also be seen around the world by all of those who follow the activities of our Squadron. Now is the time to get busy on your uniform, your boots and your general appearance if you would like to have your moment of fame in our newsletter.
Weekly Cadet Activities 
| | | | | | |
| --- | --- | --- | --- | --- | --- |
| Date | Day | Month | Activity | Location | Time |
| 2 | Mon | Mar | Regular Training | Central Collegiate | 1830 – 2200 hrs |
| 3 | Tues | Mar | Rifle Team Practice | Squadron HQ | 1830 – 2130 hrs |
| 4 | Wed | Mar | Drill Team | Squadron HQ | 1900 – 2130 hrs |
| 4 | Wed | Mar | Boot Shining | Squadron HQ | 1900 – 2130 hrs |
| 5 | Thurs | Mar | Band Practice | Squadron HQ | 1900 – 2130 hrs |
| 6 | Fri | Mar | Sports | Central Collegiate | 1800 – 2030 hrs |
| 7 | Sat | Mar | Rifle Team | Squadron HQ | 1300 – 1700 hrs |
| 8 | Sun | Mar | NCO Course | Central Collegiate | 1100 – 1700 hrs |
For details of the Squadron's many activities please review the squadron
calendar by following this link :
https://www.chadburn.org/activity-calendar-2
Squadron Drill Team Practice
Last year our Squadron produced the top cadet drill with arms team in the Province of Ontario. This achievement has led to our Drill Team being invited to perform at the Hamilton International Military Tattoo which will be held later on this year in the Copps Coliseum in Hamilton. As you can see in the photo the Squadron's cadets are already hard at work developing and practicing their drill routine.  These cadets have a lot to accomplish in a relatively short period of time. Not only must they get ready for the Regional cadet drill competitions but hopefully the Provincial Competition as well.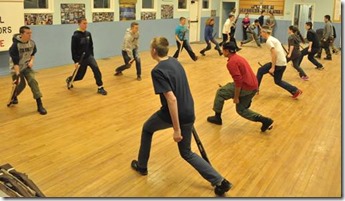 Drill team practices are not all drill and hard work as the cadets also get a chance to have a little fun afterwards.
Squadron Mess Dinner
Attention Parents, Guardians, Staff and Cadets,
Cadets and parents should remember that tickets for our annual Mess Dinner will go on sale Monday.
This year we are fortunate to have Mr.Ted Barris a distinguished Canadian author, journalist and broadcaster as our guest speaker. As well as hosting stints on CBC Radio and regular contributions to the Globe and Mail and National Post,  Ted has authored 16 non-fiction books and is a full-time professor of journalism at Centennial College in Toronto. In the photo below Ted is shown receiving a Certificate of Honour for his work on publishing an historical account of the famous 1944 breakout at Stalag Luft 111 (The Great Escape) in Germany.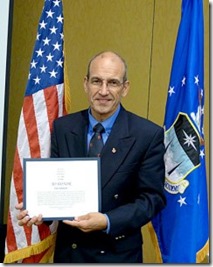 A Wednesday Boot Shining Party
Not everyone may understand why 151 puts so much effort in encouraging cadets to learn the art of a getting a glass  toe on their boots. However, we do know from many years of experience that a glass toe on one's boots is really a barometer not only of a cadet's pride in his or her person but also an indicator of the spirit and enthusiasm of the entire cadet unit. Those of us who have beNot everyone may understand why 151 puts so much effort in encouraging cadets to learn the art en privileged to inspect cadets know that you really do not have to talk to cadets during a uniform inspection. A walk through the ranks looking only at cadet boots will quickly reveal the level a units pride and proficiency.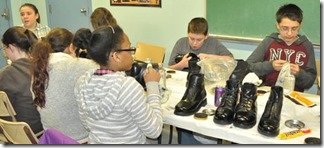 Royal Order of the Glassy Boot
The following cadets have all been accepted as full members in the special and exclusive society
known  as the "Royal Order of the Glassy Boot."
Cadets wishing to apply for membership must first be approved by the squadron Warrant Officer,
then we will post their name here in our newsletter.
| | | | | |
| --- | --- | --- | --- | --- |
| WO1/WO2 | WO1 Bliss | WO2 Boyden | WO2 Hembruff | WO2 Lloyd, D |
| | WO2 Shaw | WO2 Sheppard | | |
| FSGT | FSgt Barton | FSgt Brandow | FSgt Dellipizzi | FSgt Gagnon |
| | FSgt Katzer | FSgt Lloyd, A | FSgt O'Brien | FSgt Sam |
| | FSgt Travis | | | |
| SGT | Sgt Abraham | Sgt Annis | Sgt Carson | Sgt Davies |
| | Sgt Hewett | Sgt Kennedy | Sgt Loyst | Sgt Mejia |
| | Sgt Milne | Sgt Nemeth | Sgt Singh | |
| FCPL | FCpl Alleyne | FCpl Chandler | FCpl Hancock | FCpl Hayes |
| | FCpl Katzer | FCpl Sealy | FCpl Talhouk | |
| CPL | Cpl Anthony | Cpl Garroick | Cpl Rabjohn | |
Skiing at Mount St. Louis Moonstone
Do not forget to sign up for the Squadron's annual ski weekend at Mount St. Louis Moonstone
If  you wish to attend you may sign up at:
www.SignUpGenius.com/go/10C0849AAAC2BA3FD0-march
Up Coming Cadet Activities
| | | | |
| --- | --- | --- | --- |
| Day | Month | Activity | Location |
| 7 | Mar | Ski Trip | Mount St. Louis Moonstone |
| 28 | Mar | Zone 16 Air Rifle Comp | R.S. McLaughlin Armories |
| 29 | Mar | Mess Dinner | Lviv Ukrainian Hall |
| 12 | Apr | Gliding | Mountainview |
| 12 | Apr | Spring Training | Ganaraska Forest |
| 16-19 | Apr | Fund Raising (Tagging) | City of Oshawa |
Thoughts From the Treadmill
It is hard to believe that another month is gone already.  We have just over two months left in this cadet year and boy is it ever going to be a busy couple of months.  We are going to mix as many fun activities as possible into our extremely hectic schedule over the remaining training year, but as we know every year at this time, the hard work is just beginning.  I realize that at times it will seem that we only focus on drill, drill and more drill, but please note, this is all in preparation for the Annual Inspection.  This is the cadet's chance to shine and showcase their skills. The staff of the Squadron take great pride in the level of professionalism our cadets show and do everything we can to help them improve;  At the end of the day, it is the cadets who put on the performance.  I challenge each and every one of you to go that extra little bit to make yourself shine.  Whether it is the extra time focusing on your uniform, or the extra attention to your personal drill, make this your best year ever. 
The 38 cadets who have been attending the NCO Course over the last couple of months will be facing the final challenge of the course on Sunday.  They have been learning about Effective Speaking, Leadership, Lesson Planning and Delivery  and of course Drill.  I'd like to thank all of the staff and senior NCOs who have given up so much of their time to make sure the course ran smoothly and all of the subjects were covered.  For those not familiar with the course, over the years we have changed as the cadet program has changed.  As prerequisites for promotion at the national level have changed, we have modified the NCO Course to better reflect Chadburn Squadron's needs as well as to try and give the cadets as many important life skills as possible.  For those that have attended the course over the years, it is mostly looked back upon with fondness, for those in the midst of the course and its seemingly endless mottoes, lectures and uniform inspections, I hope that sooner rather than later you will appreciate the method behind our madness.
This will be my final note regarding the Ski Trip this year.  If you want to go, sign up on the link found in the Dispatch, if you have signed up, please hand in your payment tomorrow night to FSgt DeMille.  There are still a lot of spots available and I would love for the bus to be full.  Remember, this trip is being heavily subsidized by the Rotary Club of Oshawa and it would be a shame to not take full advantage of their generosity. 
I never really considered myself a Treki, but was saddened by the passing of Leonard Nimoy the other day.  I guess I didn't realize how much I actually enjoyed the original Star Trek when I was a kid until I started seeing all the press this week.  I have seen a lot of different things written about him and heard of his passing from many different sources, he obviously touched many lives with his acting and his outlook on life.  LLAP
That's all for now.
Stay Safe and Have a Great Week
Major Bliss
"Rules of the Air"
Some practical thoughts and comments regarding the world of aviation.
"Learn from the mistakes of others, you will not live long enough to make all of them yourself"
Aviation Photo Of the Week
WWII Planes Stored in a West Texas Barn
This is a fascinating story of an amazing collection of WW 2 aircraft that are stored in a barn in Texas. The inventory of  WW 2 fighters, seaplanes and surplus parts is owned by Wilson Connell Edwards and now he has decided to sell them. If you would like to learn how he acquired the aircraft and see what is up for sale go to:
http://www.aopa.org/News-and-Video/All-News/2014/August/Pilot/f_talltale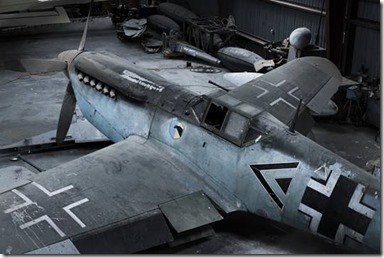 If you have comments or suggestions on ways to improve our newsletter, our website or if you wish to unsubscribe from this email please notify
151 Chadburn Squadron
Royal Canadian Air Cadets
*** Excelsior per Debere ***Excellence through Endeavour