Dispatch Issue # 14
Week of December 11, 2011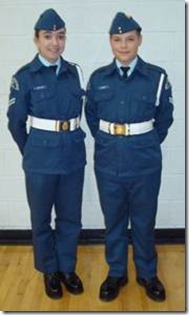 Cadets of the Week
Weekly Activity Schedule
.
Day

Date

Month

Activity

Location

Time

Sun

11

Dec

Mon

12

Dec

Training Parade

Central Collegiate

1900 – 2200 hrs

Mon

12

Dec

New Recruit Course

Squadron HQ

1845 – 21

0

0 hrs

Tues

13

Dec

Flying Scholarship

Durham College

1900 – 2130 hrs

Wed

14

Dec

Drill Team Practice

Squadron HQ

1900 – 2130 hrs

Thurs

15

Dec

Band Practice

Squadron HQ

1900 – 2130 hrs

Fri

16

Dec

Sports Parade

Central Collegiate

1830 – 2030 hrs

Sat

17

Dec
Quick Links to the Squadron Web Site – Chadburn.org
To link to the Summer Camp Application Status List  –  Click Here
The Squadron's Google Activity Calendar  – Click Here
Past Issues of the Squadron Newsletters  –  Click Here
Web Links –  Click Here
Friday Evening Sports Parade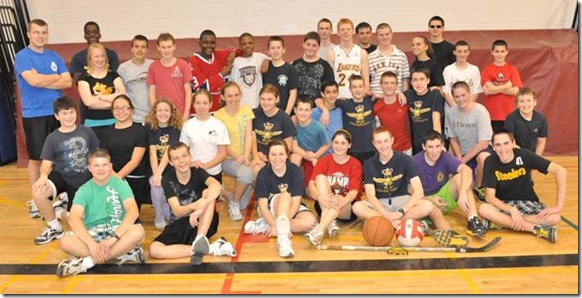 This photo was taken on Friday evening at the sports parade. Cadets who attend have an evening where they can just play  basketball, floor hockey, dodge ball, and  volleyball just for the fun of playing ball. We hope that other cadets who have not been coming out will give it a try. It is only 2 hours and a great place to unwind after a week of school. Although competition teams are selected from the cadets who attend it is still a fun evening and anyone no matter what their skill level can come out and just play ball.
Poinsettia Fund Raising Program
We would like to thank all those who participated in the Squadron's Poinsettia Fund Raising program. In the three weeks that this activity has been in operation the Squadron has sold $4600 worth of plants. It has been an impressive achievement in such a short period of time and the funds generated will be put towards future Squadron activities. Special thanks must go to Mrs. Hurley for taking the initiative and spear heading this new and rewarding activity.
The Air Cadet League of Canada
Announces a Partnership with the Canadian Space Agency
The Air Cadet League of Canada (ACLC) is pleased to announce that a memorandum of understanding (MOU) has been signed with The Canadian Space Agency (CSA). This signing is a significant step to continue to work together to encourage young people to choose careers in aviation and aerospace. This agreement means that CSA will support the current Air Cadet training programs by providing subject matter expertise to the development of space-focused learning products through the Air cadet League. Access to CSA's material will complement and enrich the already popular Air Cadet Program "Elements on Space".
Royal Order of the Glassy Boot
Honourable Members
1 Flight
2 Flight
3 Flight
4 Flight
5 Flight
Band Flight
F/Sgt. R. Barton

F/Sgt M. Murphy

F/Sgt H. Whitney

F/Sgt. M. Lysyk

F/Sgt J. Bauer
F/Sgt M. Moroz
WO 2 T. Smith
LAC F. Achan

Sgt. C. Tan

Sgt. A. Boyden

F/Cpl. D.Chandler

Cpl B. Zdebiak

Sgt K.Katzer

Cpl T.J Malette

Cpl J. Ehrt

Sgt. B. Jackson

F/Cpl A. Hembruff

Sgt B. McGosh

Cpl M. Wood

Sgt. S. Schuldis
Head Quarters Staff
| | | | | | |
| --- | --- | --- | --- | --- | --- |
| | | | | | |
| WO 1 M.C. White | F/Sgt. T. Neill | | F/Sgt P. Lysyk | F/Sgt R. Manders | Sgt. P. McQuillan |
| | | | | | |
Aviation Photo of The Week
Watch Boeing Make a New Plane for South West Air
A time lapse photography look at the manufacture of a new aircraft from start to finish
Notes:
If you have comments or suggestions on ways to improve our newsletter, our website or if you wish to unsubscribe from this email please notify rgilbank@rogers.com

151 Chadburn Squadron
Royal Canadian Air Cadets
*** Excelsior per Debere ***Excellence through Endeavour ***
Sponsored by the Rotary Club of Oshawa