Proudly Sponsored for over 74 years by:
The Rotary Club of Oshawa
Issue # 11
Week of Dec 4, 2016
This Year is Our 75th Anniversary

Cadet Of The Week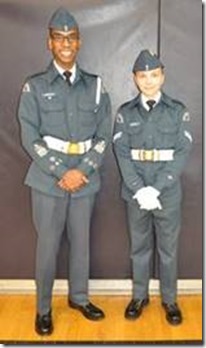 The Cadet of the Week is selected from the list of cadets the Squadron Warrant Officer receives from the flight commanders. 
A top notch uniform and attitude is a sure fire way to get your name submitted for consideration.
Summer Camp Applications
Cadets are reminded that summer camp applications are due December 12.
If you are interested in applying for a summer camp make sure you get your application in on time.
Tri Service Dance
We have a few tickets remaining for the Dance this Friday.  You must purchase your ticket tomorrow night from 2Lt Di Loreto. 
There will be no ticket sales at the door on Friday!
Just a reminder that tickets this year are $25.00 each.
Although not mandatory, those cadets that wish to be more formal in their uniform may wear a white shirt and bow tie with their tunic. 
Second Lieutenant Di Loreto has a quantity of bow ties available for purchase at $5.00 each.  These can be worn at the cadet mess dinner as well.
Just a reminder that this event is open to cadets of all ages. Everyone is encouraged to come out and have a great time.65
Friday Evening Sports – G.L. Roberts High School
One of our squadron's fun activities are our weekly sports parades which are held on available Friday evenings at G.L. Roberts high school in Oshawa. These nights are not a mandatory cadet activity but rather a fun evening where cadets can play floor hockey, basketball, volleyball and dodge ball. It is also a chance for cadets to test and develop their athletic skills as it is from this group  that the squadron selects cadets that will participate in competitions with other cadet units. As one can see from the photos it is a great opportunity for cadets to get out and be active and to just be teenagers. No drill, no glassy boots just a great fun evening and an opportunity to hang out with other cadets.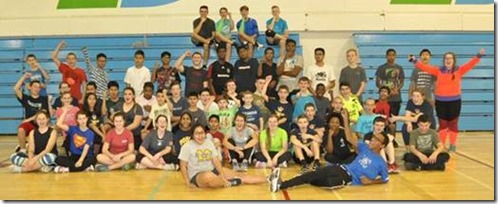 At the sports parade we found a rather different pair of running shoes on one of our cadets. Apparently It helps keep a cadet vertical, on the correct course and conscious of the correct altitude and attitude relative to the gym floor. As one can see these running shoes come complete with a turn and bank indicator, altimeter, artificial horizon, compass etc. Just about everything that any good basketball player might need to be a star.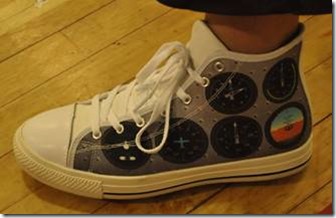 Remember the complete list of the squadron's activities can be found on the Squadron's website
Chadburn.org under the heading "calendar"
Members of the Glassy Boot Society
WO 1 C.Abraham
CPL

C.Ye

WO2

M.Singh

WO2 A.Carson
F/Sgt. F.Chandler
F/Sgt T.Talhouk
F/Sgt D.Lloyd
F/Cpl

C.Lloyd

Cpl

K.Espe

Sgt

S.Scalia

Sgt.

D. Buller

F/Sgt

B.Wardell

F/Cpl

E. Boyden
Thoughts from the Elliptical
The countdown is on, as I write this we are down to five days away from the Tri-Service dinner and dance.  As a cadet a while back, I always looked forward to this event, you never think that something like this will take on a life of its own and become such huge part of the Durham Region cadet landscape.  Now that I've been on the operating side of the dance for over twenty five years, I still look forward to the event, but now it is to first spend time with the other staff members and people who make it all come together.  Then to share in the fun that the cadets have on the big night.  We have had people working on this for several months and at times, it seemed like time was standing still on it, other times, the realization that there was still so much to do would hit us like a sledge hammer.  I would like to thank everyone that has helped with it so far and all of those who will be helping this coming week.  It certainly is a labour of love. 
We are down to only four books of lottery tickets outstanding for this year.  Please get them in to Captain Chandler as soon as possible. 
Captain Thomas McQueen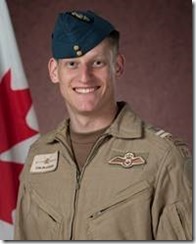 A very sad day last Monday when we heard the news that a CF-18 had crashed at Cold Lake Alberta resulting in the loss of the pilot's life.  With the grief that Captain Thomas McQueen's family and friends are experiencing as a reminder, I can't help but think of all of those former Chadburn Squadron cadets whose pictures are on the back wall of the parade square at Rotary Hall and the sacrifices they make every day. There is a definition that comes to mind.
"A veteran is someone who, at one point in his or her life,
wrote a blank cheque made payable
'To My Country' for an amount "up to and including my life."
Whether it seems either a romantic notion or a bit melodramatic, even those young people who sign up looking for an education or for the adventure at some point have done the soul searching and asked the question, "what if I have to…..?"
My heart goes out to the family of Captain McQueen, the members of 611 Harvard Air Cadet Squadron and all of his friends in this time of sorrow.  With this reminder, I know all of us who have a child or loved one serving in the military will give them a little bit tighter hug the next time we see them.
That's all for now.
Stay Safe and Have a Great Week
Major Bliss
Just a summer camp cartoon by Bickle a former cadet  to once again remind cadets
that you need to get your summer training application in to Mr. Weigel by December 12.
Our 75th Anniversary
Our Aviation History
Our squadron carries the name of a famous and distinguished Canadian fighter pilot who was an inspiration to all those who flew with him. As part of their introduction to our squadron all of our newest cadets were told about our squadron's namesake Wing Commander Lloyd Vernon Chadburn and how our unit has a unique historical connection to the Royal Canadian Air Force and 416 City of Oshawa Squadron RCAF. This week we are including for our new cadets and parents a photo of one of the aircraft that was flown some 22 times during the war by W/C Lloyd Chadburn. The aircraft was a clipped wing Mk 5 Spitfire with the registration letters AEA. The aircraft was actually part of the City Of Winnipeg Squadron and not 416 The City of Oshawa Squadron of which Lloyd Chadburn was the CO.
It is certainly a historic Spitfire which in all probability was involved in destroying more  enemy aircraft than any other aircraft in the WW 2 inventory of the Royal Air Force. The interesting fact is that this aircraft in which you see S/L Jeff Northcott  talking to Lloyd is still flying today as it is now part of the fighter collection based at Duxford England. Our Squadron has actually been to the Duxford airfield in Cambridge but unfortunately AEA was not there as it putting on an airshow for a car race. 
However several members of the squadron have visited Duxford on their own and they had the opportunity to photograph and see this historic aircraft.
Here  is a photo of Spitfire AEA flying at an airshow in England

The video that follows was made in 2014 and it will give readers a chance to see firsthand the great variety of war birds that assemble and fly each year at Duxford.
For pilots an emotional fly past of some of the world's most famous and historic military aircraft.
If you have comments or suggestions on ways to improve our newsletter,
our website or if you wish to unsubscribe from this email please notify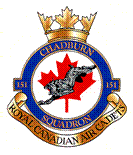 151 Chadburn Squadron
Royal Canadian Air Cadets
*** Excelsior per Debere ***Excellence through Endeavour
Proudly Sponsored by the Rotary Club of Oshawa