Proudly Sponsored for over 70 years by:
The Rotary Club of Oshawa
Issue # 9
Week of Nov 3, 2013
Cadets of the Week
Poinsettia Flowers a Christmas Fund Raising Project
This past Monday all cadets received a Poinsettia order form from Rekker Gardens in Bowmanville. This is an annual fund raising event for the Squadron and it gives families and friends an ideal opportunity to purchase beautiful Christmas Poinsettias.
Halloween Dance
At last week's training parade cadets were challenged to dress up and come out to the squadron's annual Halloween Dance.
There were some 80 cadets who attended the dance at 420 Wing and many as you can see did make the extra effort to come out in a costume to help celebrate Halloween.
It as usual became a swinging party with a great variety of interesting get ups. Here is a sample of what cadets look like when they are out of uniform and free to dress up
in something a little different. It was a fun evening and there are more photos in the squadron's web site Photo Gallery.
Royal Order of the Glassy Boot
Honourable Members
F/Sgt K.Katzer, F/Sgt A.Boyden, Cpl F.Chandler, F/Sgt J.Shaw F/Sgt S.Sheppard, F/Sgt A.Ford Williams, F/Sgt R. Bliss,
F/Sgt A.Hembruff, F/Cpl J.Hancock, Sgt R.Barton, F/Cpl C.Abraham, Sgt V.Singh, Cpl J.Hancock, F/Sgt C.Travis
Annual Tri-Service Dance
Once again, Chadburn Squadron will be hosting the annual Tri-Service Dance and Dinner. This year the dance will be on December 6th. It will once again be held at the Lviv Hall in Oshawa and the price will remain the same at $20.00 per ticket. This includes a great roast beef and chicken dinner with all the fixings and a fun night of dancing. There will be some fantastic door prizes and the chance to mingle with cadets from all over Durham Region. Last year there were over 350 cadets from all three services in attendance. Tickets will go on sale at closing parade tomorrow night. Please remember that each cadet may bring one guest and that there is a strict dress code. Males will be in uniform and females will be expected to wear a modest evening gown style dress. As the hosts of this very popular event I would like to think that Chadburn Squadron cadets will set the tone for proper behaviour and attire.
Once again, tickets are $20.00 each and will be sold at closing parade tomorrow night.
Parking at Squadron HQ
A friendly reminder that the driveway at the cadet hall is reserved for staff parking, we have very limited space and quite often staff are at the hall long after all the cadets have gone home. We would ask that if you are waiting at the hall for your son or daughter you do so in the parking lot across the street or on the right side of Centre Street with your hazard lights flashing. Please do not block the bus stop in front of the hall and respect our neighbours to the south. Cadets who drive to Squadron functions are not to park in the driveway either.
Thoughts from the Treadmill
We turned back time last night. I have the good fortune of having a civilian job where I work all different hours of the day. I also work in an industry where time and the proper reporting of it is an integral part of my duties. In all the years I have worked there, last night was the first time I have ever been on duty when time changed. It is interesting to witness the confusion that is caused by something that we take for granted twice a year; from computers having little glitches to adults having to be coached with the basic "spring forward- fall back" hours after the actual event. There are phone numbers you can call for the time signal from the National Research Council and there are websites that give you the time from an atomic clock somewhere. It all got me thinking a couple of things; time sure does fly when you are having fun, and, having an eight hour shift turn into a nine hour shift isn't much fun.
These are the random kind of thoughts that flow sometimes.
As I've mentioned before, we are gearing up for our extremely busy time at the Squadron (instead of just very busy). It is very important that the lines of communication stay open and that all cadets (and those parents that attend closing parade); pay particular attention to the announcements. There will be updates on the Squadron web page for most activities as well. You don't want to miss out on something good because you weren't paying attention.
I received the following note via email last week.
"I was at the 5 Points Beer Store on Saturday morning, October 26th. Just wanted to commend the two young men who were there selling poppies. They were very well turned-out and acted extremely professional !!! "
Warmed my heart, actually!
Nice job and, thanks to all for your service!
I am not sure who the "two young men" were, but this is the kind of impression that not only gives the Squadron a good name, but shows the proper respect and caring for the job at hand. Thanks to everyone who has participated in the poppy campaign so far. I realize the weather is getting colder and is sometimes plain nasty out there, but your three hour shift means so much to the veterans and their families.
On the topic of poppies and Remembrance Day, the Squadron will participate in the Oshawa Remembrance Day parade next Monday November 11. I realize this is not a school holiday, but I would ask that everyone who is available come out and show your support for our veterans. Details of the parade will be announced tomorrow night.
That's it for now,
Stay Safe and Have a Great Week
Major Bliss
Aviation Photo Of the Week
A very low pass of a DeHaviland Mosquito at the Oshawa airport at some time during the war years.
Cadets today and indeed many adults have no idea how active and important this airfield was during the Second World War.
The Control tower and the two hangers that you can see in the photos played an important role in Oshawa's aviation history.
Today for many of us their presence is now just a memory and all that remains are the concrete pads where the hangers and tower once stood.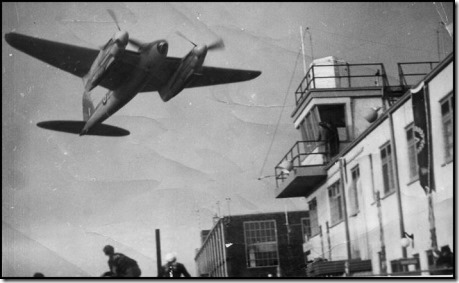 If you have comments or suggestions on ways to improve our newsletter, our website or if you wish to unsubscribe from this email please notify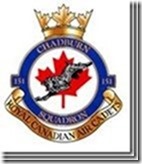 151 Chadburn Squadron
Royal Canadian Air Cadets
*** Excelsior per Debere ***Excellence through Endeavour
Proudly Sponsored by the Rotary Club of Oshawa