.
Sponsored for over 70 years by:
The Rotary Club of Oshawa
.
Issue 8
Week of Nov. 4, 2012
.
.
Cadet of the Week
.
Last week we missed our regular Sunday evening Dispatch issue due to a major computer failure so this week we have two cadets of the week to recognize.
.
Tri Service Cadet Dance
.
One of the outstanding events on a cadet's social calendar is the annual Tri Service cadet dinner and dance which is held each year at
the Lviv Ukrainian Hall here in Oshawa.
The date is Friday evening December 7 and all cadet units in the area are invited to attend.
Tickets are $20.00 per person and tickets will be on sale Monday evening.
.
.
Poinsettia Fund Raising Activity
.
.
This year we will again be selling Poinsettias from Rekker Gardens as a Squadron fund raising activity.
Order forms and information will be handed out on Monday evening and we are asking that all order forms be brought back to the Squadron no later than Monday November 19th, 2012.
Pickup of orders will be available on Monday December 10th between 2pm and 10pm.
.
The Annual General Meeting of The Air Cadet League's
Ontario Provincial Committee
.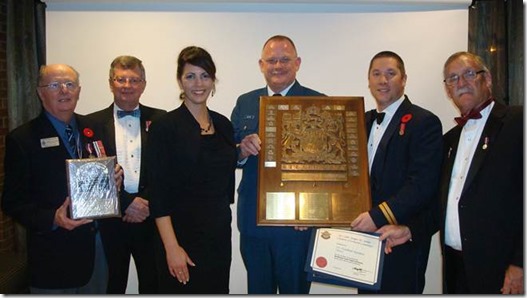 .
This past weekend three members of the Squadron staff attended the annual meeting and dinner of the Air Cadet League of Canada's, Ontario Provincial Committee at the Delta Meadowvale Resort in Mississauga. Our Squadron was honoured with the Strathcona Trust Trophy for standing third overall in the Province of Ontario. This is an impressive honour as there are now over 8000 cadets in the Province of Ontario and some 113 air cadet units across the province. All members of the squadron should be justifiably proud of this award for it is the hard work and dedication of all the cadets and staff in the Squadron that made this achievement possible.
We were also excited and proud to see that one of our former cadets and staff members Capt. Amy Belbin was awarded a Cadet Instructor Cadre Award of Excellence. Capt. Belbin graduated from the squadron and then became an army cadet officer in Ottawa. She returned to 151 and then moved to Prescott where she is currently the commanding officer of 661 Air Cadet Squadron.
Not everyone may be aware but there is another former cadet Capt. Johanna Graham who is currently the commanding officer of the air cadet squadron in Pembroke Ontario.
.
.
Remembering W/C Lloyd Chadburn
.
151 Squadron is just one of only two air cadet units in the province of Ontario that were personnally granted permission to carry the name of a famous wartime fighter pilot of the Canadian Air Force. The other cadet unit is in Owen Sound and it is named after Billy Bishop. This week we were honoured to have Ms Karen Wingrove a cousin of Lloyd Chadburn come to the Squadron and talk to the cadets about her famous relative.
.

.
.
There were a lot of stories and memories recounted during the evening but perhaps nothing could be more memorable than the comments by Group Captain McNab at the memorial Service held in Aurora following his death in 1944.
.
''Lloyd Chadburn was more than a great individual flyer. He was a resourceful and inspiring leader of men. I watched him train his men on isolated Scottish aerodrome for the great struggle at Dieppe and all that followed. The power of his personality brought courage to his comrades in the air and our United States allies in their Liberators and Fortresses used to speak of his squadron as The Angel Squadron when the mantle of their protection was thrown around the bombers. Our great young leader fought a good fight, finished his course and kept the faith.''
.
The great war is long over but cadets should know that the name they carry on their uniform represents a remarkable and inspiring individual who has left his mark in the history books of the Royal Canadian Air Force. Much has been written about Chadburn and his life and we have made a determined effort to keep his life and achievements visible by posting an extensive collection of write ups, photos and comments on our squadron's web site.
.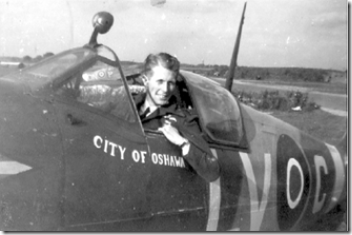 .
W/C Lloyd Vernon Chadburn DSO and Bar, DFC, Legion of Honour, Croix De Guerre avec Palme
Glassy Boot Award
Honourable Members
.
F/Cpl Barton, Sgt. Hembruff, Cpl Milne, F/S Bauer, Sgt. Boyden, Sgt. Katzer, Cpl. Hancock, Sgt. Chandler WO2 Smith
Sgt Bliss, Sgt Mogosh
.
Summer Camp Certificates
.
This past Monday all of the cadets attending the basic summer camps and the three week specialty camps were presented with their summer camp graduation certificates.
.
.
Thoughts from the Treadmill
.
GIVING
It came to my attention at work that it is once again United Way time. I'm not sure how many people realize that 151 Chadburn Squadron is listed with the United Way and is a registered charity. If you are looking for a worthwhile organization to donate to, why not direct your contribution to the Squadron. With employer matching in place at a lot of companies, a little bit can go a long way. There is also a way to make a one time or recurring donation on the Squadron web site.
COLD WEATHER
As we find ourselves facing the colder weather once again, a reminder that it is very important to dress properly for whatever weather we may face. We are not always able to rely on the goodwill of the custodians at the school to let us use the foyer to stay warm or dry after sports on Friday night. So a double message, dress properly and parents please remember that sports is over at 2030 and we will be out of the school at that time. The supervising officer has to stay until the last cadet has left, let's try to be fair to them as well.
TRI-SERVICE DANCE
A month to go until the Dance. A month to decide what dress to wear and who to go with. The planning is already in full swing and with our new team of Dance people, I am sure that we will all have an evening to remember. Tickets are on sale now and are first come first served. We have come very close the past couple of years to selling out the event, there are now more cadets than ever in Durham Region so I think this year we will hit the point where we have to say "sold out". Don't be disappointed. Still the same low price of $20.00 per person.
NUMBER 3
Last weekend I had the pleasure of attending the awards banquet at the Annual General Meeting of the Ontario Provincial Committee of the Air Cadet League of Canada (and you wonder why the military uses so many acronyms…. AGM of the OPC ). This is when the awards for top proficiency are handed out. I am thrilled that 151 Squadron has once again been recognized for the hard work and dedication of every member. We were presented with the trophy for Third overall in the Province of Ontario. With 113 Squadrons and over 8,000 cadets, this is quite an accomplishment. I challenge each and every member of the Squadron family to do it all just a little better in the future.
Although more of a naval term, I will extend a very hearty BRAVO ZULU to you all. (another one of those acronyms, look it up).
Major Bliss
If you have comments or suggestions on ways to improve our newsletter, our website or if you wish to unsubscribe from this email please notify
.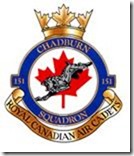 .
151 Chadburn Squadron
Royal Canadian Air Cadets
*** Excelsior per Debere ***Excellence through Endeavour
Sponsored by the Rotary Club of Oshawa