.Sponsored for over 70 years by:
The Rotary Club of Oshawa
.
Issue # 5
Week of Oct. 7,2012
.
.
Cadet of the Week
.
This spot in our newsletter is reserved for those cadets who are selected by the senior NCO's for their sharp appearance and professionalism. If you want to see your photo here get busy on your uniform.
.
Remember a good first step is membership in the Glassy Boot Society.
.
This week we also included a senior cadet  in our photo as he is the first Squadron Warrant Officer in the Squadron's history to also be a full time, second  year student at a University. In this case engineering at the University of Ontario.
Royal Order of the Glassy Boot
Honourable Members
.
F/Cpl Barton, Sgt. Hembruff, Cpl Milne, F/S Bauer, Sgt. Boyden, Sgt. Katzer, Cpl. Hancock, Sgt. Chandler WO2  Smith
Sgt Bliss, Sgt Mogosh
.
The Squadron's New Recruit Course
New recruits learn about the fine art of saluting
.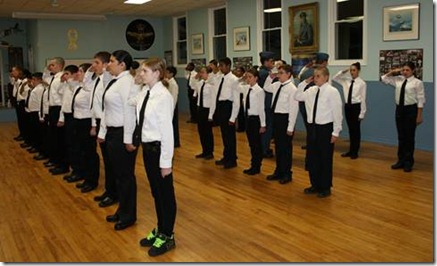 .
More of England's Historic sites
The City of Wells and its Magnificent Cathedral
.
This building was started in the 11th century and completed around 1220 AD. It is an engineering marvel when one considers the tools and equipment available at that time.
. 
The Wells Cathedral is one of the most fascinating historical treasures visited by our cadets.They toured the inner workings of the Cathedral by going up through the walls,
through the numerous rooms and passage ways and finally ending up on the roof of the building.
.
.
. 
The street below  is "Vicar's Close" a street in Wells which dates from the 13 century.
This is the oldest surviving purely residential street in Europe
.
.
.
Two more of the famous sites in downtown London that were visited by our cadets
.
Graduation Day
.
Unfortunately there is an age limit for cadets and this week Sergeant Stephen Schuldis reached the retirement age of 19. All of us in the Squadron wish him well in his future endeavours
.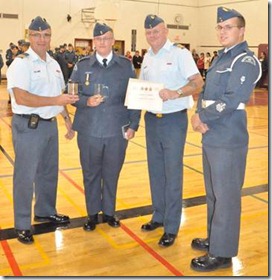 .
Fund Raising
.
Last week the Squadron was out in full force tagging to raise funds to finance our many activities. Here are some of the cadet taggers. The four cadets on the left of the photo all completed seven shifts and each raised over $800 for the Squadron. All were presented with  a gift certificate to the Oshawa Centre and a ticket to the Tri-Service Ball in December. The other three cadets tagged at least 6 shifts each and were presented with a ticket to the Tri-Service.
.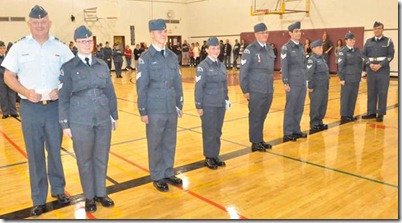 .
THOUGHTS FROM THE TREADMILL
.
As the holiday weekend is well upon us, my thoughts range all over the board.  Although we have a Monday night off, the week ahead will still be a busy one.  We have staff working on planning Ganaraska, gliding and dances, as well as parades and competitions.  Others are making sure recruits are outfitted with their uniforms, paperwork is done and the building is in operating condition.  As cliché as it sounds, it truly feels that Chadburn is a Squadron that never sleeps.
.
This past week saw seven Flight Sergeants sit before a Merit Review Board to qualify for promotion to the rank of Warrant Officer.  Although the results are not yet public, I have been informed by the officer in charge of the board that we have a lot of very good Senior NCOs.  That is a good feeling to have.   Everyone will have to remember that we will only promote as many WOs as we require to run the Squadron and to ensure we have enough for future progression.  I know the waiting can be frustrating, but we want to make sure that all promotions are given to the most deserving and qualified people. 
.
Last week we unveiled the new flight guidons.  We will be issuing these to each flight next week.  I hope that each member of the flight will realize that the guidon is a symbol for them to rally around and treat with pride.  As we get the streamers to mark your achievements and victories, please remember that as these are to reward and recognize current events.  Lottery Ticket Sales, Tagging, Glassy Boot, Attendance and Achievements are some of the main areas we will recognize on a monthly basis.  Please show your team spirit and make this a fun but challenging recognition system.
. 
Please remember that the Royal Canadian Legion's Poppy Campaign will be kicking off soon.  We are committed to providing at least 30 cadets per shift for 5 different shifts.  This is a lot of work to organize and although I am sure some of you are saying "we just finished our own tagging", this is completely different and a very small way that we can show our appreciation to all of the men and women who have sacrificed so much so we can enjoy the freedom we have.  When you are contacted, please sign up for as many shifts as possible.  There will be ONE mandatory shift per cadet.
. 
That's about it for another week, I hope you all are able to spend your holiday doing things you enjoy with people you enjoy doing them with. 
Major Bliss
.
Aviation Photo of the Week
One of the most famous aircraft of the second world War was the "Wooden Wonder" the DeHaviland Mosquito. The fuselage for the Mosquito was actually made here in Oshawa at General Motors. In our photos you can see Lloyd Chadburn with some of the GM workers and the other 1944 photo was taken in the Hambly Arena (now the Kinsman Stadium) where you can see a Mosquito fuselage from GM on display with other wartime equipment.
. 
.
There is a great world wide  interest in the restoration of Mosquito air craft and this past week marked the first flight of such an aircraft. (See our photo next week) The photo below is one of the restoration projects under way here in Canada. This Mosquito is being loving restored by  BCVictoria Air Maintenance on Vancouver Island located at the Victoria International Airport. You can follow the restoration process by going to:
.
http://vicair.net/projects/mosquito
.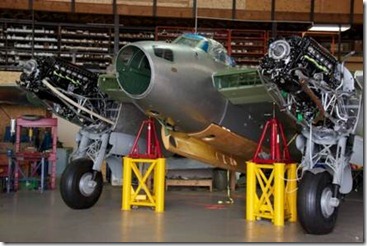 .
Cadets will no doubt have little knowledge or understanding of the historical importance of this amazing aircraft. For those who are interested they can go to
http://en.wikipedia.org/wiki/De_Havilland_Mosquito_operational_history
.
A comment By the Commander in Chief of the Luftwaffe, Reichsmarschall Hermann Göring in 1943
.
"In 1940 I could at least fly as far as Glasgow in most of my aircraft, but not now! It makes me furious when I see the Mosquito. I turn green and yellow with envy. The British, who can afford aluminum better than we can, knock together a beautiful wooden aircraft that every piano factory over there is building, and they give it a speed which they have now increased yet again. What do you make of that? There is nothing the British do not have. They have the geniuses and we have the nincompoops".
.
If you have comments or suggestions on ways to improve our newsletter, our website or if you wish to unsubscribe from this email please notify rgilbank@rogers.com
.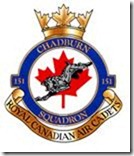 .
151 Chadburn Squadron
Royal Canadian Air Cadets
*** Excelsior per Debere ***Excellence through Endeavour
Sponsored by the Rotary Club of Oshawa