Proudly Sponsored for over 70 years by:
The Rotary Club of Oshawa
Issue 5
Week of Oct. 6, 2013
Cadet Tagging – Our Fund Raising Project
A cadet at the General Motors Centre
It was mentioned in last week's newsletter that the Squadron had just completed one of the squadron's most successful tagging operations.
This week we have the opportunity to recognize the tremendous effort put into this activity by the Squadron's cadets. The donations in each and every cadet tag box were counted and each cadet depending on the amount collected received a credit towards the squadron's year end trip. There were also special gift cards presented to the top performers.
The photos that follow show some of the squadron's most successful taggers.
Top Cadet, over $900 collected
The cadets in the left photo all collected over $700 each while the cadets in the right hand photo all collected over $800
Royal Order of the Glassy Boot
Honourable Members
F/Sgt K.Katzer, F/Sgt A.Boyden, Cpl F.Chandler, F/Sgt J.Shaw F/Sgt S.Sheppard, F/Sgt A.Ford Williams, F/Sgt R. Bliss
Well, What Are Air Cadets and What Do "They Do"?
The title may sound a little odd but it is a question that parents sometimes ask about our Squadron's cadet program. We try and answer the question with all the photos that appear on the home page of our web site as well as our annual inspection static display which features a series of some 23 panels showing cadet activities. It is a display that when coupled with our web site completes the story of what air cadets in 151 Squadron do.
The inspection display is actually a Power Point Presentation which we use to show our cadet program to new recruits and their parents as well as other outside groups. One of the most recent outside presentations occurred this past Thursday when a presentation was made to the members of the West Mount Kiwanis Club at their regular noon hour meeting. In the photo you can see the Club's president well as Col Gilbank and Jim Kamstra a well known local pilot and business man who invited us to meet with members of the club and describe 151 Squadron's air cadet program.
Off To University
It is no longer a blue suit for WO Neill a former cadet in the Squadron. It is now the uniform of a first year cadet in The Royal Military College in Kingston.
Thoughts From the Treadmill
I thought I'd bring you all up to speed on some of the things that are happening in the Squadron and things that are planned for the not too distant future.
Preparations have begun for our annual Tri-Service Christmas Dance, this will be taking place on December 6th at the Lviv Hall here in Oshawa. For those who are not familiar with this event, Chadburn Squadron hosts all of the other cadet units in Durham Region for a dinner and dance. Last year saw over 350 cadets participating. Tickets will be on sale soon and they are staying the same price at $20.00 each. This has become a huge event and tickets sold out last year, so be sure to get yours early.
Things are moving right along for our Year End trip and it is promising to be another great one. Make sure you are getting your achievement points to secure your seat on the bus. As much as I dislike turning anyone away from a trip like this, we are limited by both the bus size and the accommodation available. Once again there will be no passport required for cadets who are Canadian Citizens.
Work is also underway for our fourth bi-annual Golf Tournament. This will be held on Saturday June 7th 2014 at the Oshawa Airport Golf Course. We will have a BBQ dinner at the 420 wing afterwards. There are much needed repairs and upgrades required at Rotary Hall and the money raised at the Golf Tournament will help a lot. The price for the tournament this year will be $75.00 per golfer, this will also cover the cost of dinner. Tickets will be available before Christmas. If you know of anybody who would like to sponsor this event or donate items that can be used as prizes, please get in touch with me. As an added incentive to our cadets, any cadet arranging for a monetary sponsorship will receive 10% of the amount off their yearend trip in May. More details will be made available shortly.
It was great to see over 40 cadets attend sports on Friday night at the school. Just a reminder that sports runs from 1830 until 2030. At the end of a long week it is not fair to have the supervising staff have to wait around for parents to show up late. If your cadet tells you that sports are running until 2100, please disregard this. It is imperative that cadets listen closely to the announcements on Monday night, any changes in timings will be announced then.
And finally, it is great to watch cadets grow up and move on to new chapters in their lives, today's Dispatch has a photo of WO Neill who is now attending RMC in Kingston, it was neat to see two other Squadron alumni celebrate milestones over the last couple of weeks. Marlene Miller who was a Squadron Warrant Officer and is now a Toronto Police Service officer was married last week. Marlene and her family were fixtures around the Squadron for many years. I would also like to congratulate former cadet Justin Standeven and his wife Amy on the birth of their daughter Amelia. Justin and his family were all long time members of the Squadron, he now volunteers with a Squadron in Timmins.
That's it for now,
Stay Safe and Have a Great Week
Major Bliss
Aviation Photo Of the Week
Flight Radar – Real Time Air Traffic Around the World
If you happen to have a burning desire to check on all the aircraft flying around the world right now, then this web site is for you. As you might appreciate it is big and it may take a moment to get it up and running. Use your mouse to drag the map that appears to the area you wish to look at, then use the mouse wheel to move the map in and out of the area. If you want see another part of the world click on the link for other areas that is located at the top right.
Click on the aircraft you are interested in and a photo of it will appear in the left panel as well as its height and destination. You will find that the track of the flight also will show on the screen. You can if it comes up click on the 3D link which may appear in the middle of the left panel. This will lead to a simulated view from the cockpit.
Have Fun
If you have comments or suggestions on ways to improve our newsletter, our website or if you wish to unsubscribe from this email please notify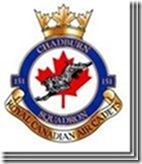 151 Chadburn Squadron
Royal Canadian Air Cadets
*** Excelsior per Debere ***Excellence through Endeavour
Proudly Sponsored by the Rotary Club of Oshawa