Proudly Sponsored for over 70 years by:
The Rotary Club of Oshawa 
Issue 32
Week of May 12, 2013
Please note that this issue will be the last regular issue of our newsletter for this training year.
However we will be back come next September and in the meantime we will send out special editions
if necessary to cover some of the Squadron's special events.
All of our readers are cordially invited to attend the
71st Annual Review of
151 Chadburn Squadron,
Royal Canadian Air Cadets
Tuesday, May 14, 2013
8.00 PM at The Legends Centre
Reviewing Officer
Wing Commander Brian Wills-Pope MBE DL
The Royal Air Force
Year End Trip
Any cadet who was on the standby list for the trip is now confirmed as going. For those who may have outstanding paperwork or payments, Squadron staff will be at the cadet hall at 7:00 pm on Monday May 13th.  Please arrive as early as possible.  There are still a few spots available on the trip, if your son or daughter would like to go, please bring their birth certificate to the hall on Monday night and complete the paperwork with the staff. 
The packing list is now on the web site, please note that a baseball glove is listed if available (please don't feel the need to rush out and buy one if your cadet doesn't have one already). 
We will be departing from Village Union Public School on Friday Morning May 17th.  We ask that parents bring their cadets at 0645 in the morning.  Please do not leave until your cadet's paperwork  (birth certificate/passport, health card) and Squadron T-Shirt have been checked by a staff member. 
We will be returning late in the afternoon of Monday May 20th.  The news ticker on the Squadron Web Page will be updated as well as the message on the Squadron answering machine with the estimated time of return. Please hang up when prompted as the system will fill up and not be assessable if you don't.  These updates will occur after 1500hrs on Monday.  
Squadron Photos
For those who have ordered photos, they will be available on Monday night at the roller rink.  Please show up early to avoid a mad rush after dismissal.  Remember that payment for photos must be in cash. 
Thoughts From The Treadmill
I guess if one word came to mind the most this week it was wow. 
I had the pleasure of picking up our reviewing officer at the airport on Friday evening and it has been a whirlwind of activity since then.
Wow, he is finally here.  That means that the training year is coming to an end and plans that were made on a whim last August of him coming over from England to review the Squadron has come around.
Wow, he is here.  How do you measure the ties that bind two Air Cadet units from across the Atlantic to cause an individual to spend his own money to make the 8 hour flight to spend 4 days here before flying home on Wednesday?  It is friendship for sure, but something more.  A brotherhood exists between cadets all over the world, a sense of a common goal.  It really is impressive that these bonds can bring such a varied group together.  You will hear me say it enough over the next while, but here in writing is a big thank you to Wing Commander Wills-Pope for doing what he does. 
Wow, the weather is crazy.  Driving in to Toronto today I saw the temperature drop from 9 degrees to 2 degrees in a few hours, sleet, rain, snow, and sunshine.  A cool day is always nice for the Annual Inspection, but we do try to avoid doing it in the snow.  We will keep our fingers crossed that the weather holds out for us. 
Wow, I got a report that we have had 74 cadets accept positions at camp this summer.  I am sure that we will have more over the coming weeks, but that is almost half of our Squadron that is heading off to a camp.  Thanks Mr. Biffin for continuing to fight for every spot you can get, a great result.
Wow, it is almost a year since I took command of the Squadron; we have had a great year and have plans for more great stuff over the coming months.  Thank you all for the support and the effort that you have put in to the Squadron.  They say it takes a village to raise a child; well it certainly takes a village to make a successful Air Cadet Squadron.  We may not always be one big happy family, but we are family with the same collection of characters that we see at our own family reunions.   It is what helps us function and what makes us Chadburn Squadron. 
Stay Safe and Have a Great Week.
Major Bliss
Glassy Boot Award
Honourable Members
F/Cpl Barton, F/Sgt. Hembruff, Cpl Milne, WO2 Bauer, F/Sgt. Boyden, F/Sgt. Katzer, Cpl. Hancock, F/Sgt. Chandler WO2  Smith
F/Sgt Bliss, Sgt Mogosh, Cpl Hewett, F/Sgt Shaw, Sgt. Keller, Cpl Zdebiak, F/Cpl J. Ehrt, WO2 Neill, F/Sgt Sheppard, Sgt Sam, F/Cpl Abraham, Cpl C. Swatridge, AC J. Hancock,
F/Cpl D. Lloyd, F/Cpl C.Brandow, Cpl M.Achan, F/Cpl V. Singh, Sgt Nemeth, AC F. Chandler, LAC Anthony, F/Sgt  B.Jackson, LAC R.Sealy
Band Photo CFB Trenton Open House
The following photo which is part of the display in the Chadburn Departure Lounge at the Oshawa airport has been attracting a number of positive comments from parents and visitors who are in the lounge while their sons and daughters are up flying with the Squadron.  Several have commented that they would like to have a copy of this photo so this week we have included a copy with our newsletter. Please feel free to copy it as it is a memorable photo of the squadron's cadets as they participated in the Canadian Forces open house at Canadian Forces Base Trenton.

Power Flying Oshawa Airport
This past weekend the Squadron flew its 100th cadet in a powered aircraft. Not everyone may be aware but staff members may also fly with our cadets so that they too can see and experience the thrill of flying. In the photo on the left you can see not only two of our cadets but their mother as well. Mum is a volunteer with the Squadron and on this day she got a chance to fly with her family.
Our goal is to give all the cadets a basic introduction to the intricacies of powered flying as well giving them on occasion a chance to see what it is like to fly a real aircraft. The photo on the right lets you see what some of the cadets get a chance to do. Cadets may end up in Lindsay or they may end up flying around the CN tower in Toronto. If there is no traffic at Toronto Island the Island Tower will on occasion grant permission for a low and over down the main island runway.  Rather a fun way to get a close up view of downtown Toronto.
All of the cadets are equipped with head sets so they can talk to the pilot as well listening to the conversation between the pilot and the control tower
Cadet Year End Dance
420 Wing Air Force Association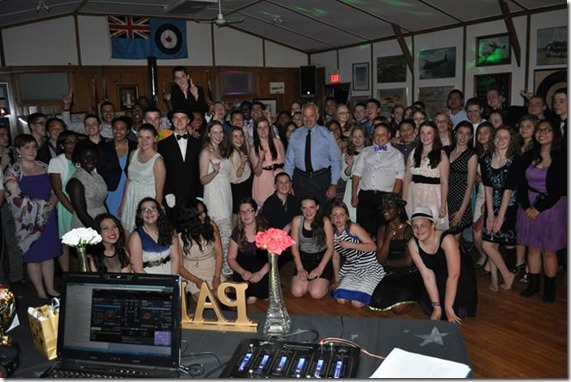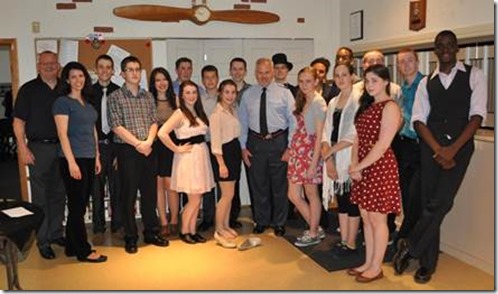 W/C Pope and some of the cadets who travelled to England last Summer
Our Kit Shop
"Kit that will be for sale on Tuesday night at the annual inspection"
Blue Squadron T-Shirt $15.00,   Green Chadburn T-Shirt $15.00
Pen $1.00, Tie Clip$10.00,  Belt Buckle $10.00
  Sports Mug $10.00, Travel Mug $10.00, Coffee Cup – Low Stock $5.00
Book – Gone is the Angel $15.00
Squadron Golf Shirt – Low Stock $25.00, Ball Cap – Low Stock $15.00
Self-Adhesive Squadron Decal – Low Stock $1.00
Aviation Photo Of the Week
World Air Traffic Over A 24 Hour Period
In the video which follows you can see a satellite view of the world air traffic over a 24 hour period. Watch carefully as the circle of illumination moves across the planet. At first you see aircraft leaving the United States in the evening heading to Europe. Later in the morning you see the aircraft leaving Europe and heading towards the United States.
Click on the following link to see air traffic around the world
http://www.youtube.com/watch?v=z1US_4uf4YE
If you have comments or suggestions on ways to improve our newsletter, our website or if you wish to unsubscribe from this email please notify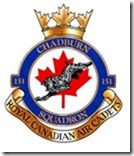 151 Chadburn Squadron
Royal Canadian Air Cadets
*** Excelsior per Debere ***Excellence through Endeavour
Proudly Sponsored by the Rotary Club of Oshawa
—