Proudly Sponsored for over 70 years by:
The Rotary Club of Oshawa
Issue # 30
Week of April 13, 2014
Cadet of the Week
Scholarship Candidates
Cadets who are applying for the Rotary Club academic scholarship are reminded to bring a rough draft of their scholarship letters tomorrow
evening so that they can be reviewed by Lt. Mastroianni.
Remember – It is important that all cadets be in attendance tomorrow evening as
we will be taking Squadron Photos.
Eastern Region Band and Drill Competition
Canadian Forces Base Kingston
This past weekend both our Band and Drill Teams competed with the other cadets in Eastern Ontario Area.
Both teams placed first in their respective categories and will advance to the Provincial Competition in May. The Drum Major was also selected as the top Drum Major in the competition. We wish all of the members of both teams luck in their upcoming competitions.
We would also like to thank all the staff members who put in so much time making sure the cadets are supervised and properly trained during their practices.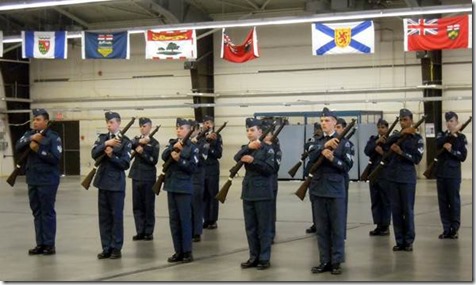 Model Building Contest
This past Monday was the final day in the squadron's 1/48 scale plastic model building contest.
The top model builder in the senior division was Sgt DeMille while the top junior cadet was
Cpl Katzer. She was unable to attend so the prize was accepted by her brother F/Sgt Katzer.
From Our Friends in England
A quick flashback for those of our Squadron cadets who went on the exchange trip to England.
This should bring back some memories of our trip to Portsmouth.
In March 2014, 79 cadets and 16 Staff from the Devon and Somerset Wing of the Air Training Corps in England visited Portsmouth and stayed aboard HMS Bristol which is moored at Whale Island. All those attending stayed on board HMS Bristol. A ship that saw service in the Falklands islands, but is now decommissioned and used as a teaching and accommodation centre. On shore experiences included: Visiting HMS Victory, the oldest serving ship in the Royal Navy, visiting Action Stations, a Harbour tour, and the RN museum.
Royal Order of the Glassy Boot
Honourable Members
WO1 B. Jackson, WO2 A.Hembruff, WO2 A.Boyden, WO2 R. Bliss, WO2 C. Tan, F/Sgt D. Lloyd, F/Sgt C.Travis, F/Sgt J.Shaw, F/Sgt K.Katzer,
F/Sgt S.Sheppard, F/Sgt A.Ford Williams, , F/Sgt V.Singh, F/Sgt. E. Dellipizzi, F/Sgt. B. Medina
Sgt. S. Lysyk, Sgt. N. Nemeth, Sgt. R. DeMille, Sgt. M. Obrien, Sgt. B. McMurtry, Sgt R.Barton, Sgt. J.Ehrt ,Sgt. O.Sam, Sgt C.Brandow, F/Cpl. M. Annis, F/Cpl T. Milne, F/Cpl J.Hancock, F/Cpl C.Abraham, F/Cpl B. Hewett , Cpl. R.Sealey, Cpl J.Hancock, Cpl F.Chandler
Thoughts from the Treadmill
No treadmill this week, I had the pleasure of joining the senior cadets and a bunch of staff out at Ganaraska earlier today. Although I was only out for a while, the walking in the woods and breaking through the ice and snow sure put my treadmill to shame. I know we live in Canada and this is all part of it, but this guy has certainly had enough of the white stuff to last a lifetime. I would like to say a special thank you to all of the staff who made the weekend so successful.
I received some great news on Friday and can confirm that Major J. Dunfield will be the reviewing officer for this year's Annual Inspection. Major Dunfield is a former cadet and Squadron Warrant Officer of Chadburn Squadron.
Congratulations to the Band and Drill Team on their fantastic showing at the competition last weekend. First place finishes for both with the added bonus of the Drum Major, F/Sgt Lloyd, being named the top Drum Major in the competition. Next step for them will be the Provincial Competition in May.
The Marksmanship Team competed this weekend at CFB Trenton. This was a new format of competition where the Provincial Competition is held on Saturday and the winning team and the top ten cadets from the non-winning team then advance to the National Competition on Sunday. I am pleased to announce the Chadburn Squadron came in 6th in the province out of 24 teams, and F/Cpl Carson came in a very impressive 2nd place over all in the province. This completion is done with electronic scoring and the difference between 1st and 2nd was less than .5 of a percentage point.
F/Cpl Carson competed in the National Marksmanship Competition today and we won't know the results until after all the other provincial teams have finished shooting next week.
I will use this forum to pass on the news that due to circumstances that have arisen, the Fund-Raising Golf Tournament scheduled for June 7th this year will unfortunately not be happening. I apologize for any inconvenience this may cause anyone and wish that the situation was different.
That's all for now.
Stay Safe and Have a Great Week
Major Bliss
Aviation Photo of the Week
Canadian Built Human-­Powered Helicopter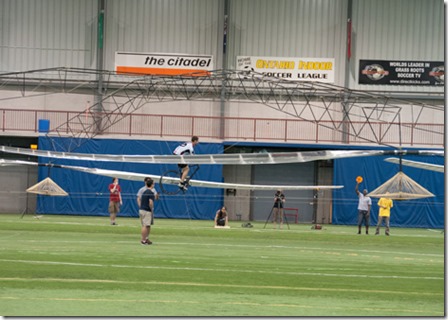 AeroVelo, a Toronto based engineering team won the AHS Igor I. Sikorsky Human Powered Helicopter Challenge and its $250,000 prize. On Thursday, June 13, 2013, Atlas, their human-powered helicopter, completed a record-­breaking flight lasting 64 seconds and reaching a height of 3.3 metres.
The $250,000 AHS Igor I. Sikorsky Human Powered Helicopter Challenge was established in 1980, and requires a human-­‐powered helicopter to have a total flight time of more than 60 seconds, reach a height of over 3 metres during the flight, and stay within a 10 metre by 10 metre box. Since its inception a third of a century ago, dozens of international teams have taken on the challenge, yet the prize has remained elusive. Take a look at the following video and see their record breaking flight.
https://www.youtube.com/watch?v=syJq10EQkog
If you have comments or suggestions on ways to improve our newsletter or our website or if you wish to unsubscribe from this email please notify
151 Chadburn Squadron
Royal Canadian Air Cadets
*** Excelsior per Debere ***Excellence through Endeavour
Proudly Sponsored by the Rotary Club of Oshawa