Proudly Sponsored for over 70 years by:
The Rotary Club of Oshawa
Issue 3
Week of Sept. 22, 2013
Yearly Cadet Validation Forms!!!
Remember cadet Validation Forms are due back on Monday Evening
Failure to do this could result in being locked out of any activities until the form is returned.
Also, this year's Summer Training Applications will open October 28, 2013.
TAG DAYS
This coming weekend Thursday September 26th until Sunday September 29th, Chadburn Squadron will once again be holding our fall Tag Days. A reminder that although Chadburn Squadron does not charge an annual fee for membership, the "cost of belonging" is active participation in our fund raising activities. Every cadet up to and including the rank of Flight Corporal is expected to tag 2 shifts while Sergeants and up are expected to tag 3 shifts.
Sign up lists will be posted again on Monday night at the school. Please note that although you may have put your name on a specific location for a specific shift, if we need you somewhere else for that shift you will be told to report to a different location. Phone calls will be made later in the week to inform all cadets where they will be tagging and at what time.
New this year for tagging is the opportunity to reduce the price of your year end trip with both tag days. In previous years we have taken 10% of the cadet's Spring tagging proceeds and used it against the cost of the trip. This year, we will take 5% of the Fall and 5% of the Spring tagging off the price of the trip. This will hopefully give all cadets an equal opportunity to reduce the price of their trip. Thanks to all the staff and local merchants who do so much to make these fund raising weekends so successful.
New Recruits
Although our new recruit presentation was last week there is still ample time for new cadets to enrol in the squadron's recruit training program.
New cadets who may have missed the presentation are invited to drop in to our home at
Rotary Hall, 254 Centre Street, Oshawa this coming Monday
Parking is available across the road at Village Union P.S., access off of Gibb Street.
To prepare for the recruit course please review the information on our squadron website, https://www.chadburn.org/how-to-join/aboutcadets.
The forms to join cadets are available on the squadrons website.
Please download the Recruit Application Package, complete the forms and give to the recruiting staff on the information night.
https://www.chadburn.org/how-to-join/becomeacadet.
Please remember new recruits must provide one of the following forms of Identification:
Canadian Birth Certificate or
Canadian Passport or
Canadian Citizenship Card or
Canadian Landed Card
Please also show your Ontario Health Card.
The Battle of Britain Parade
Oshawa Municipal Airport

The Battle of Britain Parade and ceremony for 151 Squadron actually starts on the north side of Oshawa Municipal Airport. The airport management allows our Squadron the unique opportunity each year of marching down the runway and across the taxi ways to the south side of the field for the Battle of Britain remembrance service. All this is accomplished while the airport is fully operational. This year for the first time field was quite active and the cadets had to hold short of the main runway due to aviation traffic.
In the photo our cadets are shown marching in front of the main terminal building prior to turning out onto the taxiways for the march across the airport.
"The Debt to Our Airmen"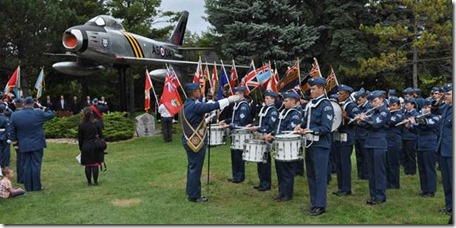 "The gratitude of every home in our island, in our Empire, and indeed throughout the world except in the abodes of the guilty goes out to the British airmen who, undaunted by odds, unweakened by their constant challenge and mortal danger, are turning the tide of world war by their prowess and their devotion.
Never in the field of human conflict was so much owed by so many to so few."
Winston Churchill
Address to the British Parliament
Wednesday, August 21, 1940
They shall not grow old as we who are left grow old
Age shall not weary them, nor the years condemn
At the going down of the sun and in the morning
We will remember them
Lest we Forget
Wing Commander Lloyd Vernon Chadburn DSO & Bar, DFC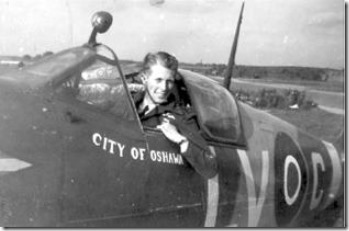 As we remember the Battle of Britain and its impact on the history of the free world we should also take a moment to remember our Squadron's namesake Lloyd Chadburn,
a pilot and an inspirational leader in the Royal Canadian Air Force who lost his life in a Spitfire collision over the beaches of Normandy on June 13, 1944.
Squadron cadets have now carried the name Chadburn on their uniforms for almost 70 years.
Lloyd Chadburn's burial service in France 1944.
Chadburn's Grave in the Ranville Military Cemetery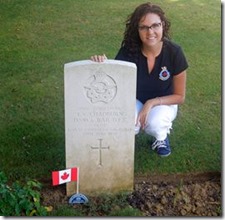 In recent years a number of cadets who were on school tours have had the opportunity to visit Chadburn's grave in France and we actually have a rubbing of his grave marker (made by former cadets) on display in our cadet hall. This year another member of our Squadron Lt. Mastroianni, who you see above, had the opportunity to visit his grave and leave a small memento from our Squadron.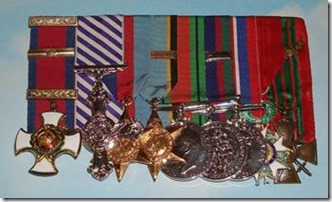 Chadburn's Medals
From the Treadmill
I had a real mixed bag of thoughts this week and have tried to figure out how to prioritize them.
Thank You is the first priority, and these might be out of order chronologically, but here are the things I am thankful for this week.
Mrs. Chown-Wensing is recovering nicely after undergoing some pretty serious surgery last week.
Mr. D. Biffin for the great results in getting cadets off to summer training. This is a job and a half and it is easy to take it for granted. I certainly hope the cadets who attended camp have an appreciation for his dedication.
Mrs. H. Di Loreto for organizing the lion's share of the year end trip to Gettysburg, countless hours and phone calls to make sure things ran smoothly, the border crossing can be a nightmare and her attention to detail certainly makes it more bearable.
2Lt R. McAteer for all his work around the hall this summer, not only painting and cleaning, but figuring out a new mandatory training schedule that the military requires of us, this was many hours of his summer vacation spent doing things for the cadets.
Mr. Lowell MacDougall for his many years of support for the Squadron, I recently received a letter from Mac telling me that due to some different health issues, he will no longer be able to attend cadet functions, his enthusiasm and love of the Squadron will be missed very much. For those not aware, the Squadron library is the result of many hundreds of books that Mac has donated over the years.
All of the Squadron staff put in a much bigger effort than is ever visible to the outside world (and to a large part to each other), there is always a danger of thanking someone and leaving someone else unmentioned, to all of my staff, a very heartfelt thank you. From organizing tagging to making sure there are chocolate bars and soda for canteen break, making sure there is a weekly newsletter to monitoring classrooms, driving cadets to flying or keeping track of the many thousands of dollars of musical instruments we have, teaching Flying Scholarship to being the DCO and taking up the slack when the CO is working his civilian job, each and every job performed by the volunteers and civilian instructors and officers of the Squadron as well as the members of the Rotary Club of Oshawa is vital to the continued success of this fine old organization. Thanks to each and every one of you.
This was a rather quiet weekend for cadet activities and I get the feeling it is the calm before the storm. From now until well into November, we will be extremely busy with different events, please make sure you are looking at the Squadron's Web Page for all the latest in current events. It is a shame to miss out on something you enjoy.
Lottery tickets are trickling in, it is fantastic that some cadets have already made the effort to get them sold and returned, remember that it is mandatory that each cadet sells at least one book of tickets.
That's it for now.
Stay Safe and Have a Great Week
Major Bliss
Aviation Photo Of the Week
This patented vehicle flies in the air like a gyrocopter with lift generated by an auto-rotating rotor and forward speed produced by a foldable push propeller on the back. On the road it drives like a sports car. No new infrastructure is required because it uses existing roads and airstrips.
Like to see it fly? check out the following video
http://www.youtube.com/embed/VRRnXq41UV4?feature=player_embedded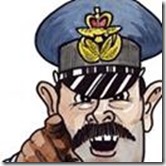 Well, how sharp is your uniform?
A little British humour from the Royal Air Force in England.
Drawn by: WO Gaz Tonks
If you have comments or suggestions on ways to improve our newsletter, our website or if you wish to unsubscribe from this email please notify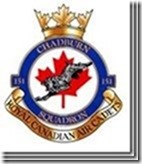 151 Chadburn Squadron
Royal Canadian Air Cadets
*** Excelsior per Debere ***Excellence through Endeavour
Proudly Sponsored by the Rotary Club of Oshawa