Proudly Sponsored for over 70 years by:
The Rotary Club of Oshawa
Issue 3
Week of Oct. 2, 2016
This Year is Our 75th Anniversary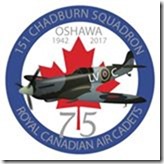 New Recruits
Our first training session for new recruits was held this past week. In the photo you can see some of the new cadets as they participate in their first drill class. We currently have 55 cadets enrolled in the recruit course but remember there is still an opportunity for new cadets to join.
Our New Cadet Training Centre
Village Union Public School
We have included a photo of the squadron on parade in our new training centre which is actually just across the road from the squadron HQ. The squadron has the exclusive use of all of the class rooms on the top floor and as one can see from the photo there is a balcony with seats so parents and visitors can now sit and watch the final parade of the evening.
A Former Cadet Drops in for a Visit
This past week another of our former cadets dropped in for a visit. Our guest was Lt. Kelly who has just graduated as a multi engine pilot in the RCAF and he
has just been posed to 436 Transport Squadron at CFB Trenton. He is actually the second member of the squadron to be posted to this squadron the other former cadet
is now a second pilot on the new Hercules transport aircraft.
Here are photos of Lt. Kelly's graduation and a photo of the King Air twin he trained on.
Royal Order of the Glassy Boot
Note: This is the standard expected for a cadet to be admitted to the exclusive glassy boot society.
Some may wonder why a glass toe on a cadets boots seems to be so important after all when it's hot the polish tends to deteriorate, boots can get dusty or scuffed and there is always a lummox that will somehow find a way to step on one's perfect glass toe. A spit shine or lack of, shows something else and that is the pride and enthusiasm of the individual in his or her uniform as well as the individual's pride in the organization that he or she is a part of.
As one who has been a reviewing officer on numerous occasions you soon learn the that a Squadron's personality and level of training proficiency is readily available for all to see. All you have to do is look at a cadet's boots. In some cases you know the boots just came out of the box and you know that are speaking to a new and inexperienced cadet. But if you see a high percentage of highly shinned boots you know that the squadron has in all probability an enthusiastic and dedicated staff who are deeply involved in providing their cadets with a proficient and active cadet program.
Cadets know what is expected in this squadron and if cadets need help they should remember that there is boot shinning party every Wednesday evening. A glass toe is not easy to produce and maintain but remember it can say a lot about one's squadron and the enthusiasm and interest of its cadets.
If you wish to see your name in the chart below have the Warrant Officer check out your shine.
Members of the Royal Order of the Glassy Boot
Lottery Tickets
Cadets are reminded to bring in their lottery tickets. This lottery helps to fund numerous activities of the Air Cadet League
and a portion of the proceeds are also returned to the Squadron. It is every cadets responsibility to help out with this activity.
If you need contacts just remember family members, relatives and neighbours are also willing to support a youth program such as the Air Cadets.
Cadet Tagging
Our email was unfortunately delayed this week so we have a chance to include some additional photos from our Monday evening parade.
Here are photos of the top taggers from last week's tagging operation. There is every indication that this was one of the Squadron's most successful
tagging operations. The impressive results were due in part to the enthusiastic and hardworking staff who helped coordinate the operation and the cadets who
obviously put in a long hours canvasing the public throughout the city.
Two Buddies Get Together
It happened in Goose Bay Labrador when two of the Squadron's former Warrant Officers got together.
Both are close personal friends from their days in 151 and they are now both pilots in the RCAF.
Capt. David Brosseau who is an F18 pilot flew in to check out a new arresting gear set up and the other is
Capt. David Weigel who is a Griffon helicopter pilot in the local Search and Rescue squadron.
Promotions LAC to Cpl
Message from the CO
Due to a glitch in the email, it is now Monday evening as I write this. I have just spent the weekend at Rotary Hall with a great group of staff and very close friends. We have just completed our annual Fall Tag-Days fund raising. I would like to thank Mr. Jason Lloyd and Lt. S. Mastroianni for their very hard work in organizing a very successful weekend. As has become the norm, a lot of work was completed around the hall. Most of it was housekeeping (and it is a pretty big house at times) but there was a new construction project that will make the folks in supply very happy and make it so the cadets don't have to run upstairs to try on their uniforms. Thanks to Captain Weigel, we now have two new change rooms outside of supply.
It is great to see so many new recruits in the building, if you are a parent, the coming weeks will be a learning experience for you as well. The cadet will no doubt want to talk to you about what they have learned, sometimes it may seem like they are speaking a different language all together. This is not unique to the Air Cadets, every branch of the military has its own lingo, believe me, it all makes sense and as the years go by, you will all understand what we are talking about.
When a former cadet comes back to say hi, it is always a good feeling, when we have added to the ranks of the Canadian Military with another pilot or service member, it is especially rewarding. We try to get these guys out front of the Squadron to chat with the cadets for a bit and give them a bit of a pep talk. Please understand that while we are not in the business of recruiting for the regular force, we are extremely proud of those cadets who have taken that step in their lives.
As we approach Thanksgiving, just a reminder that there will be no cadets on Monday October 10th. Please have a safe holiday weekend and come back to us in a couple of weeks ready for some good training.
That's all for now.
Stay Safe and Have a Great Week.
Major Bliss
Cadet Achievement Records
Here is a copy of the cadet achievement record to date of the top 8 cadets in the Squadron's cadet achievement program
Not everyone may know that cadets get achievements when they participate in all squadron activities that are held during the week including Monday night training.
The program is designed to encourage cadets to get out, be involved and participate in the
squadron's numerous cadet activities.
Cadets should realize that these records are used when assessing cadets for promotions
and Squadron awards such as trophies, summer camps, scholarships etc.
In other words be active and get involved.
Rank

Last Name

First Name

Gender

Total

Ranking

Points

FCPL

Bone

Andrea

f

16

1

FCPL

Dawson

Simon

M

15

2

FCPL

Lloyd

Caitlin

F

14

3

FSGT

Lloyd

Delaney

f

12

4

FCPL

Boyden

Emily

F

11

5

LAC

Dewes

Sabrina

F

11

5

FCPL

Lang

Ethan

M

11

5

FCPL

Paterson

Emma

F

11

5

WO2

Singh

Muskaan

f

11

5

FCPL

Maharaj

Amit

m

10

6

SGT

Rabjohn

Nicole

f

10

6

FSGT

Chandler

Fiona

f

9

7

FCPL

Fava

Saccara

F

9

7

FCPL

Keiller

Aiden

M

9

7

FCPL

Pereira

Jazmin

F

9

7

LAC

Robertson

Megan

F

9

7

LAC

Taylor

Cameron

m

9

7

FCPL

Gay

Colten

m

8

8

FSGT

McDougall

Robert

m

8

8

FCPL

Rozdeba

Anthony

m

8

8

FCPL

Swanton

Riley

m

8

8
Our 75th Anniversary
Memories from Our Past
In 1971 151 Squadron was awarded the RCAF Association Trophy as the top air cadet squadron in Canada.
If you have comments or suggestions on ways to improve our newsletter,
our website or if you wish to unsubscribe from this email please notify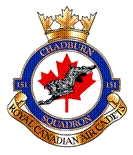 151 Chadburn Squadron
Royal Canadian Air Cadets
*** Excelsior per Debere ***Excellence through Endeavour
Proudly Sponsored by the Rotary Club of Oshawa