Proudly Sponsored for over 70 years by:
The Rotary Club of Oshawa
Issue # 26
Week of May 4, 2015
Note!!
This week's practice for the Annual Ceremonial Review will be held at
Harman Park Arena
829 Douglas Street, South Oshawa
Year End Trip Sign Up
There are still 17 spots available for the year end trip. Staff will be available on Monday evening at Rotary Hall from 7:00pm until 9:00pm to sign up and pay for your cadet. We are at the stage now where the sign-ups will be first come first served. Once the spots are full, we will finalize the attendance list and will only take more cadets if we have people who cancel. The amount owing for the trip is available at the hall.
Summer Training Sign-Ups
Parents and cadets, please check the following list to see if your signature is required on the cadet summer camp offers. If you are no longer able to attend summer camp, you must let either Lt. Mastroianni or CV Weigel know ASAP.
Please see Lt. Mastroianni or CV Glenn Weigel to sign the camp forms. They will be available for the first part of the night at Rotary Hall, or at closing parade at Harmon Park.
Camp Forms Requiring Signatures

Rank

Last Name

First Name

Camp Offered

Parent Signature Req'd

Cadet Signature Req'd

FCPL

Castillo

Sebastian

Fitness and Sports Instructor

Yes

Yes

FCPL

Grzesniak

Daniel

Basic Drill and Ceremonial

Yes

Yes

FCPL

Kaye

Ravynne

Basic Drill and Ceremonial

Yes

Yes

CPL

Kabeya

Daniel

Basic Survival

Yes

No

CPL

Kennedy

Hunter

General Training

Yes

No

FCPL

Kruszelnicki

Tomasz

Basic Drill and Ceremonial

Yes

Yes

CPL

Linden

Bryson

Basic Drill and Ceremonial

Yes

Yes

CPL

Mahadeo

Ravi

Basic Drill and Ceremonial

Yes

Yes

CPL

Mubiala

Grace

Basic Fitness and Sports

Yes

Yes

CPL

Mejia

Carlos

Basic Drill and Ceremonial

Yes

Yes

CPL

Newton

Jayden

Basic Drill and Ceremonial

No

Yes

LAC

Noor

Aliza

General Training

Yes

Yes
Band and Drill Competition
The results of the Eastern Area Band and Drill Competition have been announced and our Band and Drill with Arms Drill Team are now the top band and top drill team in the Eastern Area in the Province of Ontario. The Drill Team was named Best Dressed in the competition and Drum Major Lloyd was also selected as the top Drum Major in the competition.
This is an outstanding achievement for our cadets and especially for the Band and Drill Team staff who worked so hard to help our cadets achieve this impressive standing in the province. The Hard work is just beginning however as now it's the Annual Ceremonial Review, the Provincial Band and Drill Competition and the Canadian International Military Tattoo in Hamilton.
Our Band and Drill Team
Year End Dance
On Friday May 8th we will be holding the Year End Cadet Dance. The dance will once again be held at the 420 Wing, at the south side of the Oshawa Airport
(Stevenson Rd. just north of Rossland).
The dance starts at 7pm (please do not show up before!) and will end by 12am.
The cost for cadets is 2$ and 3$ for guests.
Canteen will be available for purchase at normal prices, and pizza will be available for 1$ per slice.
Squadron Photos
This Monday will be the last night to sign up to purchase this year's squadron photos.
The prices are as follows:
$7.00 – Full squadron photo (11″ x 17″)
$5.00 – Squadron teams & groups (8.5″ x 11″) Competition Band, Drill Team, Shooting Team, Duke of Edinburgh, Sports, Officers & Staff, Warrant Officers, Officers & Warrant Officers.
The money for the photos will be due when the photos are picked up on Monday May 11th
Cadet Activities
Date

Day

Month

Activity

Location

Time

4

Mon

May

Annual Insp.Practice

Harman Park

1830 – 2200 hrs

4

Mon

May

Year End Trip

Sign Up

Squadron HQ

1900 – 2100 hrs

5

Tues

May

6

Wed

May

Drill Team

Squadron HQ

1900 – 2100 hrs

7

Thurs

May

Comp & Non Comp. Band Practice

Squadron HQ

1900 – 2130 hrs

8

Fri

May

Year End Dance

420 Wing RCAFA

1900 – 2400 Hrs

9

Sat

May

10

Sun

May
For details of the Squadron's many activities please review the Squadron
calendar by following this link :
https://www.chadburn.org/activity-calendar-2
Over the past year we have said very little about our Squadron website. Our goal has been to develop a site that helps cadets, parents and the public see the many opportunities and activities our cadet squadron offers to the community. Today our site contains over 100 pages of information and photos about the squadron's activities and programs. We suspect that few know just what this site contains and the depth of the information that is available to not only cadets and staff but the general public as well. In designing the site we have tried to make it a focal point for all of the Squadron's many activities, programs and references. For example our recruit training program and all of the forms required to join are readily available as well there is a section devoted to a complete calendar of all the squadron's yearly activities. A record of the squadron's long history is also available including numerous photos of cadet activities and readers can also find our kit shop as well. Three of the more important areas that are available to cadets, parents and the public are:
Status of Cadets Enrolled in the Summer Training Program (SUMMER TRAINING)
On this page a complete record of all cadets who have applied to attend a cadet summer camp and their status
regarding their camp selection is available.
Squadron's Yearly Training Program (TRAINING)
The complete Air Cadet training program for all cadet levels is displayed in this section.
Cadets who are teaching classes can use this site to obtain copies of the lesson plan that they will be required to teach and
the public also gets a chance to see the complete Air Cadet training program.
Achievement Points (RESOURCES)
Each time a cadet participates in cadet activity he or she earns one achievement point. This particular section on the web site is a record of each cadet's participation in the Squadron's many activities. This section is available for everyone to see and should be checked regularly for accuracy. If you find you are missing achievements, please talk to your team leader to get the situation rectified.
The History of Our Website
The site was originally designed by Major Robert Forbes, a past cadet and Commanding Officer of the Squadron. It has undergone quite a few changes over the past few years, but still maintains the Chadburn Family and Rotary Club of Oshawa seal of approval. If you have any thoughts of additions that you would like to see on the site, please let us know. We are always looking for new ideas.
Up Coming Cadet Activities
| | | | |
| --- | --- | --- | --- |
| Day | Month | Activity | Location |
| 12 | May | Annual Ceremonial Review | Legends Center |
| 15-18 | May | Year End Trip | Kingston & Ottawa |
| 23 | May | Provincial Band and Drill Competition | CFB Borden |
| 23 | May | Family Fun Day | Rotary (Courtice ON) |
| 30 | May | Canadian International Military Tattoo | Hamilton |
| 31 | May | Canadian International Military Tattoo | Hamilton |
| 7 | Jun | Gliding | Mountainview |
Thoughts From the Treadmill
This is going to be a short week for thoughts, CP Rail, my deputy and the Annual Ceremonial Review have been filling my thoughts this week.
I often wonder about (or daydream of) doing the CO thing full time. Alas, the military doesn't see that as an option, and without them buying into the thought, I still have to have a civilian job that pays the bills. This is where CP Rail comes in. I have been extremely lucky for the last 23 years that I have been an officer with 151 Squadron that I have had an understanding employer in CP. The company has allowed me to take Military Leave on quite a few occasions and continues to be supportive of the work I do with the Squadron. There are still occasions when I just can't be in attendance on Monday nights and sometimes you will see me there either on my way home from or on my way to work. (I'm the guy wearing the orange jacket usually).
Obviously the Squadron does not come to a halt on these days, but continues to run smoothly with my Deputy taking the reigns. I know Captain Weigel is that "Drill Guy" and the "boot shining guy", and the guy who does "that funny bit about tagging" but there is so much more behind the scenes stuff that really only I know about; lighting fires on some days and putting fires out on others is a pretty big part of what he does. I just wanted to throw out a very big Thank You to him for his continued support and hard work on behalf of the cadets in general and Chadburn Squadron in particular.
Please make sure you come out and join us on May 12th for our Annual Ceremonial Review. The cadets have been working extremely hard this year and would love to see the stands at the Legends Centre full of people watching them show off their stuff.
That's it for now.
Stay safe and have a great week.
Major Bliss
"Rules of the Air"
Some practical thoughts and comments regarding the world of flying and aviation.
"There are three simple rules for making a smooth landing. Unfortunately no one knows what they are."
Aviation Photos Of the Week
Bizarre Aircraft from Aviation History
Left: NASA's Super Guppy Turbine cargo plane, first flew in its outsized form in 1980.
Right: Alexander Lippisch's Aerodyne, a wingless experimental aircraft. The propulsion was generated by two co-axial shrouded propellers (1968).
Left: McDonnell XF-85 Goblin, an American prototype jet fighter, intended to be deployed from the bomb bay of the Convair B-36 (1948). Photo: U.S. Air Force
Right: The Caspian Sea Monster, also known as the "Kaspian Monster", was an experimental ekranoplan, developed at the design bureau of Rostislav Alexeyev in 1966
Bottom: Proteus, a tandem-wing, twin-engine research aircraft, built by Scaled Composites in 1998.
The Caproni Ca.60 Noviplano was a nine-wing flying boat intended to be a prototype for a 100-passenger trans-atlantic airliner. It featured eight engines and three sets of triple wings. Two pontoons, mounted on each side, were intended to give the aircraft stability. The prototype only made one short flight on 4 March 1921 over Lake Maggiore in Italy. The aircraft attained an altitude of only 18 m (60 ft.), then dived and crashed, breaking up on impact.
If you have comments or suggestions on ways to improve our newsletter, our website or if you wish to unsubscribe from this email please notify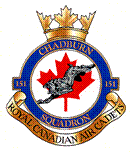 151 Chadburn Squadron
Royal Canadian Air Cadets
*** Excelsior per Debere ***Excellence through Endeavour
Proudly Sponsored by the Rotary Club of Oshawa