Proudly Sponsored for over 74 years by:
The Rotary Club of Oshawa
Issue # 23
Week of May 1, 2017
This is our 75th Anniversary

Well, "Chadburn" Did It Again
This past weekend the Squadron's Band and Drill Team with arms competed in the Eastern Ontario Area Cadet Band and Drill Competition which was held at CFB Kingston. We are excited to report that both teams finished first in their categories and will be advancing to the Central Region Competition at the end of May.
Photos Taken During The Competition
Recruits Sworn In
This past week Major Bliss conducted the swearing in ceremony for 11 new cadets and as is our custom the top cadet on the course was named and presented with an award.
Provincial Cadet Marksmanship Championship
If last weekend appeared to be somewhat busy then readers should know that the band and drill competition was not all that took place . There was also the Provincial Cadet Marksmanship Championship that was held at CFB Trenton. 15 of our cadets competed as three different teams at the competition. The team pictured below finished 3rd overall in the province and will now head off to Gimli Manitoba for the National Cadet Marksmanship Competition. We wish them good luck and offer a very well deserved congratulations to all competitors.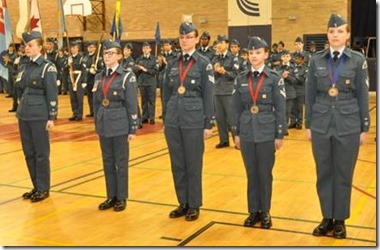 The Royal Order of the Glassy Boot
WO 1

C.Adraham

Cpl.

C.Ye

WO2

M.Singh

WO2

A.Carson

F/Sgt.

F.Chandler

F/Sgt

T.Talhouk

F/Sgt

D.Lloyd

F/Cpl

C.Lloyd

Cpl

K.Espe

Sgt

S.Scalia

Sgt.

D. Buller

F/Sgt

B.Wardell

F/Cpl

E. Boyden

F/Sgt

S.Alleyne

AC

A.Lang

Cpl

S. Mahadeo

AC

L.Eaton

F/Cpl.

A.Bone

F/Cpl

D.McLeod

F/Cpl

S.Baldasaro

Sgt

N.Rabjohn

Sgt

M.Garriock

F/Sgt

S.Mastroianni

Cpl

E.Cowan

Sgt

G.Mubiala

F/Cpl

J.Fava
75th Anniversary Reunion Dinner – Purchase Your Tickets Now
Location: Lviv Hall, 38 Lviv Blvd, Oshawa
Doors Open: 1730 Dinner: 1830
Join us in celebrating 151 Chadburn Squadron's distinguished 75-year history and reunite with old friends. Mix, mingle and reminisce with fellow alumni and squadron staff members during the buffet dinner and evening's informal program: brief speeches, photo and memorabilia displays, raffles, and the opportunity to make purchases from the squadron kit shop.
Note: This event is licensed. All attendees must be 19+.
Tickets are $30.00 per person and must be purchased by June 1st.
Dress: Casual
Tickets can be purchased on the Squadron website or in person at Squadron events. For information or to purchase tickets visit www.chadburn.org
or contact Lt. Sarah Mastroianni at 151rcacs@gmail.com or 905-809-0253.
Preserving Squadron History
Please help us grow our squadron photo archives by sending digital versions of your photos to 151rcacs@gmail.com We also welcome good-quality printed photos that can be dropped off at Squadron Headquarters or mailed to 151 Squadron, Suite 420, 1288 Ritson Rd. North, Oshawa ON, L1G 8B2.
2017 Rotary Club Post- Secondary Scholarship
To be awarded at our annual Inspection on June 3.
Cadets who wish to apply for the Rotary Club Scholarship must first complete the following:
1. Prepare a 300 word essay on "Service Above Self" and an extra paragraph about Rotary club causes by researching at Rotary.org Due electronically in .pdf format to Lt. S. Mastroianni by May 8th.
2. Submit transcripts from the 2016/2017 school year (Semester 1 marks and semester 2 midterm marks if available). Due electronically to Lt. S. Mastroianni by May 8th.
3. Be prepared for an interview (in uniform) on Wednesday May 17, 2017 at Rotary Hall.
Thoughts from the Elliptical
Cadet Fund Raising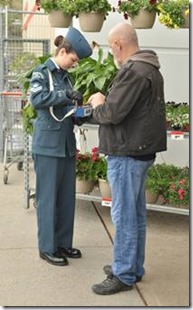 We had another very busy weekend with our annual spring Tag Day fund raising going on from Thursday until yesterday. We dodged some pretty bad weather that was forecast and managed to have a very successful weekend. I would like to thank all of the staff and cadets as well as Mr. Brooks from the Rotary Club of Oshawa for all of the hard work that went in to making the weekend a success. A very special thank you to Mr. Lloyd and Mrs. Bone for all of their work securing locations for our cadets to utilize for this crucial fund raising activity.
I am always amazed at the level of dedication of some of our cadets who sign up for and then complete all seven shifts, I know that this also involves their parents and a lot of driving and sometimes waiting for things to be finished. I do appreciate the effort it takes and thank you all for your continued support. It definitely is a team effort.
As we get closer to the year end trip, I just want to make sure that parents are aware that like some other activities within the Squadron, just because a cadet signs up for the trip, doesn't mean that they are guaranteed a spot on the bus. As I have mentioned previously, if more cadets sign up than we have space for, a priority list will be established and those who do not make the cut will be reimbursed their fee. It is necessary for us to establish a cut off point as we are limited by bus seating and bed space. If anyone has concerns with this policy, please feel free to contact me.
That's all for now.
Stay Safe and Have a Great Week
Major Bliss
Our 75th Anniversary Photo
Wing Commander Lloyd Chadburn With the Leaf and Lynx on a Spitfire of 416 Squadron Squadron
Peterhead Scotland 1943
If you have comments or suggestions on ways to improve our newsletter,
our website or if you wish to unsubscribe from this email please notify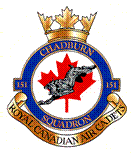 151 Chadburn Squadron
Royal Canadian Air Cadets
*** Excelsior per Debere ***Excellence through Endeavour